Can ADHD be treated? What sort of professional help should parents seek?
There is no "cure" for ADHD but the symptoms can be treated to reduce their effects.
The two most common treatments for ADHD are behaviour modification and/or medication (e.g. Ritalin and Adderall).
What's next for a child with ADHD?
To date there is no proven way to prevent ADHD, however early identification and intervention can prevent many of the associated problems. Each child is different but below are some strategies which may help your child with ADHD.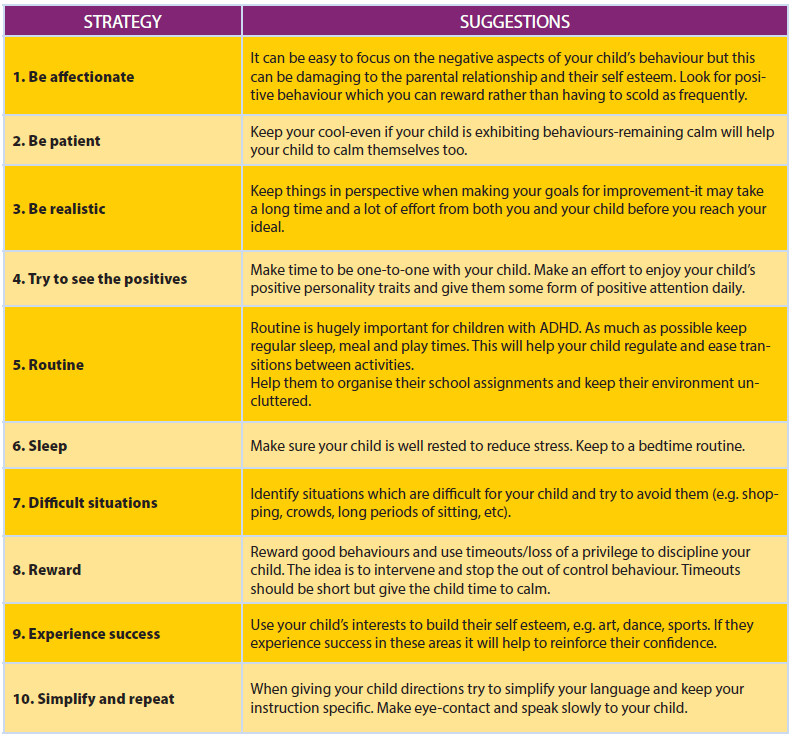 There are several professionals who can help in the treatment of ADHD:
It can be stressful caring for a child with ADHD so remember:
Structure your child's life
Provide positive discipline
Stay calm and set a good example
Aim for healthy family relationships
Give yourself time to rest and relax
Remember, although there is no proven way to prevent ADHD, early identification and treatment can reduce and curb many of the associated issues.
To find out more about Attention-Deficit/Hyperactivity Disorder (ADHD)
By Trudy Olwen Smith, The Children's Therapy Centre
Trudy graduated from University College Cork (Ireland) in June 2011 and has been working at The Children's Therapy Centre as a speech and language therapist since January 2012. She works both with children in the centre and with children in Lighthouse school for the deaf and visually impaired.
This article was first published in The New Age Parents Feb / Mar 2013 e-magazine
If you find this article useful, do click Like and Share at the bottom of the post, thank you.
Want more comprehensive info? Check out our e-guides here.