As much as spending quality time with your child is important, it can get really tiring bringing them out without planning ahead. Trips to stores, shopping malls, restaurants, or any other public places can be more fun and memorable by bringing your child to places that pay a special attention to cater to their needs. Here are our top 5 child-friendly places in Singapore:
1. Singapore Changi Airport
Singapore Changi Airport is filled with sensational family-friendly facilities in all of the terminals. Not only does these facilities are in the transit area for the travellers but they are also found for the public. Best of all, they are mostly free!
i. Woodblock Rubbing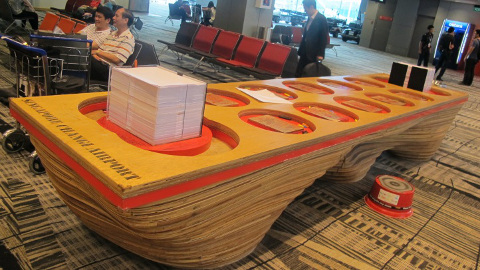 Colouring can be very exciting for young children. With the Woodblock Rubbing area located around the airport, children can get the opportunity to transfer images onto a piece of paper making their whole colouring experience a thrilling one! Parents can also use the pictures as a tool to talk about the Singapore city.
These Woodblock Rubbing areas are located in:
Terminal 1 – Level 3
Terminal 3 – Basement 2
The transit at Terminal 3 – Level 2
ii. Garden Trail
Travelling can be educational with Changi Airport's garden trail. Observe the nature with your child whilst strolling through the Butterfly Garden, Fern Garden, Cactus Garden, Bamboo Garden, Sunflower Garden, Heliconia Garden and Orchid Garden. These gardens are found in the transit area in all of the terminals.
iii. Entertainment Deck
Children and families can also be occupied with facilities at no cost such as Xbox Kinect Room, Music Area, MTV Booth, Movie Theatre, and Xbox360 or Playstation 3 found in the Entertainment Deck in the transit area of Terminal 2 on Level 3.
iv. Baby Care Room
Changi Airport understands the stress of travelling with young children. With up to 24 baby care rooms located in all terminals, you will definitely feel at ease. You can also find hot water dispenser and privacy to attend to your baby.
2. Jacob Ballas Children's Garden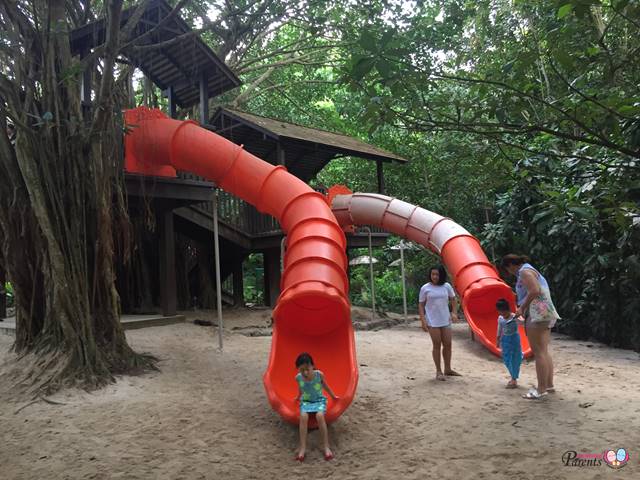 Being Asia's first children's garden, Jacob Ballas Children's Garden is designed to cultivate an appreciation for plants, nature and the environment among the young through play and exploration. The educational purpose of the garden provides an opportunity for children up to 12 years of age to discover how plants provide their daily needs. Parents can also come with their children to explore the garden.
3. United Square Shopping Mall
United Square is known to be the mall for all families. The mall is fully equipped with child-friendly features such as a spacious corridor walkways, carpeted grounds, luxurious nursing room, colour themed levels, and animal-shaped bins for your rubbish! In addition to these facilities, United Square also focuses on child-friendly retailers like Swensen's Family Restaurant.
4. IKEA
With wide family parking spots, a baby care area, family restrooms, shopping strollers, and bibs, high chairs, and a play area for children in the restaurant, IKEA has it all for families to shop with no worries. Parents can also drop their child off at Småland, a supervised area near the entrance, where children can play and have lots of fun in the Swedish forest atmosphere for free for up to 60 minutes. It is no doubt how much IKEA values families and children!
5. Singapore Zoo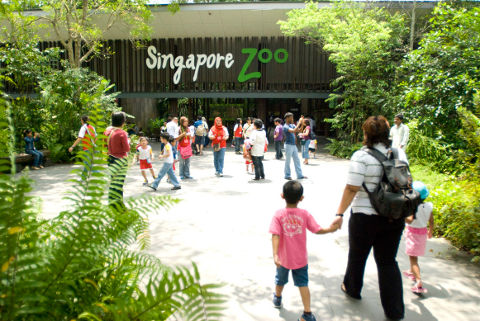 From nursing rooms, diaper changing facilities, shower facilities, wet and dry, indoor and outdoor playgrounds for the children, to providing wheelchairs and motorized convenience vehicles for the elderly who have difficulty walking, Singapore Zoo provides a tri-generational family friendly environment for visitors. Air conditioned shelters are also conveniently located around the zoo to provide a comfortable resting place for the whole family. It is definitely the best place for families and children to come and spend a good time together.
Compiled by Dinah Shahab.
* * * * *
Have a child-friendly place to recommend in Singapore? Share them with us below!
Want to be heard 👂 and seen 👀 by over 100,000 parents in Singapore? We can help! Leave your contact here and we'll be in touch.