Going to preschool for the first time can cause anxiety for both parents and their children. The good news is that you can use these FIRST tips to help your child look forward to going to school.
Familiarise yourself and your child with the preschool
Independence with daily routines
Relationships with preschool teachers
Soothe away separation anxiety
Talk about exciting activities at preschool
These tips are curated from experts such as Ms Tan Lay Hong, Lead Centre Principal and Ms Jessie Lee, Senior Centre Principal, who have more than 30 years of early childhood experience each at PCF Sparkletots – an award-winning brand with a rich heritage of preparing more than a million children for formal schooling since the 1960s.
1. Familiarise yourself and your child with the preschool
Plan several 'sneak previews' of the preschool and daily activities. To familiarise your child with the preschool, Ms Lee said,
"Parents can bring him/her to the centre regularly and observe the centre activities from outside of the preschool."
"Parents can create excitement for children by telling them all the fun things they can look forward to when they go to school. The child can also observe how much fun preschoolers in the centre are having with their peers and teachers."
2. Independence with daily routines
Have fun pretending to go to preschool in advance to help your child walk through the daily routines until he/she is comfortable. Such routines include waking up for school, putting on the uniform and shoes, packing the bag, going through health checks and saying goodbye at the door.
Through role-playing and simulating the first day of school, your child will be more familiar with the process and become excited about school!
Teach your child where to keep his/her things in the bag, how to read his/her nametag or recognise their photos to store his/her belongings at cubbyholes and note down any difficulties in daily routines. You can discuss with the teacher on practising a 'common system' in both your home and preschool to guide your child through daily routines.
3. Relationships with preschool teachers
Building positive relationships with teachers will support your child's transition to preschool. During registration, you will get to meet the Centre Principal and the assigned teacher-in-charge when they brief you on the centre's policies and rules and regulations.
You can also take the opportunity to share more about your child's personality and habits. This information helps the teacher-in-charge to be better prepared and identify any additional support your child may need.
Parents of a PCF Sparkletots nursery student who has additional needs shared how his teacher supported his progress in school. "Our child has autism and often we are worried about his progress in school and if he is able to adapt well in class. Teacher Jessica is helpful and willing to spend additional time updating us on what our child had done in school. She is very willing to try in school the practices that we find useful with him at home and to incorporate strategies shared by PCF Sparkletots Inclusive Education Team (IET) specialists. She will then inform us about any improvement."
Ms Tan explained how regular feedback supports your child's development, "Our teachers will also address the questions that parents may have raised throughout the day. They will provide parents daily updates on their child's day-to-day happenings when they pick the child from school and through our Parent Engagement Portal."
4. Soothe away separation anxiety
Both child and parents may experience separation anxiety, which makes going to preschool a negative experience.
Ms Lee highlighted, "Parents' anxiety can rub off on children. To help children feel good about attending school, parents must exude positive vibes about school. Parents can also read books, articles and sharings by others prior to their child's first day of school."
"Once the children have settled in, parents will then be encouraged to leave their children with the teachers. Often, parents also need to pre-empt themselves for this moment, where they let go of their little ones as they take their first steps in school."
PCF Sparkletots is well-prepared to help your child overcome separation anxiety. There are plenty of engaging materials in their classrooms to appeal to your children. The teachers will help facilitate and encourage your child to play and interact with peers or explore independently within the classroom setting.
If your child needs more time to settle in, the teacher will provide one-to-one attention and then slowly move away to give him/her space to explore and make friends.
Parents can rest assured knowing that their child is in good hands. PCF Sparkletots educators keep themselves abreast of the current early childhood teaching pedagogies, trends and practices to plan and execute activities that best benefit children's development.
Teachers attend training sessions conducted by PCF HQ regularly to upgrade their professional competency. They also attend external courses and workshops to further enhance their knowledge of specific topics and hone their skills.
These teachers will then host sharing sessions on various platforms to share their learning with other teachers and explore how to best implement the practices to enrich children's learning and development.
5. Talk about exciting activities at preschool
Your child doesn't just learn language and numeracy at preschool. Every activity is designed to nurture and inspire every child to be future-ready.
PCF Sparkletots has a holistic curriculum and variety of activities that enable children to learn and exercise critical thinking, resilience, respect, relationship building and also embrace diversity – all of which are important dispositions for success.
Ms Tan describes how exciting PCF Sparkletots preschool's activities are. "One of the popular activities is sensory play which is a wonderful way of engaging children in activities to heighten their senses and enrich their learning. It is especially crucial in the early years of children as it encourages them to explore and be curious about the environment they are in."
"Some exciting activities that are lined up are sand play and water play, where the children touch, feel and explore with the tools given. The children will also go on sensorial exploration walks around the neighbourhood to play with bubbles, pick leaves, smell the flowers and get close to nature."
Teachers also integrate the six learning areas – Language & Literacy, Numeracy, Social & Emotional Development, Aesthetic and Creative Expression, Discovery of the World and Motor Skills Development – into the child's everyday experience in class.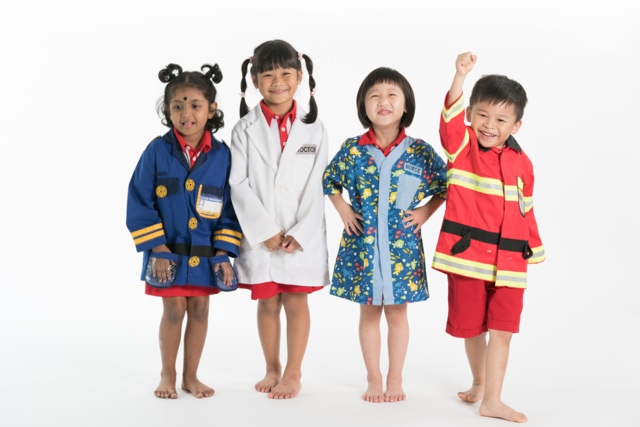 Ms Lee explains, "Our Dramatic play area provides children with the opportunity to portray different roles and show their understanding of that role. They become aware of what people do and how it affects the community."
"PCF Sparkletots also participates in Early Childhood Development Agency (ECDA)'s Start Small Dream Big project every year and work with various community partners to educate children on how to engage and give back to the community, the importance of embracing diversity and resilience as part of a values-driven education."
That's not all! Your child can look forward to STEMIE (Science, Technology, Engineering, Math, Invention and Entrepreneurship lessons and lessons with tech toys or LEGO where they will learn how to identify problems and creatively explore solutions while developing their critical thinking skills.
From void deck-based centres to large centres, all PCF Sparkletots preschools are maintained regularly and upgraded periodically. This is to ensure a safe, secure and conducive environment for every child to learn, play and explore the world around them.
Why should you enrol your child at PCF Sparkletots?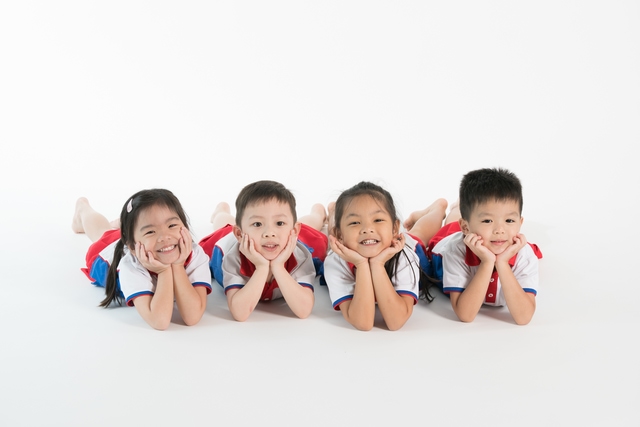 PCF Sparkletots has a rich heritage of preparing children for formal schooling since the 1960s. Back in those days, preschool classes were conducted in any available space ranging from 'wayang' stages to shophouses!
Today, PCF Sparkletots is Singapore's largest preschool operator, operating over 360 preschools island-wide with an enrolment of over 40,000 children.
Its preschools and educators are recognised annually across a range of national-level awards in the sector. About 90% of eligible PCF Sparkletots preschools have attained the ECDA SPARK accreditation, which is a mark of endorsement for quality preschools and their programmes!
Enrol your child in PCF Sparkletots today!
PCF Sparkletots' services include full-day childcare, short hours kindergarten and dual services (centres that offer both full-day childcare and kindergarten services).
Head over to pcf.org.sg/sparkletots for more information and to locate a centre near you.
We look forward to partnering with you on your child's journey towards a bright future!
This post is brought to you by PCF Sparkletots.
Text by Julia Chan.
* * * * *
Like what you see here? Get parenting tips and stories straight to your inbox! Join our mailing list here.
Want to be heard 👂 and seen 👀 by over 100,000 parents in Singapore? We can help! Leave your contact here and we'll be in touch.