Set Friendships in Motion
JOURNEY BEYOND SODOR is the most action-packed to date and features an exciting plotline full of twists and turns, as well as several musical pieces, that will captivate and capture the imaginations of young Thomas fans and parents alike!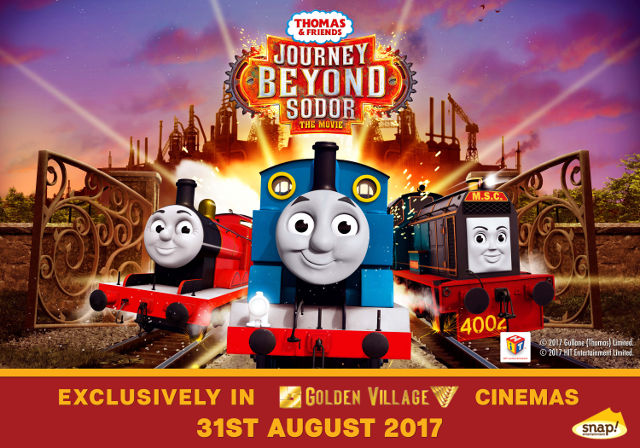 Thomas & Friends movies stay true to the powerful messages that parents and children love; that is celebrating friendship, inclusiveness and camaraderie – the same core values that have served it well for over the past 70 years and will continue to do so.
JOURNEY BEYOND SODOR upholds the Thomas & Friends DNA of honesty, openness, first friendships, and fostering real connections. It explores the importance of first friendships and how the brand has a unique ability to help preschoolers develop the skills to be a good friend.
Journey Beyond Sodor
Synopsis
In his biggest, most exciting adventure yet, Thomas leaves the Island of Sodor to travel to the Mainland where he sees and experiences things that are beyond his wildest dreams.
On his epic journey, Thomas befriends the Experimental Engines, Lexi, Theo and Merlin, who look like no engines he has seen before. Merlin even has a special power of invisibility – or so it seems to him! As Thomas continues his expedition, he stumbles into the Steelworks, where he meets two more engines, Frankie and Hurricane, who aren't quite what they seem and soon put Thomas to work.
When Thomas doesn't come back to Sodor, alarm bells ring with James and he sets off to the Mainland to find Thomas, but runs into trouble himself. A drastic escape from Thomas and some help from the Experimental Engines are both now required in order to bravely save the day. But with the clock ticking, will Thomas and his new-found friends succeed and prove that friendship is always more important than being the favourite engine?
LANGUAGE: ENGLISH
DURATION: 1 HR 10 MIN
RECOMMENDED FOR AGES: 2+ & Above
DATE: In cinemas from 31 August 2017
Thomas & Friends Journey Beyond Sodor is brought to you by SNAP Entertainment