The school holidays are here! It's the perfect time to try out new and exciting activities. We suss out 7 out-of-the-box activities for you to make this holiday a special one for your kids.
#1 Tahiti Dance
Image source: Tahiti Dance Fitness Facebook
Tahiti Dance Fitness was founded in 2009 by Lila Evrard & Beatrice Heitiare Caisson, two sisters originally from Tahiti, who are passionate about sharing their experience & knowledge in Dance, Fitness & Health.
Discover the beautiful Polynesian dance of Tahiti with Tahiti Dance Kids, a graceful dance which draws on beautiful Tahitian dance "Ori Tahiti" moves, and integrates elements from Jazz, Ballet, Zumba and Belly Dancing. Each session promises to help kids stay happy while keeping fit, and is based on the values of the Aloha spirit, namely Kindness, Unity, Humility, Respect, Responsibility and Perseverance.
Classes are held on Saturdays, 11.00 am – 11.30 am (3 to 5 years old) and 11.45 am to 12.30 pm (6 to 12 years old).
Find out more here.
#2 Social Etiquette Class
Image source: Molly Manners Singapore Facebook
Does your child say his"Please" and "Thank you"s? If he does, good for him (and you)! However, manners are a lot more than that – social etiquette includes topics such as respect and rules, first impressions, table manners and speaking politely on the phone.
These important life skills are covered by Molly Manners – they teach children good manners, social skills and proper etiquette through age-appropriate, interactive and creative lessons, games, crafts and songs. Empowering your child to become a confident, considerate and respectful human being begins here.
Find out more here.
#3 Mermaid dreams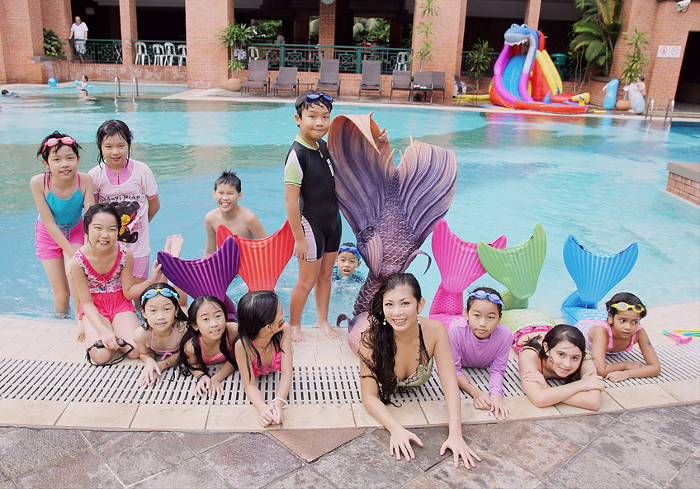 Image source: The Mermaid Syrena
It's a little girl's dream to become Ariel, the little mermaid from under the sea. Well, surprise surprise – did you know that Singapore has her very own mermaid? The lovely lass behind Singapore's first mermaid school is Syrena, who spearheaded the mermaid movement in Singapore in 2015, and has since been lauded as a premier mermaid performer.
This is certainly no ordinary swim school. Children and adults alike can sign up for regular classes, where they will learn all about mermaid mythology and culture while living out their mermaid dreams in the water! Syrena can also be booked for private events and courses.
There are a total of four levels of mermaid certification: Bronze, Silver, Gold and Platinum.
Find out more here.
#4 Farming the ground
Image source: Ground Up Initiative Facebook
Growing up with an urban lifestyle in Singapore, it's nice to balik kampung (Malay for 'going home') once in a while. And that's exactly what Ground-Up Initiative (GUI) seeks to do, as it pioneers innovative ways to engage people in connecting with the Earth and Community.
Kampung Kampus is built on a low-carbon footprint site in Yishun and showcases best practices in sustainable living for Singapore. Balik Kampung is their flagship community program that is open individual members of the public. It runs on Saturdays, which take volunteer groups through simple, down-to-earth activities such as farming, cooking and housekeeping to build and maintain the space.
For group volunteering opportunities, write to involve@groundupinitiative.org.
#5 Human movement
Image source: Human Naturally
MovNat is a health and fitness discipline based on the overall practice of natural human movement skills. Think back to our ancestors, who would have kept fit not in gyms or on the yoga mat, but by practical everyday natural movements in the outdoors. We're talking about basic human skills like walking, running, balancing, jumping, climbing, catching, swimming, and more.
The aim of this fitness training is to "reset" participants to their original biological movements – to promote their health, fitness, well-being, happiness and sense of freedom. Participants become more self-aware and in tune with nature through the training process. The skills picked up during the training also enable participants to improve their physical competence, which would stand them in good stead in many practical real-life situations.
The MovNat Kampung Kids classes are a great way to bring together children and nature, encourages kids to get dirty, roll around on the grass, play in the trees and learn to cooperate with their friends – all in the wonderful playground that is the great outdoors!
Sessions are held at different parks and reservoirs around Singapore, and the instructor-student ratio is kept low. A single session is $20, while a 5-class bundle goes for $75.
Find out more at www.humannaturallysg.com.
#6 Woodworking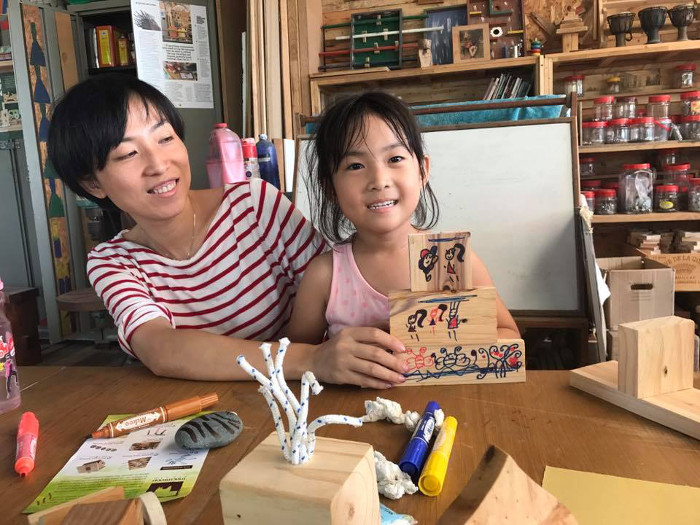 Image source: TouchWood GUI Facebook
Think that woodwork is only for the men? Now even kids can get in on some hammering action, thanks to Touchwood, a social enterprise and the craft arm of Ground-Up Initiative (GUI, see above). Touchwood seeks to bring individuals in the community together to find and create useful ways of recycling materials, so as to increase public awareness on environmental issues and to encourage greater social interaction.
There will be fun workshops to choose from during the holiday period, with each workshop catered to a certain age group. Each workshop promises to be a safe and enjoyable experience for your child!
To find out more and to register, visit here.
#7 Unique Pottery
Image source: Thow Kwang Dragon Kiln
Thow Kwang Dragon Kiln was started by its lady boss, Mrs Tan, who believes that true pottery is more than just mass producing wares or firing up the kiln. Together with her team of dedicated and passionate pottery instructors, she seeks to educate people on the history and art of pottery and inspire than to create beautiful, unique pieces of art of their own.
The children's pottery workshop covers how ceramics are made and introduces children to how the dragon kiln works. Of course, they will also get the chance to handle the clay and create a masterpiece of their own to take home.
Find out more here.
By Dorothea Chow.
* * * * *
Like what you see here? Get parenting tips and stories straight to your inbox! Join our mailing list here.
Want to be heard 👂 and seen 👀 by over 100,000 parents in Singapore? We can help! Leave your contact here and we'll be in touch.