This is the Neverland. The Dreamland. The Wonderland.
The land without rules, strangers or stereotypes.
Fun is never far in this State.
Who says there's nothing to do in this small island? Pack your things and get ready for an exhilarating ride (passport excluded).
Here are 11 exciting things to do, only at the State of Fun – Sentosa!
For The Thrill Seekers
1. Skyline Luge – Once Is Never Enough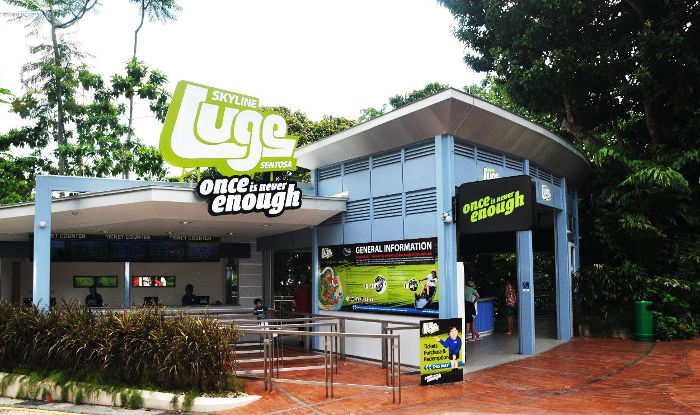 The first of its kind in Southeast Asia, this mainstay attraction was recently voted as the top attraction in Sentosa Island by its visitors on popular tourist review site, Trip Advisor. With nine years of operational service under its belt, Skyline Luge Sentosa has embarked on its most extensive upgrade ever to further enhance its attraction offerings to both tourists and locals alike. The unique outdoor experience features both a 320-metre chairlift – the Skyride, as well as a 3-wheeled gravity ride that gives you full control over your thrilling descent – better known as the Luge Ride.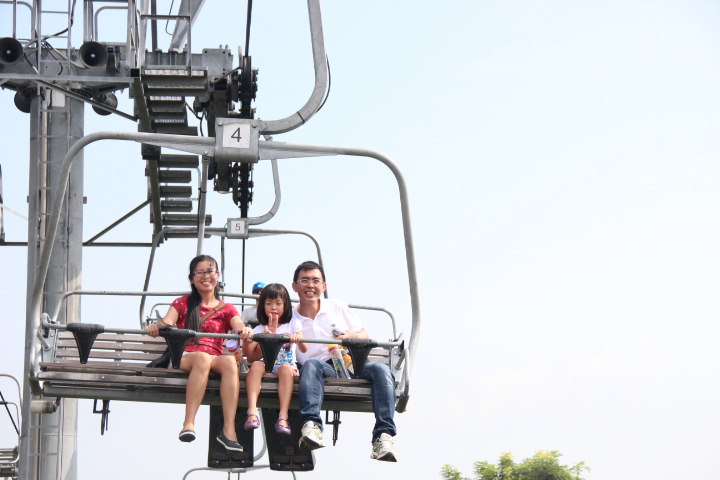 What's new! Luge fans can revel in the upgraded Jungle track that delivers a ride not to be missed with its latest addition of visually arresting thematic RGB LED lighting fixtures. To better cater to eager riders, Skyline Luge has also increased from two to three tracks at the end of the ride for a more efficient turnover.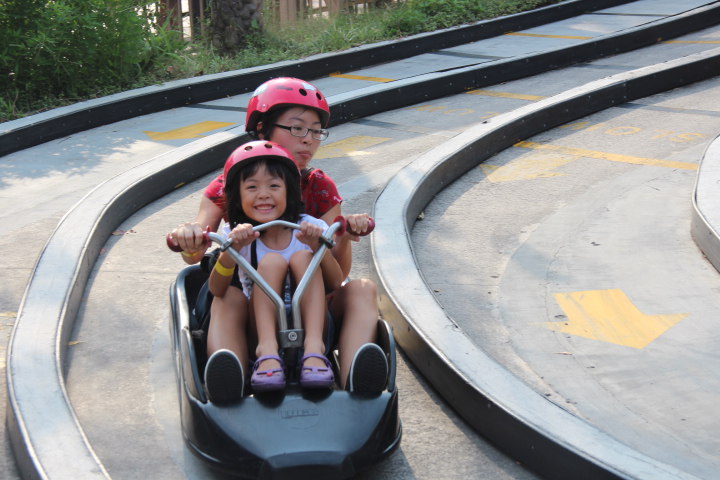 Ticket Price: (per person)
Luge & Skyride – $15
*Child Doubling – $3
*Children under 6 years or less then 110cm may ride in tandem with a full paying adult.
2. The Flight of Your Life! Mega Zip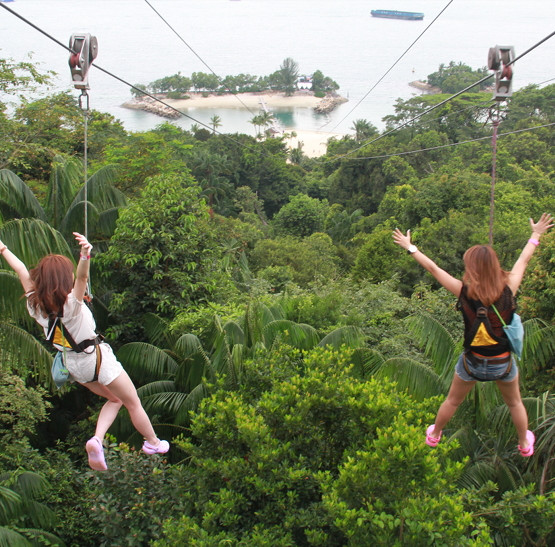 The MegaZip combines adrenalin, speed and fun to let you fly like an eagle! At 75 meters high, 450 meters long and heart pounding speeds of 60 KMPH MegaZip is the first 3 wire zip line built to test friendships as you race your pals or parents in an exhilarating, breathtaking race from the jungle canopy of Imbiah Hill to the white sands of Fox Finish Point.
Ticket Price: $39.00
3. 4D Adventureland
Go on in an immersive 4-D movie, Journey 2: The Mysterious Island, The 4-D Experience. Next, Hang On Tight as you ride on a virtual 4-D roller coaster "Extreme Log Ride" and Grab a motion-sensor pistol, aim and fire at Asia's first 4-D Interactive Shoot-Out game happening at "Desperados".
One-Day Adventure Pass
Include UNLIMITED ENTRIES to:
– Journey 2: The Mysterious Island The 4-D Experience
– Extreme Log Ride, 4D Simulation Ride
– Desperados, Interactive 4D Shoot-Out Game
Ticket Price: $38.90 Adult | $26.90 Child (3 – 12 years old)
Top up $10 per Adult / Child for Green Lantern – Fight Against Fear Ride
NEW! GREEN LANTERN – Fight Against Fear
Join human Hal Jordan (Ryan Reynolds) as he reluctantly becomes the newest recruit of the Green Lantern Corps, an intergalactic assortment of super heroes trained to police the universe. As he learns to control fear by mastering his own willpower, he soon finds himself face to face with Parallax, a relentless alien force who feeds on that very same fear. Will Hal be worthy enough to earn the title of Green Lantern? Can he stop Parallax from destroying the earth?
GREEN LANTERN and all related characters and elements are trademarks of and © DC Comics.
Ticket Price: $19.90 Adult | $12.00 Child (3-12 years old)
Height restrictions apply: Journey 2/Extreme Log Ride – Min. 90 cm. Desperados – Min. 110 cm
4. iFly Singapore
"I believe I can fly…" Yes, now you can at iFly Singapore, South East Asia's largest wind tunnel! Offering flyers the experience of indoor skydiving in a safe, accessible and affordable manner, you also get an unparalleled view of the South China Sea from the wind tunnel. Apart from strengthening some core muscles, experience similar adrenaline rush from an actual skydive at one-fifth the cost of a tandem jump.
iFly Singapore allows anyone from first-time flyer, as young as 7 years old to 106 years old, to professional skydivers, the opportunity to experience the thrills and excitement of the sport of skydiving in a safe, realistic and affordable indoor setting.
Ticket Price: The Challenge (2 Skydives): $99 | The Adventure (4 Skydives): $175
For The Nature Lovers
5. Butterfly Park and Insect Kingdom
Surrounded with lush tropical greenery, Butterfly Park & Insect Kingdom showcases the stunning beauties of mother nature. With a great variety of fluttering butterflies and exotic insects, this tamed wilderness is sure to delight you. With the scents, sights and sounds of an authentic tropical rainforest, it's a multi-sensory, interactive experience that's guaranteed to engage you from start to finish. A must-see outdoor experience for children, tourists and nature lovers alike.
Ticket Price: S$16 / Adult | S$10 / Child (3 – 12 years old)
6. Nature Walk
The 1.8-km Nature Walk then meanders through secondary rainforest, giving you a chance to learn all about the birds, insects, wildlife, habitats and plants that can be found on Sentosa. And it doesn't stop there. You'll also pick up a variety of nature detective skills to use wherever your travels take you next! Keep your eyes peeled for interesting vegetation such as insectivorous pitcher plants and Tembusu trees. You may also be lucky enough to spot long-tailed macaques, squirrels, geckos, and over 20 species of birds.
Free Admission
For Those Who Love A Good Splash
7. Yo, Ho, Ho! To The Port of Lost Wonder We Go
Located on Palawan Beach, this kids' club is designed specially for you, young explorers! Come bring Mummy and Daddy to your world and be amazed by the many fun and exciting wonders the port has to offer! Explore, Play and Learn with these 8 Exciting Activities to do at Sentosa Port of Lost Wonder POLW.
8. Adventure Cove Waterpark™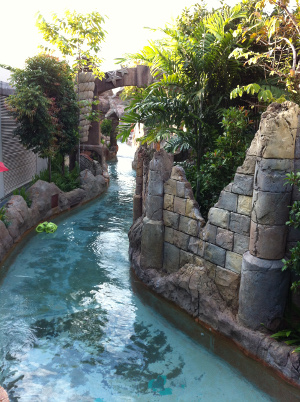 Feel the adrenaline rush as you zoom down thrilling waterslides such as Southeast Asia's first hydro-magnetic coaster. Chill out with friends at Bluwater Bay wave pool, or grab a tube and journey down Adventure River, passing through 14 stunning scenes including a tropical jungle garden and a grotto inhabited by whimsical sea creatures. Snorkel over a colourful coral reef with 20,000 friendly fish or wade amongst dozens of rays as you touch their velvety wings.
One Day Pass Admission Price:
$36/ Adult | $26/ Child (4-12 years) | $26/Senior (60 years and above)
For The Paparazzi In You
9. Madame Tussauds in Singapore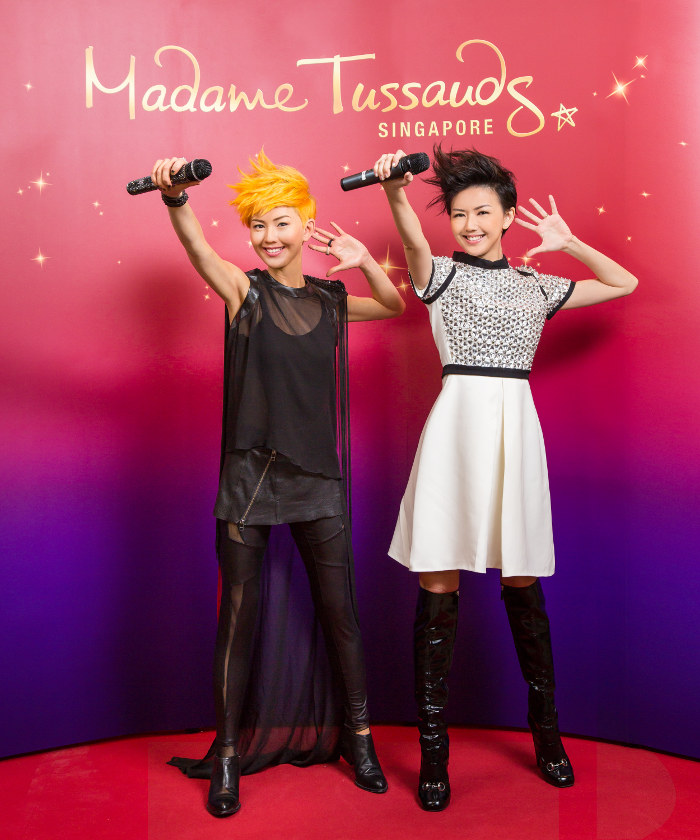 Roll out the red carpet! Opening at Sentosa Island this October!
Bringing our unique blend of glitz and glamour, Madame Tussauds Singapore will take you to a party like no other! With 10 fully themed interactive zones and the new "Spirit of Singapore" boat ride, get ready to photograph and pose with your favourite A-Listers, challenge sports stars, hop on stage with music legends and come face to face with international icons from Singapore, Asia and beyond.
Ticket Price: Adult: $30 | Senior Citizen: $27 | Child: $20
For those who love a good show
10. Wings Of Time
There's no better way to complete a fabulous day at Sentosa than to catch a spectacular night show filled with lasers, fireworks, beautiful multimedia, water and fire effects, coupled with contemporary music. Wings of Time takes on a different approach in narrating a poetic story of an adventure that Rachel and Felix took, together with their newfound friend, Shahbaz, a mystical pre-historic bird. Arrive 10 minutes earlier and there will be an interactive session between the performers and the audiences. You can sing along with the performers before the performance.
Show times: 7.40pm & 8.40pm daily
Ticket Price : Local $15 | Standard $18 | Premium $23

11. KidZania Singapore
KidZania is a family edutainment centre where kids are empowered to pursue their dreams by exploring what it's like to live and work in a real city with over 90 role-playing activities to choose from. Consisting a good mixture of both local and international brands, the partnership announcement today will provide children ages 4 – 14 years the opportunity to role play professions at the edutainment centre.
Industry partners include:
Maybank
The Soup Spoon
Abbott
Yakult
Killiney 'Kopitiam'
Canon
Discovery Networks Asia-Pacific
Nickelodeon
KFC
Pizza Hut
The Learning Lab
Spritzer
WTS Travel
* * * * *
Like what you see here? Get parenting tips and stories straight to your inbox! Join our mailing list here.
Want to be heard 👂 and seen 👀 by over 100,000 parents in Singapore? We can help! Leave your contact here and we'll be in touch.