Back by popular demand, suitable for anyone aged 5 to 105, The Arabian Nights is again set to capture and enthral its audience, however young or old they may be!
The tales told by Shahrazad over a thousand and one nights to delay her execution by the vengeful King Shahriyar have become immortalised in print. From the epic adventures of 'Aladdin and the Enchanted Lamp', 'Ali Baba and the Forty Thieves', 'Sinbad the Sailor' to 'The Tale of the Hunchback', the stories depict a fabulous world of all-powerful sorcerers, jinns (genies) imprisoned in bottles and enchanting princesses.
Director Brian Seward cleverly condenses and pieces each story seamlessly together, with each story having a distinct start and end. Carefully chosen and presented in lively modern English, the stories are told accompanied with a wonderful mixture of physical theatre, mask, puppetry and music.
For example, the addition of 'live' percussion to some stories where two actors played percussion instruments such as the bongo drum and castanet on the spot, added more hype and tempo to the stories. The story of "Sinbad the Sailor" is retold in a light-hearted and musical piece, with Sinbad's crew counting the number of voyages, shipwrecks and creatures he encounters.
The set and props are multi-dimensional, which allows actors to move and hide behind window panes, open secret compartments and crawl into holes. Besides the Arabic and Persian influenced architecture and props, the costumes also had a touch of Arabic flair, consisting of trapeze pants, brightly coloured fabrics and sheer scarfs.
The cast was a joy to watch as they transformed into different story characters within seconds. Julie Wee was delightful as the lovely and sweet Shahrazad, as she slowly wins the king over with her sincerity and enchanting stories. Faizal Abdullah humorous take on his role as the merchant from Habibi also drew quite a few laughs from the audience.
My personal favourite was the brief but hilariously catchy "Thank You" song featured in one of the stories (Watch it and you'll know why!)  If you are listening attentively, you will also be able to spot some playful references to Disney's Aladdin famous theme song, "A Whole New World" in the story "Aladdin and the Enchanted Lamp".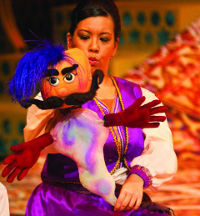 The performance could have been more interactive by including some participation from the audience. However, you do get a chance to interact with the cast and take a photo with them after the show.
Multi-coloured, multi-layered, marvellous and full of madcap mayhem, Arabian Nights is showing at LASALLE College of the Arts, (Singapore Airlines Theatre) from 1 September till 18 September 2012.
Tickets are still available at SISITC. Originally set at $36 and $33 per ticket, you can now catch this at only $32 and $28 per ticket.
So hurry grab your tickets now and let Arabian Nights take on you on a magic carpet ride!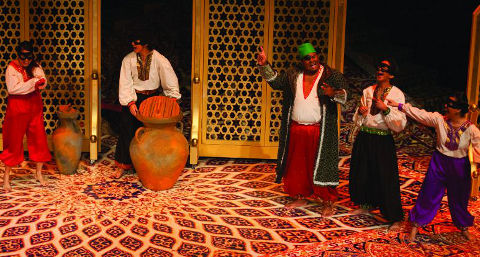 Written by Michelle Ang
Photos by I Theatre