Question: Is it advisable for my child to learn more than 2 languages?
Answer: Research shows that children before the age of 5 are all linguists who are able to handle more than one language at a time. There are various schools of thoughts on how then can we harness this innate talent in all young children.
Some feel that children should be systematically exposed to specific languages so as to maximise their learning capacity, others take a more immersive approach.
There is no "one size fits all" approach to picking up a new language(s). What is clear though is that constant exposure, though not necessary equally, is key to multi-language acquisition. If you are keen to nurture a linguist, start by exposure to the language(s) of intent through communicating with the child in the language of choice as often as possible. When there is proficiency in the spoken, then it is easier to ease into the written forms of the language(s).
LEAP Schoolhouse has an 'Ask and Learn' section every Thursday. If you have any questions regarding language or literacy development, feel free to drop your questions in the comment box below, or post them on LEAP SchoolHouse Facebook page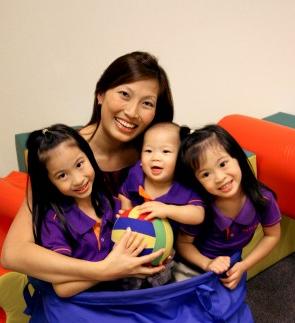 In this Ask The Expert section, we asked Esther Lim, CEO and Founder of LEAP SchoolHouse, about language and literacy development in children. Born and educated in Singapore, she holds a Master Degree in Education (NTU/NIE), Bachelor Degree in Arts (NTU), Diploma in Marketing – Top student for the year 2000 (Chartered Institute of Marketing).
Esther has more than 10 years of teaching experience and has taught widely in both Secondary and Primary schools. She was also involved in curriculum planning and development work for the primary unit at MOE for several years. Esther has also conducted workshops and talks for educators, locally and overseas. Besides all the above credentials, Esther is also a mother of three children.
For more info, visit leapschoolhouse.com.sg
If you find this article useful, do click Like and Share at the bottom of the post, thank you.
Like what you see here? Get parenting tips and stories straight to your inbox! Join our mailing list here