Question: I have often heard of the use of the term 'whole-language approach to reading'. What does it mean actually? How different is it from teaching to read using explicit phonics?
Answer: 'Whole language' is an educational philosophy of which the 'whole-language' approach stems from a school of thought that children, in the learning of a language, is able to assimilate and understand the dichotomy of the language make-up through meaning making. It is often contrasted to acquisition of language through phonics. Whole language practioneers practice the belief in their teachings that learning a language needs to be contextualised and experiential.




The difficulty level is secondary to a certain extent. This is quite unlike the learning of language through phonics. Practitioners of the latter believe that learning of a language needs to start right from the basics, where a strong foundation needs to be put in first. Phonics then acts like the 'bricks' to the house. Adding more 'bricks' then adds on more word count and knowledge.
All said, the whole language philosophy is complex to describe as it is indicted to areas of sociology, psychology, linguistics etc. There are also critics to the approach as some experts in this area of academic learning feels that there is a limited body of scientific research.
What is a concurring point for both phonics and whole language philosophy is that constant exposure, building familiarity and striking purposeful use of language are meaningful ways to make learning language constructive.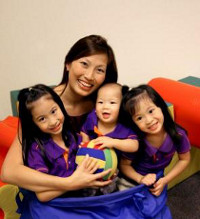 In this Ask The Expert section, we asked Esther Lim, CEO and Founder of LEAP SchoolHouse, about language and literacy development in children. Born and educated in Singapore, she holds a Master Degree in Education (NTU/NIE), Bachelor Degree in Arts (NTU), Diploma in Marketing – Top student for the year 2000 (Chartered Institute of Marketing). Esther has more than 10 years of teaching experience and has taught widely in both Secondary and Primary schools. She was also involved in curriculum planning and development work for the primary unit at MOE for several years. Esther has also conducted workshops and talks for educators, locally and overseas. Besides all the above credentials, Esther is also a mother of three children.
For more info, visit leapschoolhouse.com.sg
If you find this article useful, do click Like and Share at the bottom of the post, thank you.
Like what you see here? Get parenting tips and stories straight to your inbox! Join our mailing list here.