Created in collaboration with National Council of Social Service (NCSS), Fire in the Rain is an inclusive music video that features over 100 performers, some with disabilities and some without.
It is part of this year's See the True Me campaign by NCSS, a public education campaign that encourages the public to see persons with disabilities for who they are, instead of the disabilities they have.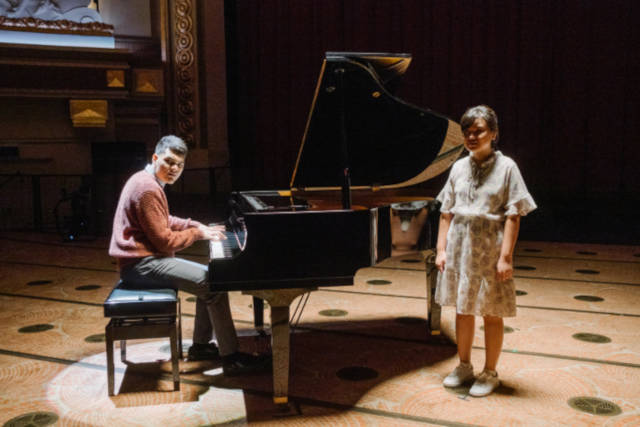 Making of Fire in the Rain MV – Joshua Allen German (on Piano) and Adelyn Koh. Photo credit: Isabelle Lim
Not many may know that this campaign is part of a 5-year public education effort to promote inclusion in Singapore, which is currently in its third year running. Find out more about this important social awareness campaign via ncss.gov.sg.
The Fire in the Rain music video stars visually impaired lead singer Adelyn Koh, rappers ShiGGa Shay and Danial Bawthan aka Wheelsmith (who lives with muscular dystrophy), and dancers from deaf hip-hop dance group Redeafination.
The song was composed by singer-songwriter Don Richmond, while the video was directed by award-winning local filmmaker Royston Tan.
The girl behind that beautiful voice is Adelyn Koh, who you might recognise from being on multiple President's Star Charity shows in the past. In fact, Adelyn has been part of the local entertainment scene since a young age, and has even produced a few of her own albums and worked as a voice actor previously. That's no mean feat for any teenager, let alone one with visual impairment.
The New Age Parents was given the opportunity to interview Adelyn and her mum, Mdm Mary Lim. This is their story.
I Have A Dream
18-year-old Adelyn Koh was born with a rare disorder of the eye, called Peters anomaly, that left her visually impaired. Due to this congenital eye condition, she can only make out lights and shadows. However, her disability has not stopped this spunky lass from pursuing her dreams.
Making of Fire in the Rain MV. Photo credit: Isabelle Lim
When she was just three years old, Adelyn started learning to play the piano. She shares, "One of the first songs I learnt to play was a famous nursery rhyme, Twinkle Twinkle Little Star. I really enjoyed it."
Later on, she began to sing and play the keyboard at the same time. Her mother encouraged her to keep growing in these areas, and also constantly sought ways to expose her to other new experiences and activities.
As a young teenager, Adelyn shares that she faced several unpleasant social encounters in secondary school. She would look forward to every school choir practice session, welcome distractions from these difficult experiences. It was then that her love for singing really took root and began to bloom.
"Don't let what you can't do define who you are."
Making of Fire in the Rain MV. Adelyn Koh with Irene Jensen (L) and Royston Tan, Director (R). Photo credit: Isabelle Lim
That's the motto that Adelyn came up with earlier this year. "It's what I live by and it's important to me. People always have expectations of what I can and can't do because of my disability. They are often shocked when they see me doing normal everyday things," she explains.
"The thing is, I don't think that my visual impairment should limit me from doing what everyone else does. So I'm not going to let that define who I am. I'm going to live my life like a normal person and do things, learn things and strive to achieve my dreams, just like anyone else would. I believe that anything is possible once you put your heart and mind to it."
This teenager's plucky determination is certainly commendable, and are in no small part thanks to the constant support and encouragement of her mother. Mary is a single parent and has three children, of which Adelyn is the eldest.
In Her Mother's Eyes
Adelyn and her family. Photo credit: Adelyn Koh
"I promised that I would be her eyes ever since she was diagnosed with Peter's Anomaly," says Mary.
"I have to put in a lot of effort to make her trust me, in terms of when she is moving around and giving her information to help her understand her surroundings. I hope I can be there for her as long as she needs me."
Sometimes, Mary's role also involves helping Adelyn to see things from a different perspective.
Once, Adelyn was invited to perform at an old folks' home. However, she had just had a disagreement with her friends and refused to perform. Mary explained to Adelyn that some of the elderly had no family to visit them, or were unwell, and how they were looking forward to her performance to bring them hope and joy.
After hearing what her mother said, Adelyn agreed to perform for the old folks. After the performance, she had the opportunity to interact with some of the seniors, and that's when she understood how much her performance had meant to them.
"My mum has supported me through all these years as my interests changed and evolved. No matter how many times I stumbled, stepped back to re-evaluate my interests or lost confidence, she is the person who has always supported me and helped me to move forward,"
"She showed me, from a very young age, that I can do anything if I put my mind and heart to it, and this belief is what drives me till today," Adelyn shares.
"The smiles on my children's faces are what keeps me going every day," says Mary.
Children like Adelyn may be disabled in one area, but often have so many talents and abilities waiting to be discovered and expressed. How can parents be more inclusive and empathetic towards such individuals? Mary shares:
1. Be more observant. Put yourselves in other people's shoes to think for them from your heart.
2. Imagine they are your family/loved ones. You will be able to feel for them more.
3. Educate your children about their peers with special needs.
There is no need to explain the specific condition as they might not understand. Parents just need to let their children know that there are persons with special needs and teach them different ways that they can be of assistance.
Let your children know that we should befriend them and understand the challenges they face, so we are able to give them a helping hand when they need it.
Fast forward to more recent times, when Adelyn was invited to audition for Fire in the Rain, she was asked to sing some of the songs she liked. So we asked her what her current favourite song is.
"That Distant Shore by Jennifer Paz is a very beautiful piece of music! It's a song from the cartoon Steven Universe, and the lyrics are meaningful. The song really conveys the character's thoughts, motives and emotions well," says Adelyn.
Working on Fire in the Rain was "a very fun and meaningful experience" for Adelyn. Her next major project is a music video for "a big event that I have been waiting to be part of – that's all I can tell you!"
We can't wait to see what's in store for her next.
By Dorothea Chow.
* * * * *
Like what you see here? Get parenting tips and stories straight to your inbox! Join our mailing list here.
Want to be heard 👂 and seen 👀 by over 100,000 parents in Singapore? We can help! Leave your contact here and we'll be in touch.