There is a saying, "A hungry person is an angry person".
You probably haven't had a moment's peace to yourself since your baby arrived. You feel like a human cow. You feel ugly, tired and grumpy all the time now. When everything happens at once, and poop hits the fence, indeed it can seem that the red-eyed monster is unleashed!
Just what can you do about it?
1. Wake up
You could be unleashing your anger and frustration on those around you because you feel overwhelmed by all that is going on around you. This might actually get you what you want – immediate attention and help. Unfortunately, those around you always tend to be your close ones including your hubby. Like a double-edged sword, this can kill all goodwill, compassion and empathy, not to mention, the passion in your primary relationship! First of all, notice what happens when you complain, or shout and their corresponding reaction.
2. Don't wait for the build-up
If you have always had difficulties asking for what you want including support out of fear of imposing on others, this is probably a good time to break out of that habit. Instead of waiting for negative feelings to build up, often all you need to do is ask. However, this might not occur to somebody who already has issues with assertiveness and would only ask for help when there is a big enough force to propel action – think volcano eruption. Break that habit by asking the moment the idea for help comes to your mind – this way the urgency and tone would already be more toned down.
⇒ Related Read: How Should Parents Manage Anger
3. Practice asking
When you practice asking for support with small things that of little consequence, you are not invested and therefore, not emotional about if you do not get what you want. The practice is asking is that… a practice. You ask first so that your ability to ask for as well as receive because more habitual and comfortable for you. When you can successfully verbalise your needs, wants and later desires, it will further your confidence when you do get what you ask for, making it easier to ask again – and for bigger, more important things.
4. Be in the now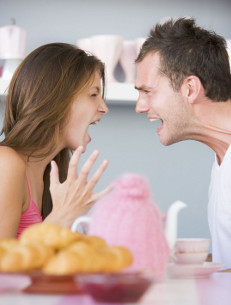 There is no perfect in life. When we were dating, we began to desire marriage. And once we were wedded, to start our own family by having kids. And perhaps on the onset of your first baby did the irreversibility of the years ahead as parents truly sink in. Even when their baby in their arms, I would hear parents lament about how they wish their child could grow up quickly and they could have their freedom back. My issue with all this is: your now will never come back. Rather than living in the future and what could be, would be, might be, how about being grateful and being in the here and now – because it will all pass in a blink of eye – and you might well be wishing you had lived your past more fully?
5. Exercise patience
I know of women who remain angry and upset with themselves and the changes in their body, despite the continued reassurance of their spouse. While probably easier said than done, this whole process of motherhood can be viewed as your time to surrender in just being, being connected with your baby, and being patient with your body. Meditation might be one way you can stretch your ability to stay in the moment, and just accept instead of remaining in struggle and strive.
I hope these five tips will help you manage the red-eyed monster and be on your way to practising mindfulness and living more in the moment. All my best wishes.
By Dr Martha Lee, Eros Coaching.
Dr Martha Lee is Founder and Clinical Sexologist of Eros Coaching. A certified sexologist with a Doctorate in Human Sexuality, she provides sexuality and intimacy coaching for individuals and couples, conducts sexual education workshops and speaks at public events.
This article was first published in The New Age Parents e-magazine.
* * * * *
Like what you see here? Get parenting tips and stories straight to your inbox! Join our mailing list here.
Want to be heard 👂 and seen 👀 by over 100,000 parents in Singapore? We can help! Leave your contact here and we'll be in touch.