Crestar Art
Teacher Sim could probably be Crestar's recipient for "Long Service Teacher Award". She has been teaching Art with Crestar Learning Centre for almost 33 years! With so much experience under her belt, it's no surprise to see the art classroom walls decorated with her many students' masterpieces. Other than Teacher Sim, Crestar also has qualified and professional teachers from art academies around the world.
Teacher Sim will first introduce basic art medium such as crayons and water colour paint for the younger children and slowly progress to more challenging mediums such as poster paint and oil pastels. As the children advance in proficiency, she will encourage them to combine art mediums in their drawings and expose them to 3-Dimensional Art. During the previous art lesson, the children made a papier-mâché face mask and painted their own face designs, using Chinese Opera face masks as reference.
Established 35 years ago, the Crestar art programmes are customized to develop each students' artistic potential. There is Kinder Art for 4 to 5 years old and Children's Art for 5 to 8 years old.
Take a peek at what goes during a Crestar ArtMazing class
Crestar Abacus & Mental Arithmetic
Crestar Abacus and Mental Arithmetic course uses the virtual image of the abacus in the mind to perform calculation. Developed by in-house experts and benchmarked against the International Abacus Mathematics Association (IAMA) of Taiwan, children in Crestar Abacus course are ensured of the best guidance from qualified teachers.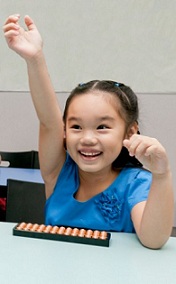 Established since 1988, Crestar Abacus classes are conducted in both English and Mandarin. Teacher Tina Chu, who is also the Curriculum Head for the Abacus Program at Crestar, conducts classes in Mandarin. Soft spoken and gentle, she is generous with her praises and patient with the kids. She also makes the effort to explain to parents about their child's progress in class.
In every class, the lesson outline will be written on the board, which makes the learning more direct and focused. Armed with their own small abacus, children are guided through their Crestar Abacus Workbook designed to complement the local school mathematics curriculum. Teacher Chu will go through the more difficult questions together with the children, demonstrating each step on her big abacus while reciting the formula. Once she has gone through several questions, she lets the children finish the remaining sums.
She engages the children in a mini mental sum competition to see who can finish 10 sums in the fastest time and with the most number of correct answers. Teacher Chu also personalizes each child's homework. She explains, "Even though everyone in class is doing the same questions, each child's progress and pace is different. This is achievable due to the structured proprietary curriculum for various age groups." The class ends off on a high note with another mini competition on multiplication, which the children are all very excited about.
Besides Abacus & Mental Arithmetic, Crestar Learning Centre also offers Music, Chinese Language and Chinese Speech and Drama lessons.
To view other programs offered, log on to crestar.com.sg or call 6344 4588.
To find our more about Crestar Dance School, read Crestar Dance School Review.
* * * * *
Like what you see here? Get parenting tips and stories straight to your inbox! Join our mailing list here.
Want to be heard 👂 and seen 👀 by over 100,000 parents in Singapore? We can help! Leave your contact here and we'll be in touch.