New clan-based gameplay via 'Zodiac Quest', which pits players of the same zodiac against one another in the race to outplay and "out-hunt"
SGD 180,000 worth in cash prizes to be won, including the top prize of an SGD 888 angbao
Festive zodiac sticker packs to be available on Telegram and Instagram starting 29th January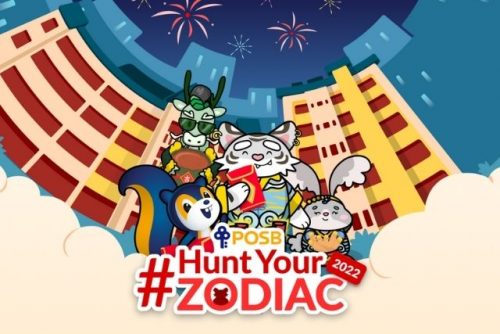 Singapore's largest zodiac hunt is back this Chinese New Year (CNY)! Now in its third edition, POSB #HuntYourZodiac2022 ("POSB #HuntYourZodiac") will once again bring festive fun for users of DBS PayLah!, as they track down the zodiac animals located all around the island in return for chances to win "angbaos" worth up to SGD 888. A total of SGD 180,000 in cash prizes are up for grabs this year.
POSB #HuntYourZodiac, a virtual mobile game co-designed and developed by POSB and game developer Sqkii, has been warmly received since its launch in 2020 with player numbers surging from around 5,500 then, to over 49,000 last year. This CNY, the game will run from 30 January to 15 February ("game period"), bringing joy to players throughout the entire festive period as compared to five days in previous years.
➡️ Related Read: Year of Tiger Zodiac Forecast
Leveraging location-based technology, POSB #HuntYourZodiac can be played from wherever players are in Singapore. Boasting refreshed gameplay as well as new twists and challenges this year, both new and existing players alike can expect to embark on an exciting virtual hunt for the sixty zodiac animals¹ scattered over 34,000 locations ("Gates of Fortune") around the island.
Players who successfully capture the zodiacs and win challenges will be rewarded with in-game oranges, which can be exchanged for chances to win cash prizes in the form of "angbaos" ranging from SGD 0.28 to SGD 888. DBS PayLah! transactions made at any merchant or store will be translated into in-game "power ups" to boost gameplay.
Upping the ante with clan-based gameplay via the 'Zodiac Quest', animated storytelling, and cute festive stickers
In line with POSB's commitment to building communities and enabling shared experiences for all, POSB #HuntYourZodiac is introducing a 'clan' element to gameplay through the 'Zodiac Quest', a progress-based race that pits the zodiac clans against one another. Based on their year of birth, players of the same zodiac sign will automatically form a clan, with clan results tracked in real-time on the leader board as the clans compete to outplay and "out-hunt" one another to gain rewards, and ultimately emerge as the winning clan at the end of the game period.
This year's instalment also ups the ante by integrating animation and storytelling, thereby bringing the zodiacs to life with a backstory, as well as unique personality arcs for each character. The game is premised on helping Smiley, POSB's much loved mascot, to reunite the missing zodiacs – all of which have escaped after having caught whiffs of the irresistible array of CNY delicacies. Watch the animated trailer here and a gameplay tutorial here.
Starting 29th January, special sticker packs featuring each of these twelve zodiacs will also be made available on Telegram and Instagram, right in time to jazz up festive CNY greetings! Simply search "Hunt Your Zodiac" on these platforms to download the stickers.
Image: A still image of the zodiac sticker packs, available on Telegram and Instagram starting 29th January
Mr Jeremy Soo, Managing Director and Head of Consumer Banking Group (Singapore), DBS Bank, said: "With the pandemic, Chinese New Year may look very different from how we once knew it to be. This makes it even more imperative that we tap on technology, gamification, and virtual environments to create new ways to celebrate. POSB #HuntYourZodiac seeks to do just that by giving families and friends of all ages something they can play, share, and talk about this festive season, and especially so with the new clan-based gameplay, which aims to foster team spirit and create shared experiences for all to enjoy."
POSB #HuntYourZodiac stemmed from DBS/POSB's commitment to leveraging its technology and gamification capabilities to deliver immersive, engaging, and novel experiences for customers – an endeavour that has proven successful, with the game having been accorded awards such as 'Best Digital Integration' and 'Best Use of Gamification' by Marketing Interactive in 2020 and 2021 respectively.
To play or find out more about POSB #HuntYourZodiac, visit here.
¹ 12 Chinese zodiac animal types, across all five elements (metal, wood, fire, water, earth)
---
All you need to know about POSB #HuntYourZodiac2022
The Chinese New Year festivities (especially the food!) have caused the mystical zodiac animals to run loose all over Singapore!
Help POSB Smiley to reunite them from 10:00 am on 30 January to 11:59 pm on 15 February 2022, and stand to win Angbaos with cash rewards ranging from SGD 0.28 to the top prize of SGD 888. Angbao money will be credited directly into your DBS PayLah! wallet after the event ends.
➡️ Related Read: Year of Tiger Zodiac Forecast
How to play POSB #HuntYourZodiac2022
How to I start playing?
To play, simply visit the game website via a mobile device, and create an account using your mobile number. Please use the mobile number that's registered to your DBS PayLah! account.
Once done, you'll be taken through an interactive tutorial on key game features. This includes guidance on navigating the game interface, types of Angbaos available and how to win them, and how to catch the zodiac animals.
Once done, have fun walking around to hunt for the zodiac animals, which can be found at over 34,000 Gates of Fortune located all around Singapore!
Who can play?
It is open to players of all ages, but those under the age of 18 are reminded to seek consent from their parents or guardian before playing. Players will require a DBS PayLah! account in order to redeem Angbaos.
Hunting zodiac animals
How many zodiac animals are there?
There are 60 zodiac animals to be found – all five elements (metal, wood, fire, water, earth) of each of the 12 zodiac types: Mouse, Ox, Tiger, Rabbit, Dragon, Snake, Horse, Goat, Monkey, Rooster, Dog, and Pig.
Where can I find them?
Zodiac animals can be found at over 34,000 Gates of Fortune located all around Singapore. Simply seek the Gates of Fortune as indicated on the map to start the hunt for zodiac animals!
Why did the Gate of Fortune turn gray?
If you fail to make a catch, that specific Gate of Fortune will enter a cooldown period of 60 minutes. Should you wish to skip the cooldown period, you can obtain a 'Skip Tart' power-up, which enables you to open closed Gates of Fortune and try again immediately.
How long before the zodiac animals in my inventory escape?
Players should not rest on their laurels after successfully capturing zodiac animals, for they will escape after 24 hours!
What happens if I catch a zodiac animal that's already in my inventory?
This refreshes the specific zodiac animal's escape time back to 24 hours.
When is the Golden Hour? What are Golden Gates?
Golden Gates are where you can find rarer zodiac animals during the golden hours. From 11:30 am to 2:00 pm and 6:30 pm to 9:00 pm every day, all gates branded with the DBS PayLah! logo will magically transform into Golden Gates.
Tip: Golden Gates are located near places where you can use DBS PayLah! to make cashless transactions!
The zodiac animal I caught came with Oranges. What should I do with it?
Congratulations! These Oranges are what you need to get Angbaos.
Use the in-game menu and navigate to the God of Fortune. There, you'll be able to see how many Oranges you need to present to the God of Fortune to get an Angbao. If you have enough Oranges to do so, simply tap the 'Present' button to exchange them for an Angbao!
Zodiac Quest
What is the Zodiac Quest?
The Zodiac Quest is a clan-based race that pits the zodiac clans (named after each of the 12 Chinese zodiac animals) against one another.
Players are introduced to the Zodiac Quest once they have completed five attempts to catch zodiac animals. Based on their year of birth, players of the same zodiac sign will automatically form a clan and will contribute to their clan's overall score by catching zodiac animals as they play the game.
Each clan's score will be tracked in real-time on the leader board as the clans compete to outplay and "out-hunt" one another to achieve specific milestones and win rewards, and ultimately earn the title of "Best Zodiac 2022" at the end of the game period!
Angbaos
What are Angbao levels?
Angbao levels indicate how likely you are to win a big cash reward upon opening the Angbao.
Each Angbao you receive will have a level that is automatically higher than the last. For example, if you previously received a Level 1 Angbao, then the next Angbao you receive will be at Level 2, with a higher chance of containing a bigger cash reward.
You can check which Angbao level you are at by tapping on the "Angbaos collected" section in the in-game menu.
How do I collect more Oranges to get more Angbaos?
By catching zodiac animals! Each time you catch a zodiac animal, there's a chance it may give you Oranges.
You can also collect Oranges by completing challenges in the game. Each challenge has different requirements that need to be fulfilled in order to complete them. Be sure to read them carefully, and bear in mind that only Zodiac animals that are currently caught count towards challenges!
When will I receive the Angbao money after redeeming an Angbao?
All Angbaos must be redeemed before the game ends at 11:59pm on 15 February 2022. After which, the cash value of these Angbaos will be credited to players' DBS PayLah! accounts by 31 March 2022. Please ensure that the mobile number registered to your game account is the same as the mobile number registered to your DBS PayLah! account. Limited quantities of Angbaos are up for redemption every day, so players are encouraged to redeem their Angbaos as soon as possible!
Power-ups
The zodiac animals I'm looking for are too difficult to find! What can I do?
Fret not! Players can obtain power-ups to improve their hunts:
Lure Letter helps you attract a specific zodiac animal type or element, giving you more opportunities to catch them.
Extension Roll prevents captured zodiac animals from escaping, so they stay with you for a longer time.
Skip Tart enables you to open closed Gates of Fortune so that you can immediately enter it again to catch another zodiac animal.
Slow Nian Gao slows down the shuffling speed of the hotpots so you can easily keep an eye on which one the zodiac animal is hiding under. It's especially useful when hunting rarer zodiac animals!
How do I get power-ups?
There are three ways to do so:
Perform an eligible DBS PayLah! transaction during the campaign period and redeem them via the power-ups page.
Get a friend to sign up for a game account using your referral link, and make sure that they have linked their DBS PayLah! account to their game account.
By reaching score milestones with your Zodiac Clan in the Zodiac Quest!
Tip: Redeem your power-ups during Golden Hour to get a bonus power-up!
What is an eligible DBS PayLah! transaction?
An eligible DBS PayLah! transaction refers to a cashless transaction made between 10:00am on 30 January to 11:59pm on 15 February 2022, via DBS PayLah! for any of the following transactions:
Payment to merchants through DBS PayLah! In-app checkout, merchant in-app checkout, Web checkout, Express checkout.
Scan & Pay transactions to merchants via DBS PayLah! QR Code functionality, and using the QR Code generated on the NETS terminal or SGQR and PayNow QR codes in Singapore.
---
CHINESE NEW YEAR
We have compiled a list of Where to go during Chinese New Year especially for our readers. Click on the image to read more.
* * * * *
Like what you see here? Get parenting tips and stories straight to your inbox! Join our mailing list here.
Want to be heard 👂 and seen 👀 by over 100,000 parents in Singapore? We can help! Leave your contact here and we'll be in touch.