Allschool offers thousands of interactive live online classes, connecting hundreds of teachers with learners aged 3 to 18 around the world. The classes meet weekly in a small group over live video chat with our innovative tools, allowing both teachers and learners to be fully engaged in an enjoyable environment.
Attending class is as easy as skyping with their grandparents. It's a small classroom experience in the convenience of your home. It's easy to view the class summary, the teacher's background and qualifications, and most importantly reviews from other parents.
So if you've been looking for a way to supplement your children's education or simply help them explore new topics or interest, try Allschool! Your kids are going to love it.
Here are popular classes your kids – and you – will love!
---
"Roblox Robloxercise and Minigames"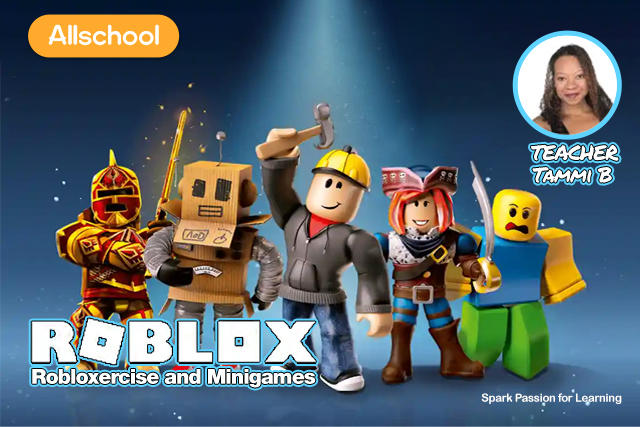 Let's Robloxercise! In this learner-directed class we will get fit while gaming. Each session we will roll the dice to make it across the obby-like gameboard to the Minigame choices. Along the way, you will do 20 seconds of each exercise you land on. Once you reach the Minigames, we will play for at least 5 minutes and move on to the next level. There are three levels of challenge that involve simple moves (Warm-ups) to more complex moves (Nailed-It!). Just have fun and keep your body moving! Get ready to get fit this fall and get in some gaming!
---
"Creature Storytime – Alpacas (PK & K)"
This storytime will include learning facts and drawing about Alpaca, while having fun. A story called "Hello, My Name is Pacca" by Alana, will be introduced for any young students who like to learn about different creatures.
---
"ESL & Preschool: I Love Dinosaurs!"
Studies believe children that love dinosaurs will help develop better attention span and better information processing skills which make them better learners and smarter kids.
We will be singing a song about dinosaurs and playing games to help students understand better. Students will have time to practice each vocabulary independently and to use them in simple sentences. We will also have a show and tell time for students to show their favorite dinosaur to each other. This is a fun, informative class where students can learn about the topic they love! Worksheets will be provided before class so students can understand more about dinosaurs.
---
"Harry Potter Book Club: Characters"
Welcome to the Harry Potter Book Club: Character of the Week discussion! Are you a magical book nerd? This is definitely the class for you! Here we will discuss characters from our favorite book series. Events from the books will be deeply discussed and analyzed so that students are able to understand each character's purpose and growth throughout the story. Tough questions regarding character actions, traits, and more will be debated as we join in this book discussion together.
---
"Show & Tell Public Speaking Club"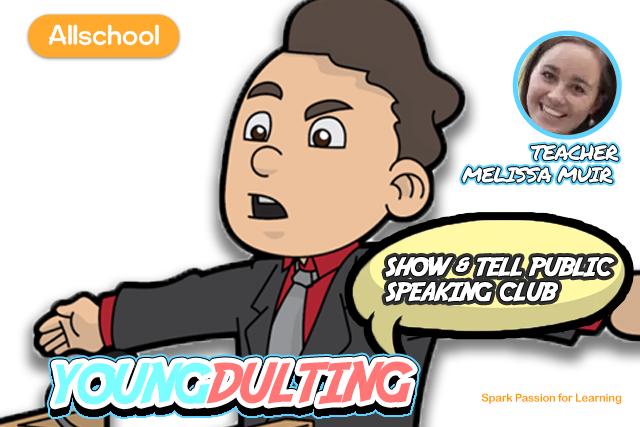 This class is for kids who would like to practice their English in a safe, kind, and understanding environment. We'll work on communication skills and build confidence along the way!
We'll take time to discuss three important aspects of presentation: introduction, body language, and tone. Using age-appropriate language and props the teacher will model these concepts and then prompt learners to offer their show and tell presentation. After presenting, each child will receive comments from their peers showing appreciation and reflecting the impact of what they shared. Each week will center on a different theme which can be found in the classroom.
---
"Zookeeper Training Class – Animal Science"
During this one time class, students will learn what a typical day in the life of a zookeeper is like. We will discuss the different animals that live in the zoo, what each of those animals is fed each day, the responsibilities the zookeeper has for caring and maintaining a safe and clean environment for the animals and how zookeepers educate visitors about the creatures and their natural habitats. The teacher will take the students on a guided "virtual" zoo tour beginning with feeding each of the animals breakfast. During the tour, students will be educated on each of the animals, their eating requirements, natural habitats and interesting facts about each species. This class incorporates videos, slides, live zoo cameras and slides for the presentation.
---
Special Promotion
Sign up with us from now until 31st January 2022 to enjoy 30% OFF on your first class!
Join us now HERE!

* * * * *
Like what you see here? Get parenting tips and stories straight to your inbox! Join our mailing list here.
Want to be heard 👂 and seen 👀 by over 100,000 parents in Singapore? We can help! Leave your contact here and we'll be in touch.