REFRESHED PERANAKAN MUSEUM CELEBRATES DIVERSITY OF PERANAKAN CULTURE AND COMMUNITIES
Celebrate with a special reopening edition of Armenian Street Party: Peranakan Museum Reopens! this weekend from 17 to 19 February 2023
Facade of Singapore's revamped Peranakan Museum.
Peranakan Museum reopens to the public this Friday 17 February 2023, after nearly four years of renovations. The museum invites all to celebrate its reopening at a special edition of Armenian Street Party: Peranakan Museum Reopens!, a homecoming weekend of outdoor performances, workshops, food, and beverages – including free admission to the museum from 17 to 19 February 2023.
Mr Kennie Ting, Director of Asian Civilisations Museum and Peranakan Museum, shares, "We are grateful to our patrons and donors, and to the various Peranakan communities for their support and contribution towards the museum. The 'old' Peranakan Museum was frequently described as a 'jewel'. We have taken this further, conceptualising the new Peranakan Museum as a 'jewel box'. Each of the Museum's permanent galleries has its own distinctive look and feel, and spotlights a particular aspect of Peranakan culture. While some favourite and familiar elements remain, there are parts of the museum that would feel very different, very contemporary, even as we've attempted to evoke the essence of the 'Peranakan aesthetic', so to speak. A fundamental question that threads everything together is 'What is Peranakan?' We prompt visitors to re-encounter the multiple cultural roots of 'Peranakan' and explore how the culture – a living, dynamic one – continues to shift and evolve today. Come experience the Peranakan Museum anew at our reopening party this weekend!"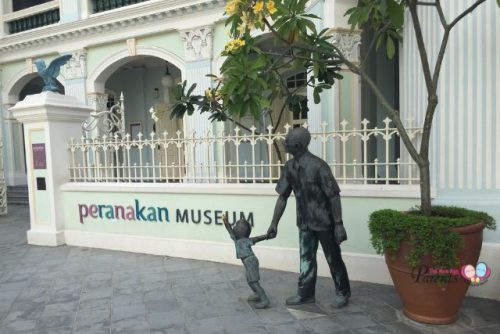 With a focus on inclusivity, the refreshed museum explores the multi-faceted diversity of Peranakan culture and communities such as Arab Peranakans, Chinese Peranakans, Chitty Melakans (or Peranakan Indians), Eurasian Peranakans and Jawi Peranakans. Visitors will encounter intricate objects, interviews, stories, and contemporary expressions in the museum's nine galleries spanning three floors.
Mr Ting adds, "In Malay, the word 'Peranakan' has 'anak', or 'child' as its root, and means 'locally-born' or 'of the same womb.' It was a welcoming and inclusive sort of word, used by Malay-Indonesian communities in Southeast Asia to refer to other communities who had made a home in this region, and blended the rich local culture with their own proud heritage. Peranakan communities are thus cross-cultural in nature, and speak to the sort of cultural diversity and mixing inherent in Southeast Asian port cities such as Singapore. The Peranakan story is a port city story, and thus an integral part of the Singapore story. Singapore's exhilarating, cross-cultural, port city heritage in turn informs and grounds the curatorial approach for the refreshed Peranakan Museum".
Displaying over 800 objects, ranging from newly acquired or generously donated objects to well-loved artefacts and set pieces, the museum explores the Peranakan identity through universal themes of "Origins", "Home", and "Style".
Themes and Highlights of the Peranakan Museum
1. Origins
Origins gallery on level one
In the new Origins gallery on level one, visitors will be introduced to the diverse origins and evolution of Peranakan communities. From hand-coloured photographs to photo walls, visitors will encounter portraits of past and present-day Peranakans, contributed by various Peranakan communities, of the diversity and richness of Peranakan cultural heritage. This gallery also features video interviews where respondents share their thoughts and reflections on what Peranakan means to them.
2. Home
The interior of a home reveals the lives of its inhabitants. Galleries on the second floor present objects related to family and community life, revealing a range of Peranakan customs, foods, languages and beliefs. Newly combining what was previously three galleries to be the single largest gallery in the revamped museum, the galleries reunite furniture, portraits and furnishings that once shared the same home, in a new method of display that focuses on historical houses and architecture, many of which have since been demolished and are survived by the objects on view.
Tok panjang display in the Ceramics gallery on level two
The gallery dedicated to ceramics and food culture presents a refreshing take on the ceramics used by Peranakans and their diverse food culture. The gallery features a floor-to-ceiling display of some of the best and rarest examples of Peranakan 'nyonyaware' ranging from traditional pieces to contemporary expressions, alongside an installation featuring a tok panjang, a traditional long dining table with a complex outlay of commissioned dining ware.
3. Style

Decorative textiles and Fashion gallery on level three
Wholly dedicated to 'Style', the third-floor galleries present dedicated galleries to Peranakan fashion and decorative textiles, two strengths of the museum collection. Inaugural galleries are dedicated to the making of batik as objects of fashion and furnishing, and showcase how Peranakan needlework celebrates craftsmanship and design in the decorative arts.
A wide range of fashion is displayed beyond the iconic sarong kebaya, including menswear, footwear, bags and accessories. Together, they show how the fashion of the Peranakans is diverse, reflects hybrid influences and evolved over centuries. With over 130 objects, the gallery also highlights contemporary expressions, such as a batik cheongsam worn by the late Madam Kwa Geok Choo, a sarong kebaya worn by Ivan Heng for a Wild Rice 2019 production of Stella Kon's Emily of Emerald Hill, and a pair of beaded slippers worn by lead actress Jeanette Aw in the blockbuster drama series The Little Nyonya (2008).
Jewellery gallery on level three
A new dedicated jewellery gallery presents a glistening array of over 180 pieces of jewellery across various stages of life and occasions, tracing its chronological development and evolution in response to changing dress fashions and hybrid influences. Jewelled heirlooms on display include a Chitty Melakan addigai necklace, an Arab Peranakan hairpin, and a set of adornments from one of the oldest Chinese Peranakan families in Sulawesi, Indonesia.
4. Contemporary expressions
Coming Home by Sam Lo
In recognition of the relevance of Peranakan culture and identity today, the museum presents two commissioned artworks from contemporary artists Sam Lo and Lavender Chang. In the museum's central airwell, Sam Lo's art installation Coming Home is inspired by the tension between tradition and modernity in Peranakan culture, and is a body of work based on the artist's search for their cultural identity. Retracing steps through research and creation, the work serves as a homecoming to welcome and celebrate the lives of generations of Peranakans, both near and far, in an effort to evoke feelings of pride and unity in the community. On level two, Sheltered Dreams by Lavender Chang features portraits of living rooms in HDB homes, capturing the passage of time and everyday life at the heart of the home.
The Peranakan Museum will also feature a dedicated retail space as part of efforts to support craftsmanship and design from Singapore and the region. As an extension of the museum's relationship with our creative industry and communities, it will launch a pilot initiative with contemporary brand SUNS Singapore. Titled Peranakan Museum X SUNS, there will be unique, artisanal merchandise available for purchase, including exquisite porcelain and jewellery inspired by the Peranakan Museum collection.
Peranakan Museum is a department of the Asian Civilisations Museum, operating under the National Heritage Board. For updates, follow the museum on Facebook and Instagram.
For more information, visit here.
---
How to Get to Peranakan Museum Singapore
Address: 39 Armenian Street Singapore 179941
Bus: 7, 14, 16, 36, 77, 106, 111, 124, 128, 131, 147, 162, 166, 167, 171, 174, 175, 190, 700, 857
Nearest MRT: Bras Basah MRT
Admission: TBD
Opening Hours: Daily 10am – 7pm | Friday 10am – 9pm
Website: peranakanmuseum
Nearby places to check out:
* * * * *
Like what you see here? Get parenting tips and stories straight to your inbox! Join our mailing list here.
Want to be heard 👂 and seen 👀 by over 100,000 parents in Singapore? We can help! Leave your contact here and we'll be in touch.