When you think of NAFA (Nanyang Academy of Fine Arts), the first thing that probably comes to mind is – Arts Education. With 76 years of spearheading and leading ground-breaking art initiatives and programs locally, the name NAFA is indeed synonymous with the Arts.
In 2004, NAFA established the first arts kindergarten in Singapore at East Coast. It has proved popular and currently has a long waiting list, with waiting times as long as 3 years! We hear that the number of children on the waiting list for each level is more than 150 and some parents place their children on the waiting list as young as 2 days old. In view of the overwhelming demand, NAFA has established a second branch in a more central location at No.2 Derbyshire Road, a 6 minute walk from United Square.
Growing holistically through The Arts
What makes NAFA Arts Kindergarten (NAK) stand out? The pre-school programme focuses not only the academics but also arts and moral education for pre-schoolers. They integrate art, drama, music and dance into their fun and interactive programme to support children's holistic growth.
NAK students have the opportunity to attend at least one arts class daily:
| | |
| --- | --- |
| Music | Twice a week |
| Dance | Once a week |
| Art | Once a week |
| Speech and Drama | Once a week |
Furthermore, the NAK arts programmes are specially designed and taught by teachers from the NAFA School of Young Talents (SYT).
Ms Claire Ng, Principal of NAFA Arts Kindergarten @ Derbyshire shared, "At NAK, we take arts education seriously. Skills developed in arts education often transfer to other areas in life and school work. When young children are encouraged to express themselves and take risks in creating art, they develop a sense of innovation that will be imperative in their adult lives."
Music: To inspire children's interest in music and develop their musical talents through a specially designed music program by the Junior Music Department at NAFA SYT, known for nurturing gifted young musicians. Children will receive professional training in sight-reading, aural and performance skills.
Art: To involve children in basic art making using various mediums to express personal ideas creatively. Led by art specialists from NAFA, the teachers will provide positive reinforcements, feedback and ample time for the young learners to work at their own pace. Students are encouraged to use their imagination and creativity when creating their masterpieces.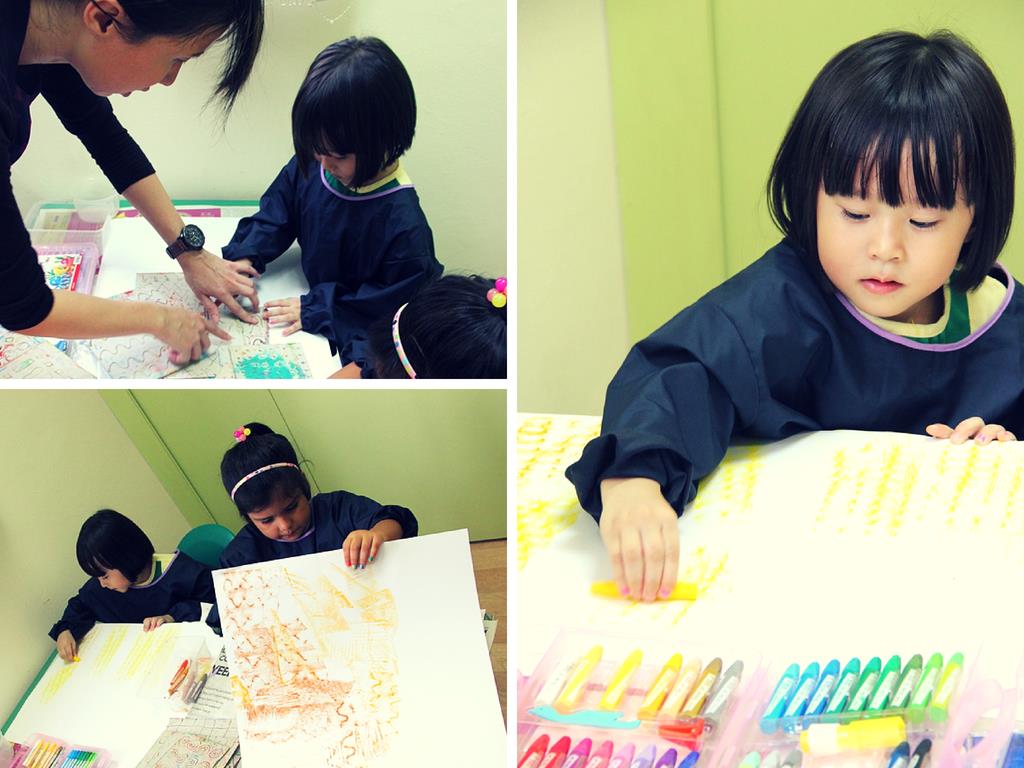 Dance: Dance is storytelling through movement and rhythm. Dance specialists engage the children in age-appropriate activities by incorporating drama, music and creative movement. The children can build their skills and deepen their understanding of rhythm and song and how it relates to the visual art of dance.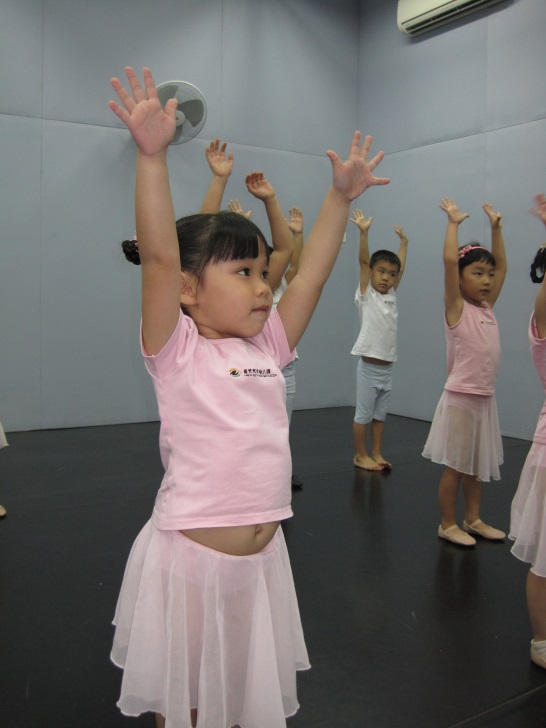 Speech and Drama: Encourage children's creative thinking and develop their confidence, stage presence, as well as bilingual public speaking skills in English and Mandarin. The Speech and Drama Specialists incorporate rhymes, songs, puppets and specially selected collection of literature into their classes, enabling the children to develop their use of language in a stimulating yet natural setting. This programme also nurtures teamwork, collaboration and communication skills as the children extend their experiences through drama and try out different roles and ideas.
Here are three other points that caught our eyes.
#1. Large and Small Group Learning
NAK strives to provide a safe and loving environment in which each child develops a strong educational foundation and a love for learning. The children explore and learn through a mix of large and small group activities. "They are introduced to and practise academic skills in addition to life skills including cooperation, respect for self and others, sharing and caring for others. We have various learning corners, outdoor play, and of course, numerous arts classes," said Claire.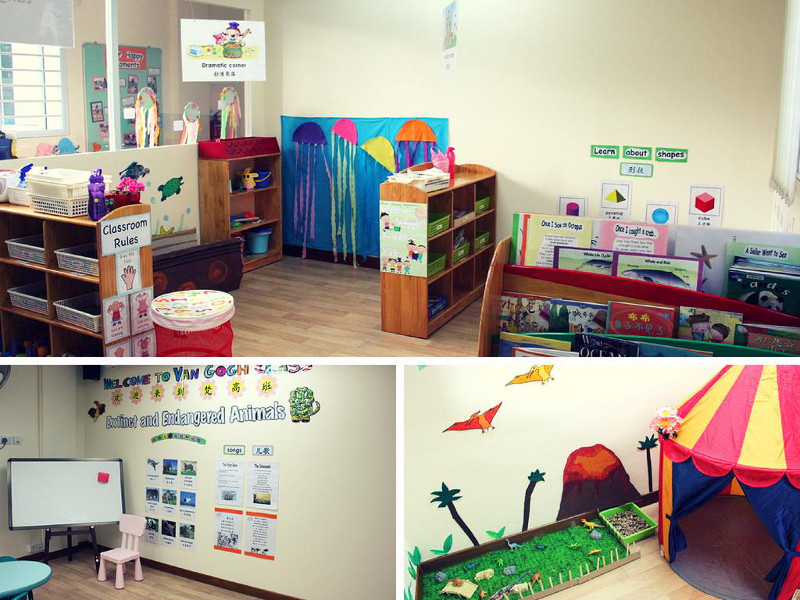 #2. Supporting Your Child's Holistic Growth through Experiential Learning
The kindergarten's integrated thematic curriculum is guided by the MOE curriculum framework. NAK focuses on providing children from 30 months to 6 years old, the experiences to build their foundation and learning skills necessary for their primary school education. The curriculum will enhance the children's physical, intellectual, emotional and social development.
Each class is led by two specialist language teachers (English and Mandarin) who work hand-in-hand to facilitate the children's learning with hands-on activities.
#3. Low Teacher Child Ratio
The teacher-child ratio in the pre-nursery class is 1:8, while the teacher-child ratio for Nursery and Kindergarten class is 1:10. This is lower than the MFS childcare standards. This means more attention and care will be given to each child.
Still sitting on the fence? Here are more reasons why you should provide your child with an opportunity to find joy in learning through arts.
N for Nurture
NAFA Arts Kindergarten aims to nurture the hidden creative and artistic talents in every child by giving everyone ample exposure to art, music, dance and drama. Claire adds, "We work on nurturing the creativity in every child. Every child has the opportunity to explore the different arts forms at NAK and discover which suits them most. We believe that every child is an artist who can make their imagination come alive with their preferred platform. We want each child to truly enjoy their learning journeys at the kindergarten."
A for Artistic Talent in Every Child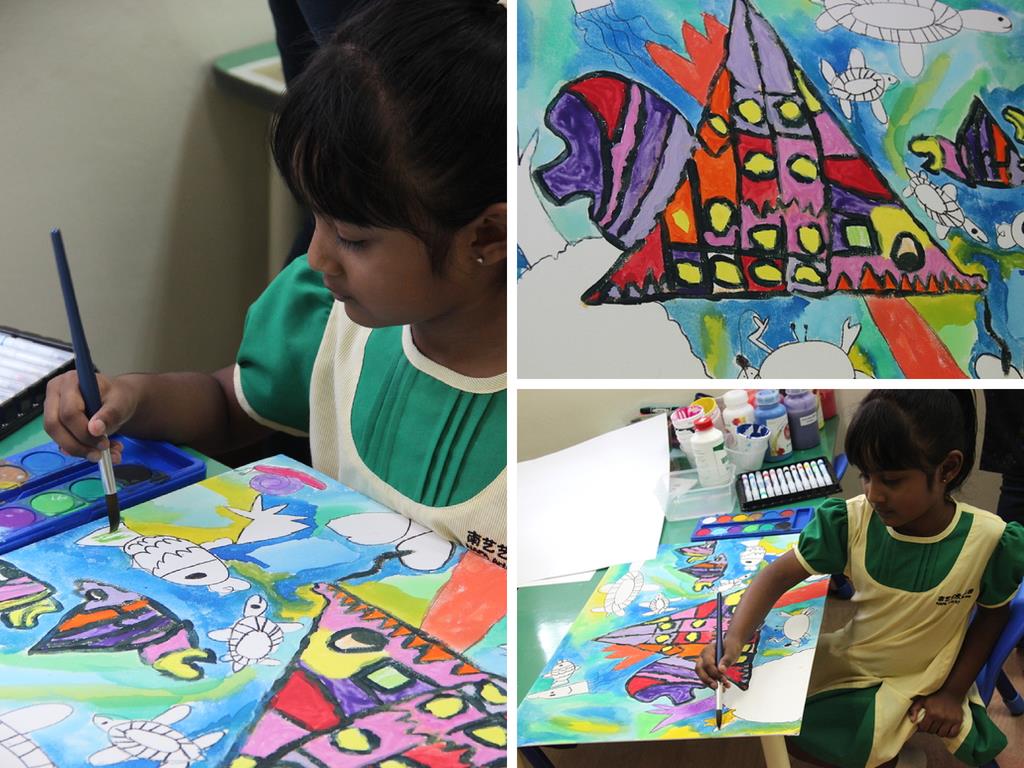 NAFA believes that every child has artistic talent. Learning arts also contribute to the overall development of a child: aesthetic, social-emotional, social-cultural, cognitive and even your child's academic achievement. You will be surprised at the amount of concentration and patience children need in order to complete a piece of work.
F for Fun
Learning can be a tedious process which is why at NAK, the lessons are always conducted in a creative and friendly atmosphere, where 'fun' remains a core aspect of the child's learning. Claire, who is now pursuing her Masters in Education adds, "Fun and interactive activities are carefully designed to meet the individual developmental needs of each child." Time is allocated both for free play activities, as well as for structured learning.
A for Arts in Work and Life
Studies have shown that the value of art-making can help children in many ways such as learning how to express their feelings and emotions in a safe way, practising and gaining fine muscle control as they hold paintbrushes and other art tools, developing perceptual abilities of colours, shapes and lines, seeing different point of views in creation, problem-solving and experiencing success.
Still not convinced? Here are two real-life stories on how art has influenced these two CEOs to who they are today.
Story #1: The History Behind Apple's Beautiful Typography
When Steve Jobs took up calligraphy classes during his College years, he learned all about typography and the elements to a beautiful text. He never imagined how this knowledge would have translated into any practical applications to his life until ten years later. When he and his team were designing the first Macintosh computer, everything he learnt during his calligraphy classes came back to him. He applied it to Mac and it became the first computer with beautiful typography. "If I had never dropped out, I would have never dropped in on this calligraphy class, and personal computers might not have the wonderful typography that they do," Jobs remarks.
Story #2: Scrutinize, Observe And Learn
Somewhere closer to home, Brian Ang, CEO of multi-label fashion distributorship Kwang Sia attributes how he developed his art of fine details and acute observation skills through his exposure to art since he was six. In an interview with The Peak, he mentioned how his father sent him to study under renowned Singaporean artist Liu Kang three times a week when he showed potential in drawing. "All I did was draw noses, hands, legs and ears," he recalls of his strict art training. But it instilled in him an appreciation for form and detail, which eventually led to a stint at the Nanyang Academy of Fine Arts. Even though he went to pursue a business degree later on, Ang never lost his ability to observe, scrutinise and learn. "The artist in me has taught me to be very detailed," he says.
The benefits of art may not be instant, but it's worth the while
If we do not expose our children to the Arts, how would we know the skills and benefits they will gain? Jobs summarizes it quite aptly for his commencement address at Stanford University in 2005. "Of course it was impossible to connect the dots looking forward when I was in college. But it was very, very clear looking backward ten years later."
Who knows what sort of opportunities and experiences the arts will lead your child to?
Why not create the dots for your child today?
This post is brought to you by NAFA Arts Kindergarten.
* * * * *
Like what you see here? Get parenting tips and stories straight to your inbox! Join our mailing list here.
Want to be heard 👂 and seen 👀 by over 100,000 parents in Singapore? We can help! Leave your contact here and we'll be in touch.