On 3 October, Dumex organised its fifth run of "Parenting from The Heart Seminar" at Raffles City Convention Centre Stamford Ballroom. Supported by Thomson Medical, NTUC Fair Price and Cordlife, over 650 guests attended the seminar. With a theme centered on baby's gut health, a panel of experts shared their insights on how to take care of a baby's gut health during the first 1,000 days after the first day of pregnancy.
Here are key takeaways from the seminar.
1. The Best and Most Natural Way To Boost Your Baby's Immunity
"70% – 80% of your baby immune cells are located along the gut walls. Breastfeeding is the best way to boost your baby's immune system as breastmilk contains millions of antibodies and protects babies from infectious disease such as diarrhea and respiratory diseases." said Ms Chen Li Qin, Lactation Consultant at Thomson Parentcraft Centre.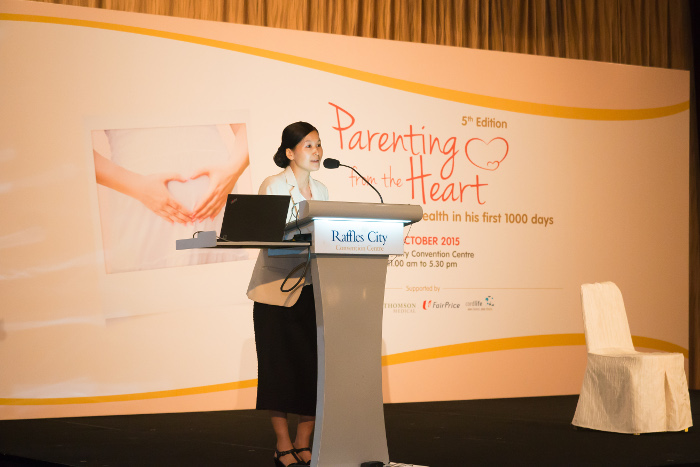 She gave a step by step account of how to breastfeed, including tips for daddies on how they can help their wives during the nursing period. She informed mummies not to be distressed or alarmed if they do not extract much breastmilk within the first few days after birth. "It takes about 2 weeks for your milk supply to fully establish." Ms Chen assured the mothers.
"The most important aspect of breastfeeding is that you and your baby have to be relaxed. If you are tense, your baby can sense it and you will not have a good feeding session." She went on to demonstrate how mothers can lead their babies to latch on comfortably and the various positions of breastfeeding. Other concerns addressed were possible reasons why some mothers couldn't breastfeed and difficulties some mothers may face when breastfeeding.
2. How Traditional Chinese Medicine (TCM) Can Help Your Child's Gut Health
"There is a common saying in TCM. Even if one is very sick, but one still can eat, there is hope to recover." shared Ms Gee Swee Sien, Physician at Thomson Chinese Medicine.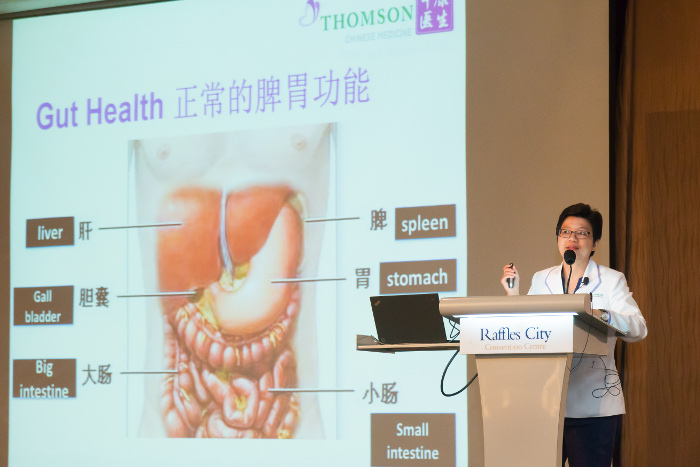 Before listing the signs and symptoms of a poor gut, Ms Gee clarified a common misconception between these two terms. "Signs are something we can see with our eyes. Symptoms are felt. For example, headache is a symptom; a bruise on your arm is a sign." Signs of a poor gut include: Sallow complexion, loose stools, abdominal discomfort and loss of weight. Symptoms of a poor gut include feeling fatigue and tired all the time.
In TCM, there are two ways parents can help their babies maintain gut health. The first is through TCM herbs. The second method is through TCM massage; applying pressure on specific acupressure points.
For TCM herbs, Ms Gee suggested two remedies: 四君子汤 (Si Jun Zi Tang) / Four Gentlemen Decoction or 香砂六君子汤 (Xiang Sha Liu Jun Zi Tang) Six Gentlemen Decoction.
Ms Gee then proceeded with a live demonstration of the specific TCM acupressure points for better gut health. The points are 足三里 (Zu San Li) and 公孙 (Gong Sun).
Laura Foo, 29, who works in the banking industry and expecting her first child, found the talk informative and insightful, especially on how to develop and enhance baby's gut through breastfeeding and TCM pediatric massage. "The tips were simple and very doable to carry out at home. I highly recommend it!" she exclaimed.
3. How Cord Blood Banking Can Save You And Your Baby
"Many people have this misunderstanding that cord blood donors can only receive cord blood from others. On the contrary, their own cord blood can be used for their own benefit as well." Dr Tang Kin Fai, Deputy Laboratory Director of Cordlife Group Ltd clarified. Citing cord blood banking as a long term investment, he listed the advantages of Cord blood banking and cited some case studies to support his stand.
Over 100 diseases can be treatable with cord blood transplantation; including blood disorders and non-blood disorders are treatable. Furthermore, 50% of childhood cancer incidences can be treated. Dr Tan recounts, "One example is Ray Foo, who was diagnosed with acute lymphoblastic leukemia. Although he was unable to find a bone marrow match, doctors were able to use his younger sister's umbilical cord blood and performed a cord blood transplantation for Ray. He recovered and was able to live beyond his predicted life span when he was first diagnosed."
4. Delivery Decisions On Your Big Day
What types of delivery methods are available in Singapore and what are the disadvantages and advantages? Dr Tan Toh Lick, Consultant Obstetrician & Gynaecologist at Thomson Women's Clinic (Jurong East) gave a comprehensive presentation, covering topics ranging from pre-delivery to the delivery itself.
Quoting natural or vaginal delivery as the most commonly used method, Dr Tan also mentioned other delivery methods such as Instrumental Delivery, Episiotomy (also known as the Cut) and Caesarean. Pros and cons of the various pain relief options were also addressed so that the audience could make an informed decision on the day of delivery.
In his final point, Dr Tan reminded the audience that they should also listen to their Gynaecologist's advice when it comes to the final decision, and although it was good to plan ahead, parents need to remain open and be prepared to expect the unexpected.
5. The Importance Of Gut Health
Did you know there are more than 400 bacteria species in our gut? But are they all good bacteria? asked Dr Ang Ai Tin, Paediatric Consultant at Thomson Paediatric Centre, who spoke on gut health in babies.
"The good bacteria in our gut are known as probiotics. Some examples of good bacteria include Lactobacilli and Bifidobacteria and these can be found in breastmilk and the mother's vaginal track." Dr Ang also stressed the importance of breastfeeding and why vaginal birth is best for the baby, as they will be exposed to these sources of bacteria.
After breastfeeding, she urged parents to wean their babies with wholesome foods, such as fruits and vegetables for a balanced diet. "All foods should be cooked by steaming and stir frying. Avoid food allergens such as eggs, wheat, tree nuts, fish, shell fish, soy, peanuts, and those high in glycemic carbs, such as noodle and bread." A final and interesting tip she shared was to introduce spices (e.g. ginger and onion) in small amounts to baby, after 9 months.
All guests walked away with a goodie bag worth $200 and were treated to a confinement food tasting by Thomson Medical Centre.