The seaweed is always greener,
In someone else's lake.
You dream about going out there,
But that is a big mistake.
Just look at the world around you,
Right here on the ocean floor.
Such wonderful things around you,
What more are you looking for?
– Under the Sea, from 'The Little Mermaid'
Sebastian the hermit crab from The Little Mermaid could not have sung it better. The themes for the last two terms – 'Underwater Fantasy' and 'Jolly Jolly Windsock'- were all about ocean creatures.
Take A Dive Underwater
Children at Kiddiwinkie Schoolhouse have been 'submerged' underwater, exploring the ocean floor; learning about various sea animals and their habitats. Through a host of mediums and stories, to role-playing and video presentations, they learnt about each animal's characteristics. The children also got to choose their underwater scene and the types of 'residents' in it.
After getting acquainted with their underwater sea friends, the children then embarked on creating their art pieces. For 'Underwater Fantasy', children created a collage of their own sea creatures, decorated with materials such as cellophane paper, glitter, sequins, and paint. For the 'Jolly Jolly Windsock', through the method of tie-dye, children gained concepts about colour blocking and graduation.
Getting To The Art Of The Issue
Besides using Art as a means of self-expression, Art can be both an independent and collaborative effort. "It is also an essential building block in a child's development as it also bridges learning with other areas. Important character traits during the process such as patience and respect (towards peers' artwork and choice of materials) are also honed. Children also feel a sense of satisfaction from the understanding and control over materials and this certainly aids in self-esteem." explained Ms. Pooja, Chief Curriculum Officer of Kiddiwinkie Schoolhouse.
"With an Art exhibition as such, we want our children to feel proud of their effort as they see their work on display. This was clearly the case with many of them showing their masterpieces to their parents" – Ms. Pooja
Puppet Demonstration by I Theatre
In line with their creativity-inspired curriculum based on an experiential approach, the school collaborated with local theatre company, I Theatre, to introduce and expose children to Performing Arts.
See Brian and Jonathan flexing their puppetry skills!
"To make the puppets come alive, the puppeteer has to believe it is alive." – Brian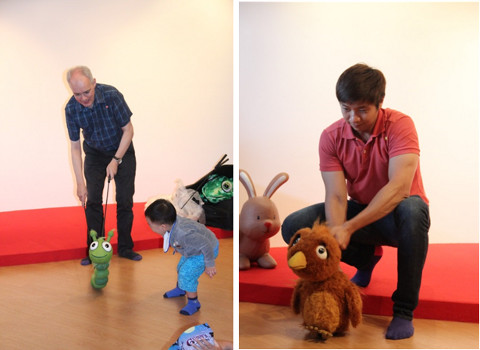 Through a lucky dip, some lucky parents and children had a try at the puppets! The two families who gave the best performance won tickets to catch I Theatre's latest show – Grimm's Fairy Tales.

Theatre For All
I Theatre is one in three professional production company for children's theatre and the only family-focused Production Company in Singapore. With a mission to make theatre accessible, inspirational, challenging and original, they hope to produce theatre experiences that are funny and thought-provoking to everyone, regardless of social and economic status.
With this in mind, I Theatre's "Theatre For All" scheme was created.
Giving Back To Society
To contribute to the underprivileged and special needs children under the "Theatre for All Scheme", parents from Kiddiwinkie donated money to the scheme by giving a small token before taking their children's art pieces back. The School management also added to the donation pool and a total of $1595 was raised for the scheme.
Thanks to all our mummies and daddies for their kind donations!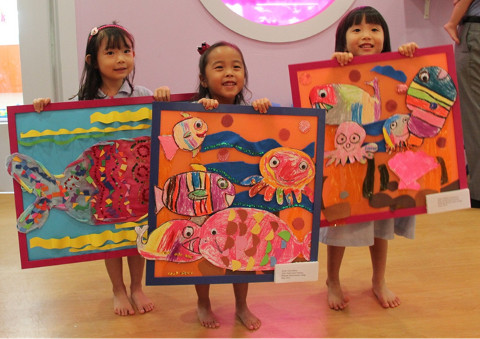 Kiddiwinkie Schoolhouse is a new premium preschool located at The Grandstand, in the heart of the vibrant Bukit Timah district. The school also sports a lush, modern environment with chic facilities such as a dedicated dining zone, sheltered wading pool, dramatic expression room and an outdoor sandpit, spanned across its 14,000 square feet facilities.
200 Turf Club Road, The Grand Stand, Level 5 North Tower
Tel: 6762 8878
To find out more, go to here.
* * * * *
Like what you see here? Get parenting tips and stories straight to your inbox! Join our mailing list here.
Want to be heard 👂 and seen 👀 by over 100,000 parents in Singapore? We can help! Leave your contact here and we'll be in touch.