How often do you wash your hair?
This might seem like a very trivial question, but it's actually a commonly asked question.
Just like how our face gets oily, our hair gets greasy for the same reason – glands in our skin produce an oily substance called sebum. This is what keeps our hair moist and prevents it from drying out.
You may have read somewhere that we shouldn't wash our hair daily. This school of thought believes that the more we wash our hair, the more we strip our scalp of its natural oils.
The other school believes that you should wash your hair every day. Why? Because there are many unseen dust particles, dirt and pollutants in our environment, especially in an urban landscape like Singapore.
So how often should you shampoo your hair daily?
According to hair experts, it all boils down to two factors – what kind of hair you have and how oily your scalp gets.
You may be thinking, "I wash my hair everyday, plus my hair looks thick and fine."
Chances are it's quite likely that we all have some form of hair damage through the years due to contact with so many potential damaging factors on a daily basis – pollution, dust, dirt, damage (dyes) and friction (tying or styling).
As we age, we will continue to lose more hair due to shrinking hair follicles. If we are experiencing a small form of hair loss now in our 30s or late 20s, imagine how much hair we will lose when we are in our 40s!
Or if we have an itchy and sensitive scalp right now and don't get it fixed, what will happen to our scalp in the next few years?
Expensive hair serums or elaborate DIY home treatments may be a quick fix to your oily hair or dandruff, but it may only treat these issues at a superficial level.
Scalp treatments may not be on top of your priority now. But when hair problems strike, it can be no fun at all. To accurately identify and solve our hair problems, we need to get to the root of it.
One of our team mates at The New Age Parents, Ms Charlene Go, paid a visit to TK Trichokare to find out how 'clean' her hair is.
Getting Guidance from a Hair Doctor aka Trichologist
Just like other parts of our body, our hair and scalp health change as we age. Our locks may seem thick and healthy, but a change in lifestyle habits (diet or sleeping hours), environment (weather) or the birth of a child (for women) can cause hair complications.
Even though I wash my hair with shampoo everyday and do my best to take good care of it, my hair condition started to change after motherhood. I could tell that I was losing more hair than usual, especially after I washed or combed my hair.
To solve my hair problem, I met with a trichologist from TK TrichoKare. A trichologist is someone who is well-studied in the area of hair care and scalp. They adopt a holistic approach and look at an individual's lifestyle, diet and general wellbeing when diagnosing a hair condition.
Before My Scalp Treatment: Hair & Scalp Analysis
In order to tell how oily, dry or damaged our scalp is, a special lens that can magnify up to 200 times is needed to view our scalp up-close. It is only then we get to see what our hair and scalp really looks like.
During my hair analysis with the trichologist during Trichokare's consultation, the scans of my scalp revealed signs of post-partum hair loss, sensitive/itchy scalp and something that I wasn't aware of previously – thinning hair. Yikes. If not for this consultation with the trichologist, I wouldn't have known about my thinning hair.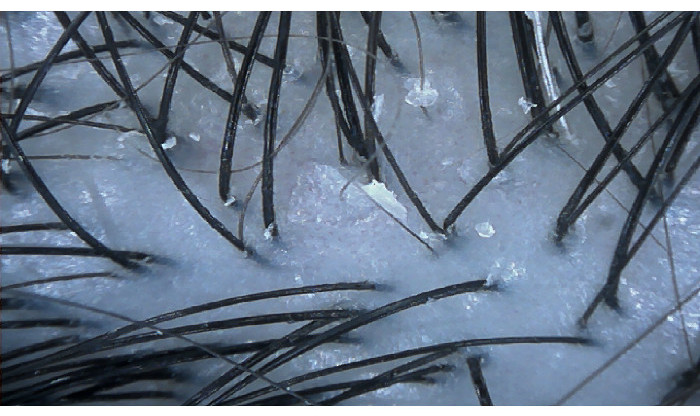 Signs of thinning hair and oily scalp
With over 13 years of experience in providing targeted hair solutions, TrichoKare has developed Hair Fall Prevention System that works as a hair and scalp reconstructor for both men and women.
Their scalp treatment is designed to boost hair growth, prevent hair fall and hair loss, with customised European herbal hair remedies to address your hair's very specific needs.
So I know I was in good hands when the trichologist recommended me their latest Award-Winning HairGro & Scalp Treatment for a definitive solution to my hair loss, thinning locks and itchy scalp. It's a 2-hour treatment that consists of a systematic approach in fixing any hair dilemmas.
Here are some of its features, on top of their hair analysis:
1. Customised premium European herbal scalp masque
A bespoke remedy for different hair problems, this masque helps to detox your scalp and remove impurities and excess sebum. TrichoKare's treatments are all customised using premium European herbs validated by certified Trichologists. The herbs have been proven to have medicinal benefits on the hair and scalp to promote hair growth.
2. Revitalizing hair bath – Helps your scalp to restore its sebum balance, keeping it feel refresh and stress-free.
3. Hot pad relaxation – To soothe unwanted tensions and stress that leads to hair loss.
4. Trioxy 3-Step Process: OxyPeel, OxyJet & OxyNutrient
OxyPeel: Prevents follicles duct from being congested
OxyJet: Helps to accelerate your scalp's cell metabolism and improve blood circulation
OxyNutrient: Provides nutrients and boost hydration to your scalp
Photodynamic Therapy: Laser light technology supports hair regeneration and helps accelerate healing.
After the treatment, my scalp feels more breathable and relaxed. Not only that, it looks much cleaner on the hair scan. My hair feels soft and 'young' again!


Before (left) and After (right)

Before (left) and After (right)
As long as your hair follicle is still active, it's never too early or late to seek professional help and get started. Give your hair (and yourself) some tender-loving care with Trichokare's hair and scalp treatment.
TrichoKare Special Promo for TNAP readers
Enjoy an award-winning HairGro & Scalp Treatment @ $40 NETT + Free Hair Care Kit + HairGro Serum (total worth $758), and stand to win 2D1N staycation at MBS Hotel (worth $680)!
Visit this link to register www.tk-hair.com/tnap or SMS <TNAP><Your Name> to 87-9999-01.
Register now! This promo is for a limited time only.
This post is brought to you by TK TrichoKare.