If someone were to tell me a few years ago that robots will take over some of our jobs in the near future, I would have brushed them off and denied it.
But the truth is – many "manual" type of jobs have already been automated in the past, and machines have only become more sophisticated.
From robots performing surgeries to driverless vehicles, it won't be long before Artificial Intelligence (AI) begins to seep into our life and workplace.
As parents, we can't help but ponder how does such disruption and changes affect our children's future?
If our children are going to compete with AI for their jobs, then what skills are necessary for them to stand out and be 21st century-savvy?
The Birth of Early Childhood Education Systems
We have witnessed the birth of various education systems during the different world-changing revolutions.
During the Industrial Revolution in the 19th century, the Froebel and Montessori early childhood education approaches stood out. They adopted a more 'child-centered' philosophy in a content-dominated learning system, which favoured discipline, rote learning and the 'drilling' of information.
The Internet and computers entered our lives as the world moved towards the Information Revolution in the 20th century. Focus on content was no longer enough. This marked the development of a new 'thinking curriculum' based on discovery-learning, and the Reggio Emilia method was one such known approach.
By the last quarter of the 20th century, the wave of Information Technology (IT) swept along with the creation of search engines. The dawn of IT and AI opened the doors to a new revolutionary education model – a model based on decades of research and development, designed to prepare children for life.
Enter MindChamps' 3-Mind Education Model
With information readily accessible at our fingertips today, children will no longer be rewarded for their ability to remember and recall information. Instead, they will be rewarded – for their creativity, confidence, and the ability to collaborate.
With this belief, the MindChamps research team spent a decade researching, developing and piloting cutting-edge programmes.
Supported by the best of the best in the four domains of Education, Psychology, Neuroscience and Theatre, MindChamps' 3-Mind Model is designed to develop three key qualities in children: The Champion Mind, The Learning Mind and The Creative Mind.
#1 The Champion Mind
In the world of AI, mindset is the most critical element to nurture. The Champion Mind celebrates the individual's uniqueness, going beyond conventional wisdom and overcoming adversity to achieve success.
Professor Emeritus Allan Snyder, the Chair of Research for MindChamps and the father of the study of Champion Mindset, has helped to create the unique MindChamps teaching methodologies for nurturing the innate Champion Mindset potential in every child.
With the Champion Mindset, every child will be empowered with the self-assurance and resilience to:
proudly identify and celebrate their own uniqueness;
display the resolution and determination to learn from mistakes and adversity, and to ask what they don't know; and
confidently express their own distinctive ideas
#2 The Learning Mind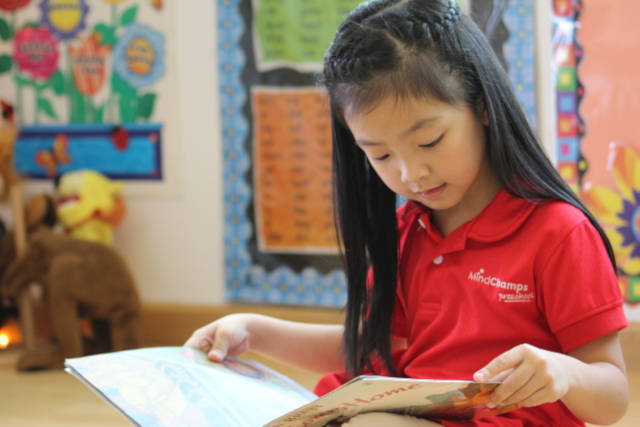 Many traditional educational curriculum focus on 'what' to learn. The Learning Mind is designed to develop the neural foundations of the life-long learner, focusing on 'how' to learn instead.
Working with world-leading experts in education, psychology, and neuroscience, MindChamps devised holistic learning strategies to instil an enthusiastic life-long learning attitude.
The key turning point came when MindChamps understood and saw the importance of emotional engagement in the learning process.
By drawing on high-level expertise from the world of Education, Film and Theatre, they created their own uniquely engaging teaching methodology – the S.M.I.L.E.S.™ curriculum – to optimise the learning brain in early childhood.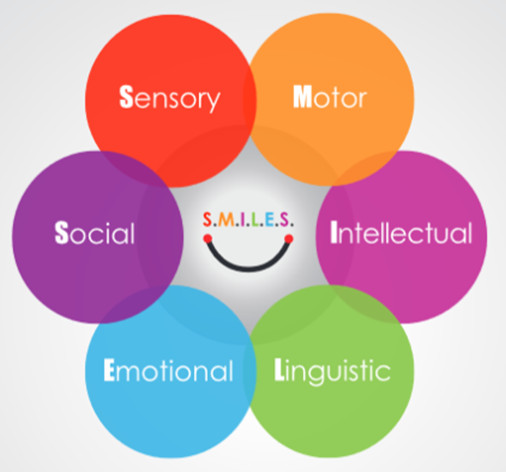 MindChamps S.M.I.L.E.S.™ Curriculum
All MindChamps PreSchool teachers are specifically trained to create and seize opportunities to integrate all of the S.M.I.L.E.S.™ elements into every activity that a child experiences during the day.
#3 The Creative Mind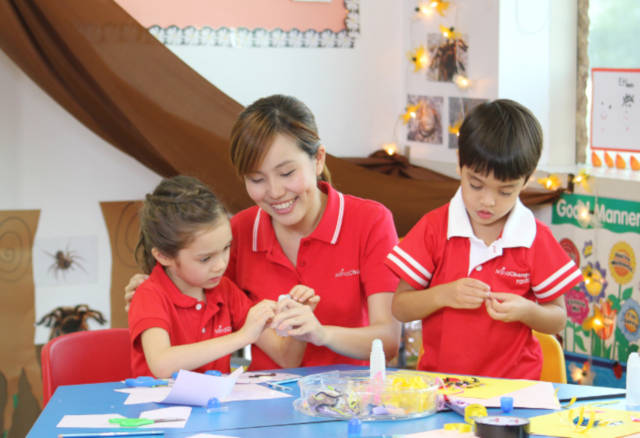 What is the most valuable currency in the world of AI? It's creativity.
While imagination is an innate human capacity, creativity is more complex than imagination. It is a craft – a process which can and must be learned. Creativity is also the key predictor of success.
Working with leaders from the areas of Theatre, Film, Music, Literature and the Arts, and drawing on decades of research into creativity, MindChamps incorporates Creativity and Theatrical Strategies™ into every aspect of the S.M.I.L.E.S.™ curriculum, to nurture the creative passion of every child – both individually and with others.
The Creative Mind prepares the child to see the world from multiple perspectives and lays the foundations for innovative problem-solving in school and life.
The Champion Mind, The Learning Mind, and The Creative Mind – these make up MindChamps' 3-Mind Education Model.
So how does the 3-Mind Model of Education translate to an everyday class at a MindChamps PreSchool centre?
See, Hear, Feel and Experience It: MindChamps Welcome Day
Now, you can experience the 3-Mind Model of Education first-hand!
MindChamps invites you and your child to visit any of their 35 participating MindChamps PreSchool centres Preschools from 25 May to 13 July 2019.
Discover how MindChamps PreSchool provides your child with a well-rounded education customised to his or her individual strengths and abilities.
While most preschools in Singapore may teach Chinese as a subject, Chinese has been integrated into the Champ's daily life at MindChamps Chinese PreSchool. While English language is also being taught in class,there is a greater emphasis on Chinese.
Mandarin is infused into the curriculum and Chinese is often taught by activating the five senses to increase fun, effectiveness and engagement. When Chinese is integrated into the Champ's daily routines, learning Mandarin is more natural and enjoyable and it helps them to cultivate a willingness and love to speak Chinese fluently. It's observed that graduates from MindChamps Chinese Preschool comparatively have strong linguistic skills and abilities.
What makes MindChamps Chinese PreSchool different from MindChamps PreSchool is the experience of Chinese culture and heritage through interactive hands-on activities. Champs in MindChamps Chinese PreSchool get to participate in activities such as Chinese idioms, clay sculpting, calligraphy, tea appreciation and more.
In this Welcome Day, you will also get to:
Meet and speak to MindChamps principal and teachers one-to-one
Tour our stimulating learning spaces and state-of-the-art facilities
See our preschoolers in action as they enjoy their day-to-day classes and activities
Discuss your child's needs and understand how he/she can benefit from our curriculum

Enjoy $500 Savings x 5 Months + Get a Complimentary Starter Kit worth $107 (Total Savings of $2607*)
For more info or to register for MindChamps PreSchool's Welcome Day, visit join.mindchampspreschool.org
The MindChampion DNA In All Of Us
Even as we are guiding our children in their present-day challenges, we are also thinking about their tomorrows. With change as the only constant, there's no certainty of what the future holds.
But we all have a choice.
We can choose to be informed and prepared parents so that we can help our children do the same. We can choose to give them opportunities to celebrate their uniqueness.
We can choose to show children the endless possibilities of solving problems and coming up with novel ideas. We can choose to impart in them the Champion Mindset, to help them overcome adversities and learn from them.
As American writer, futurist, and businessman Alvin Toffler states, "The illiterate of the 21st Century will not be those who cannot read and write, but those who cannot learn, unlearn and relearn."
This post is brought to you by MindChamps.
Like what you see here? Get parenting tips and stories straight to your inbox! Join our mailing list here.
Want to be heard 👂 and seen 👀 by over 100,000 parents in Singapore? We can help! Leave your contact here and we'll be in touch.