For a relatively young nation of 50 plus years, Singapore has seen its fair share of illustrious individuals take the lead in various arenas of society. Aside from knowing about our late founding father Lee Kuan Yew, many of the younger generations may be uninformed on our nation's rich history and the leaders of those early years, who have shaped Singapore society today as we know it.
⇒ Related Read: 9 Life Lessons From Lee Kuan Yew To Teach Our Kids
*******************************
Yusof Bin Ishak (1910 – 1970) – First President Of Singapore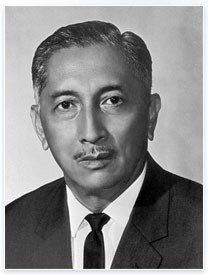 Image: The Istana
Born in Perak, Malaysia, Yusof Bin Ishak, also known as Yusof Ishak, was the oldest of nine children of a civil servant. His father was transferred to Singapore in 1923 to be Assistant Inspector of Fisheries, and Yusof Ishak managed to enter the well-known Raffles Institution here, where he was the only Malay in the Queen's Scholarship class.
After graduating, he became a prolific journalist, later starting his own Malay newspaper company in Singapore before entering the political sphere. Utusan Melayu, first published in 1939, was the first paper to be owned and financed by the Malays.
Yusof Ishak rose from humble beginnings to become the first Malayan-born Yang Di-Pertuan Negara (Head of State) on 3 December 1959. When the nation gained independence on 9 August 1965, he was sworn in as the first President of Singapore.
Key contributions to Singapore:
Nation building – As president of a newly independent Singapore, Yusof Ishak reached out to his countrymen to reassure citizens still reeling from the recent rejection from Malaysia. He reportedly visited constituencies around the island to speak to the people and soothe their fears, standing for hours in an open Land Rover and walking in the hot sun. He was often commended for his commitment to building a strong national identity for Singapore and the quiet, diligent work he would do behind the scenes.
Ensuring fair treatment – Amidst the racial tensions of those early years, he worked with the Government to promote a multi-racial society, going out of his way to restore trust and confidence among the various ethnic groups in Singapore. In particular, he ensures that the Malay community had the education and healthcare they needed and was not discriminated against.
On 23 November 1970, Yusof Ishak passed away from heart failure, at the age of 60. His grave can be found at the Kranji War Memorial – State Cemetery.
We remember him by:
The Masjid Yusof Ishak mosque at Woodlands
Iseas – The Yusof Ishak Institute of Southeast Asian Studies at the National University of Singapore (NUS)
Yusof Ishak Secondary School. It was first established in 1965 as Jubilee Integrated Secondary. A year later, then Prime Minister, Mr Lee Kuan Yew declared open Yusof Ishak Secondary School (YISS) at Jubilee Road.
A Yusof Ishak Professorship in Social Sciences at NUS to enhance research in multi-ethnicity and multiculturalism
Yusof Ishak's portrait featured on Singapore Portrait Series currency notes, which were introduced in 1999
During SG50's Golden Jubilee celebration of Singapore's 50th anniversary of independence, Yusof Ishak's portrait was again featured in all six SG50 Commemorative Notes
*******************************
Dr. Benjamin Henry Sheares (1907 – 1981) – Former President
Image: The Istana
Singapore's second President was Dr. Benjamin Henry Sheares, a Eurasian born in 1907 in Singapore. He graduated from King Edward VII College of Medicine (now known as National University of Singapore) in 1929 with a medical degree and began his career at the General Hospital (now Singapore General Hospital. He was an esteemed obstetrician and gynaecologist (O&G) at Kandang Kerbau Hospital (KK) and a professor at the University of Malaya, as well as the First Chancellor of the National University of Singapore (NUS).
Dr. Benjamin Sheares retired in 1960 and went into private practice before he was elected by parliament to succeed Yusof Ishak, the first President of Singapore, in 1971. He went on to lead the country for the last decade of his life.
The late Minister Mentor Lee Kuan Yew himself once described Dr. Benjamin Sheares as "conscientious by temperament and soft-spoken by habit. He applied himself to his duties as President and discharged them with distinction."
Key contributions to Singapore:
Medical intervention – During his time as head of the O&G department at Kandang Kerbau Hospital, Dr. Benjamin Sheares pioneered the lower Caesarian section which resulted in a lower mortality and morbidity rate in pregnant women than the upper Caesarian section. The method was internationally recognised in 1960 and is the most common Caesarian section method used today.
Family planning – Despite opposition from some colleagues and religious communities, Dr. Benjamin Sheares was a big advocate for sterilisation and family planning, a position that added weight to the Voluntary Sterilisation Act being passed in 1969.
We remember him by:
The Benjamin Sheares bridge – the longest bridge in Singapore
Sheares Avenue, which connects the East Coast Parkway to the Central Business District
The Benjamin Sheares Professorship in Academic Medicine was launched by Duke-NUS in 2011
*******************************
Dr. Wee Kim Wee (1915 – 2005) – Former President
Image: Straits Times File Photo
Our nation's fourth President, Dr. Wee Kim Wee, was born in humble circumstances as the son of a clerk in 1915. At just 8 years old, the young Kim Wee lost his father. Despite this hard loss, he went on to follow in his father's footsteps to work as a clerk at The Straits Times and ascended the ranks to become the Chief Correspondent at the United Press Association in the 1950s.
After returning to The Straits Times in 1959, he became the deputy editor in Singapore and later moved on to take on the role of diplomat. He served as High Commissioner to Malaysia for 7 years before becoming Ambassador to Japan and South Korea.
In 1984, Dr. Wee took up a new post – Chairman of the then Singapore Broadcasting Corporation (SBC). Finally, a year later, he was appointed as the fourth President of Singapore and ended his term in 1993. His genuine care and concern for others touched many lives during his years of service.
Key contributions to Singapore:
"The People's President" – While taking up office with dignity and integrity, Dr. Wee also managed to do what none of his predecessors had done, which was to make the President readily available to the masses. He was known to have a humble and gentle spirit, and was very in touch with the ground throughout his years as a journalist, then diplomat, and finally as President.
Charity work – Dr. Wee was very involved with community work on the ground, which he continued even after retiring from the Presidency. In 2004, he published his autobiography, titled Glimpses and Reflections. Out of the funds collected from book royalties, 500K SGD was subsequently donated to eight local charities.
On 2 May 2005, Wee Kim Wee passed away at home from prostate cancer, at the age of 89.
We remember him by:
Nanyang Technological University's (NTU) Wee Kim Wee School of Communication and Information
The Wee Kim Wee Legacy Fund, which benefits communication studies students by supporting programs like Going Overseas for Advanced Reporting (Go-Far), an annual journalism course which exposes students to the challenges of being a journalist in another country
Singapore Management University (SMU) also has a Wee Kim Wee Centre, for better understanding of cultural diversity in the business environment.
A research laboratory at the National Cancer Centre bears Mr Wee's name
*******************************
Lee Kong Chian (1893 – 1967) – Philanthropist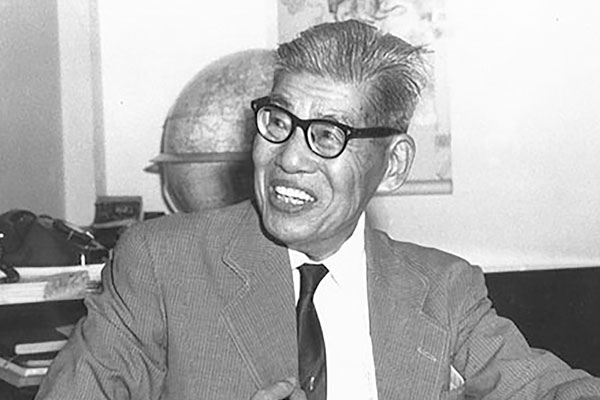 Image: SMU
China-born Lee Kong Chian came to Singapore when he was 7, and returned to China for his university studies years later. Upon his return to Singapore, he became an assistant surveyor before entering the world of commerce and joining the Tan Kah Kee Rubber Company.
Lee became vice-chairman of the Chinese Commercial Bank and facilitated the merger with Ho Hong Bank and Oversea-Chinese Bank to form Oversea-Chinese Banking Corporation (OCBC) in 1932. He took on the role of OCBC chairman from 1938 – 1964.
Meanwhile, the entrepreneurial Lee also started his own business in 1931, buying large plots of vacant land to cultivate rubber, coconut and pineapple plantations. (A few years before this, he had become the son-in-law of another rubber tycoon, Tan Kah Kee, who first showed him the ropes of this business.) Lee quickly became known as the leading rubber baron of his time.
Lee also invested large sums in big enterprises like the Oversea-Chinese Banking Corporation, Great Eastern Life, Sime Darby (Singapore), Cold Storage and Straits Trading Company. Although he was famous as a multimillionaire, Lee chose to lead a simple life and was known to have been a humble man.
Key contributions to Singapore:
Lee Foundation – Lee placed great emphasis on the need for equal opportunities for education for all Singaporeans. Over the years the Lee Foundation, which he established during the last 15 years of his life, donated a total of $10 million towards various educational institutions and medical research projects.
National Library – Lee donated $375,000 towards the construction of the first National Library at Stamford Road in 1953. Thereafter, he also officiated the laying of the foundation stone on 16 August 1957. In 2003, when the new National Library building was built at Victoria Street, the Lee Foundation donated another $60 million towards the project. To honour this contribution, the new reference library was named Lee Kong Chian Reference Library.
When Lee Kong Chian died in 1967 at the age of 74, he willed half his fortune to the Lee Foundation so that it could continue his philanthropic work.
We remember him by:
The Lee Kong Chian Reference Library at Victoria Street
The Lee Kong Chian School of Business and scholars programme at Singapore Management University (SMU)
The

Lee Kong Chian Natural History Museum

located at the Kent Ridge Campus of the National University of Singapore (NUS).
*******************************
Lim Bo Seng (1909 – 1944) – War hero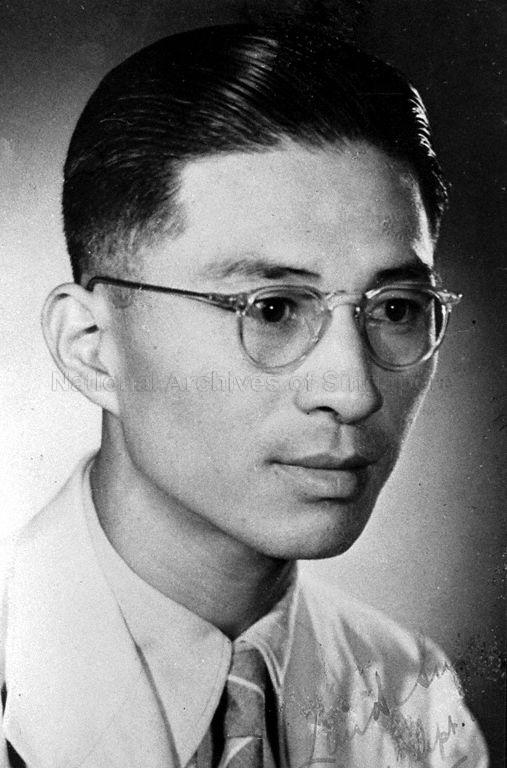 Image: National Archives of Singapore
One of our nation's heroes, Lim Bo Seng is most remembered for his courageous resistance to Japanese forces during World War II. A native Chinese who moved to Singapore as a child, Lim was a businessman who dabbled in biscuit production and the construction industry. When World War II began in 1937, he led ground efforts to boycott Japanese goods and raise funds to help China fight the Japanese invasion.
After spearheading efforts to resist the Japanese invading Singapore, Lim later left for India where he recruited and trained hundreds of secret agents using military intelligence missions from China and India. He set up Force 136, a group of resistance fighters organized by the British and Singapore, to infiltrate Japanese territory. Sadly, Lim was captured in 1944. Yet, despite punishment and torture, he refused to reveal the names of his other teammates.
Key contribution to Singapore:
Resisting the Japanese – In December 1941, Lim was tasked to organize and lead a group of volunteers (part of the Straits Settlements Volunteer Force) to resist the advancing Japanese troops. The volunteers put up a fierce fight against the Japanese during the

Battle of Singapore

in February 1942.
Lim Bo Seng died in captivity in 1944 – a martyr for the cause of Singapore.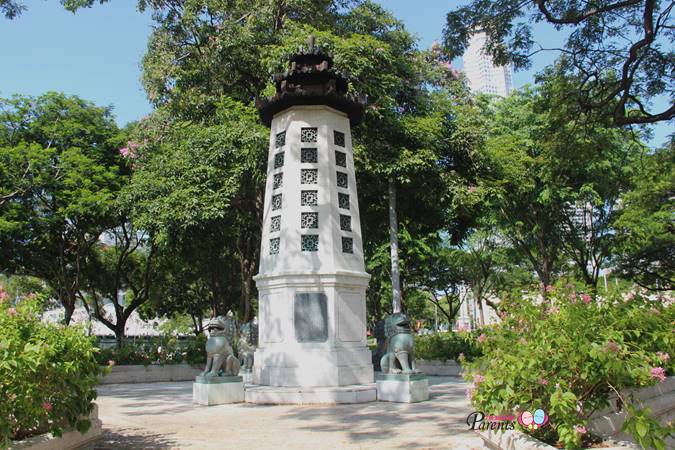 We remember him by:
The

Lim Bo Seng Memorial

which was unveiled at the Esplanade on 29 June 1954, the 10th anniversary of his death
Bo Seng Avenue in Thomson
In 1997, Singapore's Chinese-language television channel, TCS Channel 8, The television series, The Price of Peace, which aired on TCS Channel 8 back in 1997, which portrayed events that took place during the Japanese occupation of Singapore. Lim was portrayed by actor Rayson Tan as one of the protagonists. An English-dubbed version of the drama series was shown on TCS Channel 5 in 1999.
Did we miss out any important historical figure? Tell us who we should include in this list as well in the comments below.
By Dorothea Chow.
* * * * *
Enjoyed reading this or learned something new? Click the Like and Share button below!
Want to be heard 👂 and seen 👀 by over 100,000 parents in Singapore? We can help! Leave your contact here and we'll be in touch.