You've probably experienced waking in the middle of the night to find your child flushed, hot and sweaty. Your little one's forehead feels warm. You immediately suspect a fever but are unsure of what to do next. Should you get out the thermometer? Call the doctor?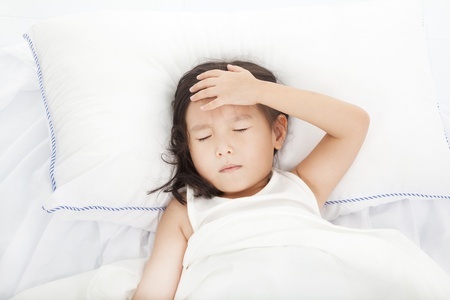 In healthy kids, fevers usually don't indicate anything serious. Although it can be frightening when your child's temperature rises, fever itself causes no harm and can actually be a good thing.
It's often the body's way of fighting infections. And not all fevers in children need to be treated. High fever, however, can make a child uncomfortable and worsen problems such as dehydration.
Here's more about fever, how to treat them and when to call your doctor.
Fever Facts
Fever occurs when the body's internal " thermostat" raises the body temperature above its normal level. This thermostat is found in the part of the brain called hypothalamus. The hypothalamus knows what temperature your body should be ( usually around 37 Celcius or 98.6 Fahrenheit ) and will send messages to your body to keep it that way.
The body's temperature is usually a little lower in the morning and a little higher in the evening and can fluctuate as kids run around, play and exercise.
Sometimes, though, the hypothalamus will reset the body to a higher temperature in response to an infection, illness or some other causes. Researchers believe that turning up the heat is the body's way of fighting the germs that cause infections and making the body less comfortable for them.
Causes of fever
It's important to note that fever by itself is not an illness – it's usually a symptom of an underlying problem. Common causes of fever are:
Infections
Overdressing
Immunizations
Is it a fever?

Use a reliable thermometer to confirm a fever ( which is when a child's temperature is at or above one of these levels ):
38 C ( 100.4 F ) measured rectally ( in the bottom )
37.5 C ( 99.5 F ) measured orally ( in the mouth )
37 C ( 99 F ) measured an axillary position ( under the arm )
The height of the fever doesn't correlate to the severity of the child's illness. A simple cold or other viral infection can sometimes cause a rather high fever ( in the 38.9 – 40 C / 102 – 104 F range ), but this doesn't usually indicate a serious problem. Serious infections, on the contrary, may have no fever or even abnormally low body temperature, especially in infants.
Fever may cause chills as the body tries to generate additional heat as the temperature begins to rise.
A child may sweat as the body releases extra heat when the temperature starts to drop.
Helping Kids Feel Better
If your child is fussy or uncomfortable, you can give

paracetamol

or

ibuprofen

based on the package recommendations for age or weight.( Never give aspirin due to its association with Reyes syndrome which can be fatal, unless instructed by a doctor)
Infants under 2 months old should not be given any medication for fever without being evaluated by a doctor. Remember that

fever medication

will temporarily bring a temperature down, but won't return it to normal – and it won't treat the underlying cause of fever.
Giving a sponge bath will help bring the fever down. Use only lukewarm water. Never use alcohol ( it can cause poisoning when absorbed through the skin ) or ice packs or cold baths ( they can cause chills that may raise body temperature ).
Dress your child in lightweight clothing and cover with a light sheet of blanket. Overdressing and over bundling can prevent body heat from escaping and can cause body temperature to rise.
Offer plenty of fluids to avoid dehydration – a fever will cause a child to lose fluids more rapidly. Avoid drinks containing caffeine, including colas and tea, because they can cause increased urination. Water, soup, popsicles and jello are good choices.
Let your child eat what he or she wants. Don't worry too much if your child doesn't want to eat as long as your child is still drinking and urinating normally.
Make sure your child gets plenty of rest. Staying in bed all day isn't necessary but a sick child should take it easy.
It's best to keep a child with fever from school or childcare. The child may return when temperature has been normal for 24 hours.
When is it a concern
Call your doctor if you have an:
infant younger than 3 months old with a temperature of 38 C/ 100.4 F or higher
an older child who has a fever of > 39 C/ 102.2 F
an older child who has a fever of < 39 C/ 102.2 F but also:
a. refuses fluids or seems too ill to drink adequately
b. has persistent diarrhea or repeated vomiting
c. has any signs of dehydration (urinating less than usual, not having tears when crying, less alert and less active than usual)
d. has chronic medical problem such as cancer, heart or kidney disease.
e. has pain with urination.
f. has fever longer than 72 hours.
g. has a rash.
Seek emergency care if your child shows any of these signs:
inconsolable crying and extreme irritability
lethargy and difficulty walking
rash or purple spots that look like bruises on the skin ( that were not there before the child got sick )
stiff neck
headache
blue lips, tongue or nails
seizure
infant's soft spot on the head that bulges out or sunken inwards
difficulty breathing
leaning forward and drooling
If you are ever in doubt about what to do or if your child is acting in a way that concerns you even when there is no fever, always call your doctor for advice.
If you find this article useful, do click Like at the bottom of the post, thank you.
Article written by Dr Ratna Sridjaja, Paediatrician, Bsc (USA), MD (USA), FAAP (USA), SBCC Baby & Child Clinic, Gleneagles Hospital.
Dr Ratna graduated magna cum laude from the University of Southern California, U.S.A. She then continued on to pursue her medical degree at the University of Pennsylvania School of Medicine, U.S.A., in 1995. Dr Ratna completed her paediatrics specialty training at Thomas Jefferson University Hospital in 1999. She is American Board Certified in Paediatrics and a Fellow of American Academy of Paediatrics. She is a member of the honors society in Alpha Epsilon Delta and Phi Beta Kappa.
Dr Ratna has extensive paediatric experiences. Since 1999, she has worked in private practice in New Jersey, Delaware and Pennsylvania. She worked in the Emergency Department at Dupont Hospital for Children before coming to Singapore in 2008, where she worked at National University Hospital Children's Emergency Department.
With her global experience, Dr Ratna is multi-lingual; of which she is able to communicate in English, Mandarin, Malay, Hokkien and Indonesian language.
Practice Address :
SBCC Baby & Child Clinic (Gleneagles)
6 Napier Road
#09-05 Gleneagles Medical Centre
Singapore 258499
For more information, visit SBCC Baby & Child Clinic.
* * * * *
Like what you see here? Get parenting tips and stories straight to your inbox! Join our mailing list here.
Want to be heard 👂 and seen 👀 by over 100,000 parents in Singapore? We can help! Leave your contact here and we'll be in touch.