Chickenpox is a common mild viral illness caused by Varicella zoster virus.
Symptoms
Fever for 2-3 days, which may not be present in children
Rash usually starts in the trunk (chest and abdomen) and spreads outwards to the limbs, rash comes "in waves '
Different types of rashes present at any one time – redness, vesicles and then crusting
Usually last for 10-14 days
Characteristics
Usually transmitted either airborne or via direct contact
Incubation 14-21 days, but child is infectious 2 days before the rash appears till 5 days after the rash appears
Complications
Skin infection (of the rashes)
Pneumonia (lung infection)
Encephalitis (brain infection)
Prevention
Immunization – 2 doses of varicella immunization, usually given 3 months apart in children more than 1 year old
Post exposure immunization can be given within 3 days of exposure
Tips to alleviate symptoms
Antihistamines or topical calamine lotion would usually be prescribed by a doctor to alleviate the itch from chickenpox. Antipyretics such as paracetamol would also be given. There is no food that parents should not give or is not suitable during a chickenpox episode. I would strongly encourage more fluids to prevent dehydration.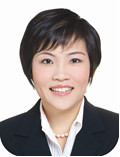 By Dr Ellen Tay, Paediatrician
Dr Tay obtained her Bachelor of Medicine and Bachelor of Surgery from the National University of Singapore. She attained her qualifications of Masters of Medicine in Paediatrics and Membership to the Royal College of Physicians (United Kingdom) in 2002 and obtained her specialist qualification after completing her training in paediatrics in 2005 (Specialist Accreditation Board, Singapore).
Practice Address
Thomson Paediatric Centre at Novena Medical Centre
10 Sinaran Drive Novena Medical Centre #09-02/03
Tel: 62563291
Email: info@thomsonpaeds.com
Website: www.healthwaymedical.com
If you find this article useful, do click Like and Share at the bottom of the post, thank you.
Like what you see here? Get parenting tips and stories straight to your inbox! Join our mailing list here.