All parents can agree that it's extremely upsetting watching their children battle a nasty cough, cold or flu. While getting enough rest is key to recovery, the uncomfortable symptoms can make sleeping difficult.
This can lead to a vicious cycle, where illness prevents them from sleeping and sleeplessness further hampers recuperation! Of course, we desire to ease our little one's discomfort and nurse them back to good health as quickly as possible.
Natural cold and flu solutions such as Euky Bear's Sniffly Nose Range can be greatly beneficial in managing your child's cold symptoms at home.
These remedies go a long way in helping your child get a better night's sleep by relieving uncomfortable symptoms – thereby, speeding up the recovery process!
Gentle caring for families
An Australian-owned company, Euky Bear has been providing families with quality natural cough and cold solutions for more than 40 years.
Their story begins all the way back in the 1970s. With eucalyptus trees growing on their family farm in Inglewood, Victoria, its owners saw the potential of extracted eucalyptus oil in helping ease children's colds.
Back then, there wasn't any product in pharmacies that appeal to children or provide soothing relief for colds. As such, Euky Bearub was born and filled the gap! What began with Euky Bearub has now become a range of quality natural cough and cold products, all designed to soothe those sniffly noses and pesky coughs.
Euky Bearub – Congestion be gone!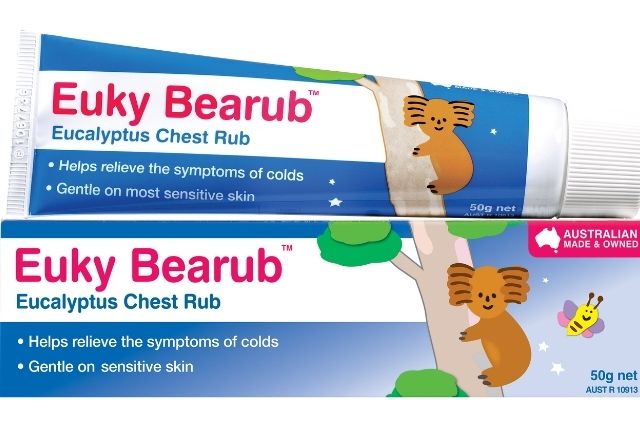 The first of Euky Bear's creations, the Euky Bearub consists of a eucalyptus ointment in a soothing base.
When applied to the chest, this gentle chest rub releases therapeutic vapours to relieve your child's stuffy nose. It also helps ease coughs and mucus congestion, making it easier for your little one to breathe when used before bedtime.
Aside from congestion, the chest rub also relieves muscular aches, pains and even insect bites! The ointment is specifically formulated and gentle on sensitive skin, making it safe for children aged 12 months and up to use.
Euky Bear Warm Steam Vaporiser – Soothing Nasal and Throat Passages
Placing a vaporiser in your child's bedroom can do wonders for their nasal and throat passages.
Suitable for children of all ages, Euky Bear's Warm Steam Vaporiser creates a steady flow of warm steam. The steam aids in loosening phlegm, making it easier to expel and also helping to clear the nose and throat.
The vaporiser also adds moisture to the air, which also helps soothe a dry throat and dry, itchy eyes. As such, your little one will be able to sleep comfortably and breathe with ease throughout the night.
Also, you'll want to pick a vaporiser that doesn't make a ton of noise and hinder sleep. Euky Bear's vaporiser is whisper quiet, so your child won't hear a thing as he or she dozes off into dreamland!
All-Night Comfort with Euky Bear Sniffly Nose Inhalant
You can also pair the steam vaporiser with Euky Bear Sniffly Nose Inhalant, which further enhances its benefits for all-night comfort.

Suitable for all ages, Euky Bear Sniffly Nose Inhalant features a strong blend of essential oils such as eucalyptus, rosemary and menthol, all of which are especially effective in soothing congestion.
It mixes easily with water and all you need to do is add it to the vaporiser's water container. A slow-release base ensures it vaporises slowly and evenly, for maximum relief over a prolonged period!
Available in 100 or 200ml bottles, the product may also be used with a steam inhaler or a hot water basin.
Quick relief with Euky Bear Sniffly Nose Room Spray
If your little one is napping during the day or staying over at a caregiver's place, consider the Euky Bear Sniffly Nose Room Spray for comfort!
The spray is filled with natural essential oils like eucalyptus, menthol, rosemary & oil of wintergreen. The unique blend creates an instant aromatherapy vapour that both comforts and eases congestion.
Containing natural antibacterial properties, the spray can also be used to eliminate pesky germs on surfaces like furniture, toys, doorknobs and other household items! If you are out and about – for example, at a family hotel staycation – you can also use it on hotel room surfaces such as mattresses, bedside tables and lights! With no harsh chemicals or artificial fragrances, it's suitable for children of all ages.
Lulling your little one to sleep with Euky Bear Sleepy Time Range
To support your child in settling down comfortably for the night, Euky Bear has also come up with an exclusive Sleepy Time Range. You can use these products as part of junior's regular bedtime routine to encourage consistent sleep patterns.
Featuring a lavender base, the Euky Bear Sleepy Time Inhalant is also specially formulated to be used with a steam vaporiser. With the calming smell of lavender filling up your little one's bedroom, he or she will drift off to sleep naturally in no time!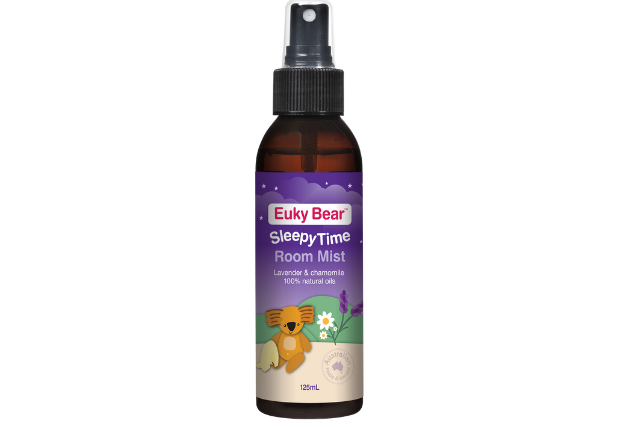 To further prepare your bub for the night, pair the inhalant with the Euky Bear Sleepy Time Room Mist. Infused with lavender and chamomile, it contains 100% natural oils, making it safe for children of all ages.
Simply spray a fine mist into the air or on your child's pillow before bedtime. Once your child familiarises themselves with the mist's relaxing scent, they'll know that it's time to wind down and have a good night's rest!
To find out more about Euky Bear's quality natural cough and cold solutions, visit their website, Instagram or Facebook page.
First-time consumers also enjoy 10% off products discount by signing up at their site!
This post is brought to you by Euky Bear.
By Rebecca Wong.
* * * * *
Like what you see here? Get parenting tips and stories straight to your inbox! Join our mailing list here.
Want to be heard and seen by over 100,000 parents in Singapore? We can help! Leave your contact here and we'll be in touch.