How to prepare Pork Trotters in Sweet Vinegar with Dried Fish Maw and Eggs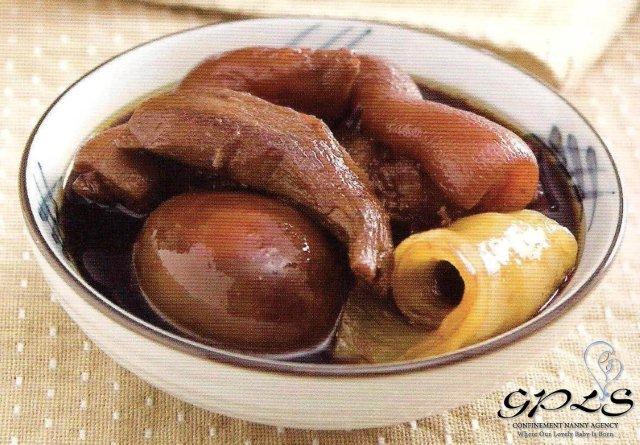 Confinement Recipe Ingredients
100g dried fish maw
600g ginger
1kg pork trotters
1 litre sweet vinegar
6 eggs
Confinement Food Cooking Method
Soak the dried fish maw in boiling water. Cover the lid. Leave it until its completely soft. Cut into pieces.
Poach the eggs in boiling water until hard-boiled. Shell the eggs and set aside. Cut the pork trotters into pieces. Rinse and scald them.
Peel the ginger. Crush with the flat of a knife. Heat some oil and stir fry the ginger briefly.
Put all ingredients into a clay pot. Simmer over low heat until the pork trotters are tender.
Serve Hot.
Read also Benefits of Ingredients used in Chinese Confinement Food
Contributed by GPLS Confinement Care Agency.
If you find this article useful, do click Like and Share at the bottom of the post, thank you.
Want more comprehensive info? Read our pregnancy e-guides here.