Do you know when a car crashes at a speed of 40km/h, the impact created is just like falling from the third floor to the ground?
A properly fitted child restraint system can save your child's life. A rear-facing child safety seat does a better job of supporting your baby's head, neck and spine because it distributes the force of the collision over their entire body. According to the American Academy of Pediatrics, parents are advised to keep their toddlers in rear-facing car seats until they are 2, or when they exceed the height or weight limit of the car seat.
In Singapore, a child below the age of 8 is required to be properly secured with an appropriate child restraint or use a booster seat cushion to supplement the seat belt while travelling in a vehicle. For more details, read car seat rules in Singapore for children.
How Do I Know Which Car Seats Are Safe?
According to the United Nations safety standard, children's car seats need to undergo accident simulation testing. Currently, there are two recognised regulations – ECE R44 04 and ECE R129. Under ECE R44/04, car seats must, amongst other requirements, undergo frontal collision testing at a speed of 50km/h and rear impact collision testing at 30km/h.  The ECE R129 (also known as i-Size) is a new regulation that was introduced in 2013, alongside the ECE R44/04 and only applies to Isofix car seats.
All these tests are conducted with dummies that represent the weight category of the child approved for the correct weight group of the seat. Test results must also fall within the requirements of the Regulation.
What makes Combi Car Seats so well trusted by parents around the world?
Although each Combi car seat has its own special functions, here are three key features that make their car seat stand out from the rest.
1. In compliance with European Safety Standard
All Combi child car seats are made in compliance with the European Safety Standard ECE R44/04. In addition, Combi develops its own safety standards, such as crash test performance, material and usability assessment to evaluate and further improve their car seats in many areas.
2. EggShock
Unique to Combi, EggShock is an ultra-shock absorbent material. When dropping a metal piece of 15 cm in height, the rebounding effect of EggShock material is 20% lower than an ordinary material. This means less trauma and impact on your baby, as the Eggshock material absorbs more shock from a collision.
3. Dacco Seat
The Dacco seat is fitted into each car seat and comprises of a head, back and hip support. The head support prevents your baby from falling to the side, the body support secures your baby's back and waist to ensure the correct spinal alignment from time to time and the hip support prevents your baby from sliding forward.
The seat positioning concept is not only designed to ensure that your baby is in the most comfortable position at all times, it is designed to absorb and disperse impact evenly when there is a collision.
Trusted by 7 Million Families
Developing quality and safe car seats since 1979 in Japan, Combi is committed to providing innovative products and services to improve the safety of babies and the lives of parents. To date, their car seats have been used by 7 million parents worldwide. To cater to different stages of your baby's life, needs and family lifestyles, Combi has developed a variety of car seats for parents to choose from.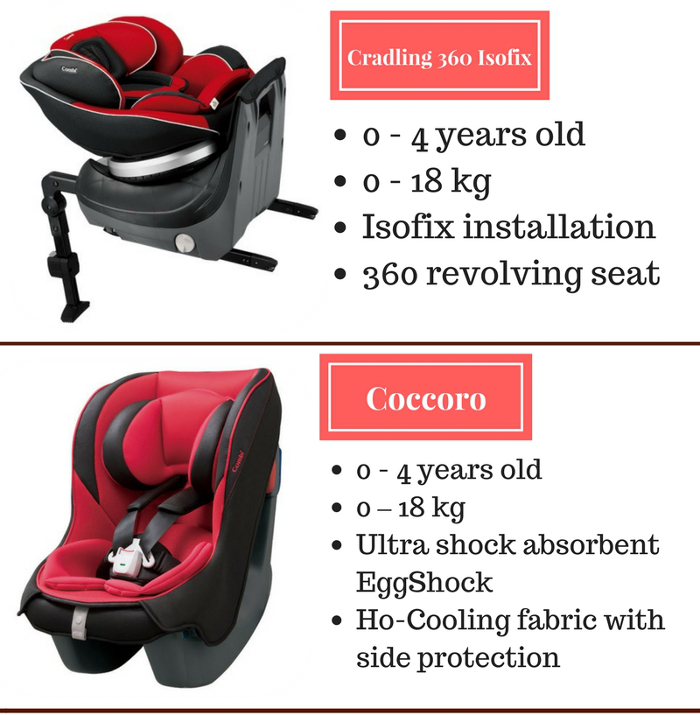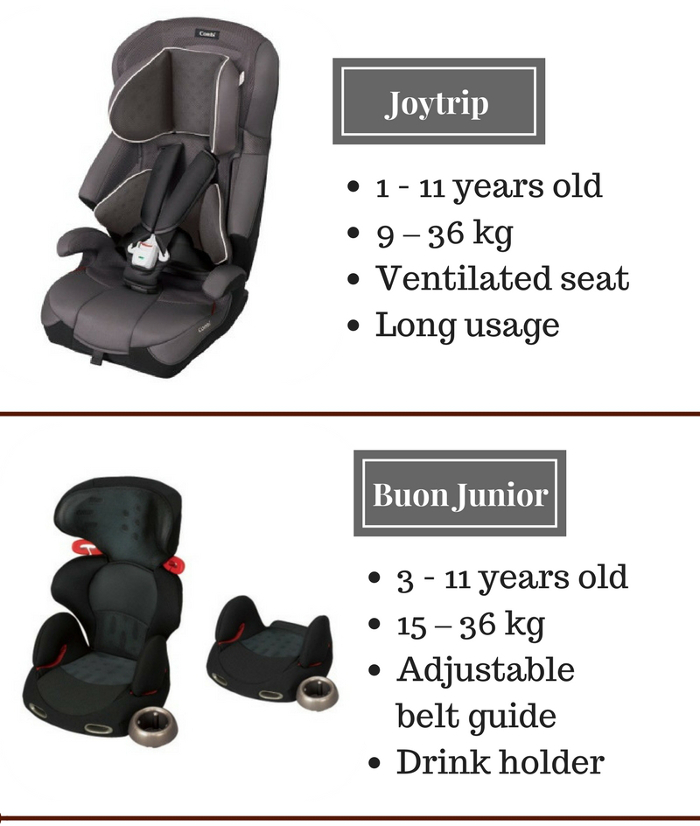 Visit Combi Showroom or call them at 62910 692 to find out more. Combi products are also available at Kiddy Palace, any leading baby department stores and Lazada.
Combi Singapore
732 North Bridge Road Singapore 198700
Tel: 62910 692
Opening hours: Mon-Sat: 9am – 5pm
(Closed on Sundays and Public Holidays)
Stay in touch! Subscribe to our Telegram here for our latest updates.
Want to be heard and seen by over 100,000 parents in Singapore? We can help! Leave your contact here and we'll be in touch.