Little boys decked in mandarin-collared tops and little girls adorned in cheong sams. It was Chengzhu's annual Chinese Cultural Arts Night and this year's theme was all about the year of the 'Rooster'.
After 15 minutes into the event, the place was filled with children, parents and grandparents.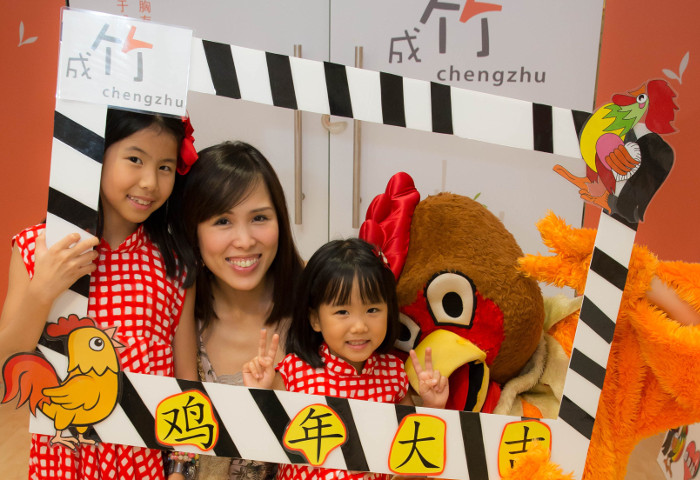 Guests were ushered in with merry tunes of Chinese Folk Music. Along the corridor, children's art works were plastered on the walls, and oriental decorations hung from the ceiling.
Each classroom was abuzz with excitement. I was instantly drawn in by the hum of activity.
In the main common area, children were painting a picture of a rooster, using traditional calligraphy brush and ink. In one room, children were rolling small balls of dough. They were making Tang Yuan, or glutinous rice dumpling, a traditional Chinese sweet usually made during Chinese New Year or festivals.
In another room, children were breaking eggs with a toy hammer to retrieve a secret message. At each station, teachers were engaging children in lively banter; guiding them and offering praise.
At that moment, I wished I was a four-year-old again.
The highlight of the night was the performance by students and teachers. The Kindergarten 2 students gave a spirited poetry recital about Beijing opera and Bian Lian, also known as the art of face-changing, followed by a Chinese folksong and Chinese dance item.
The event ended with an entertaining and meaningful shadow puppet play by the teachers.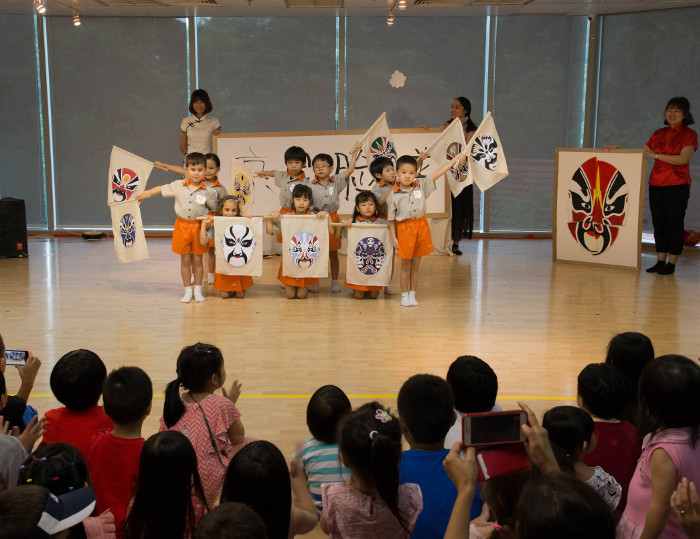 K2 students poetry recital
Pauline Ching, 40, enrolled her twin sons with Chengzhu four years ago, when they were two years old. They are now in Kindergarten 1 and still go to Chengzhu. Pauline liked the program and found it very beneficial. So it was no surprise when she gave birth to triplets, she signed them up for the Nursery program when they turned two.
This marks her family's second Chinese Cultural Night. She came last year and really enjoyed the festive atmosphere. "I like coming to the Cultural Night because the activities are related to Chinese culture and customs. This helps to expose my children to various traditions of Chinese culture," says the mother of five.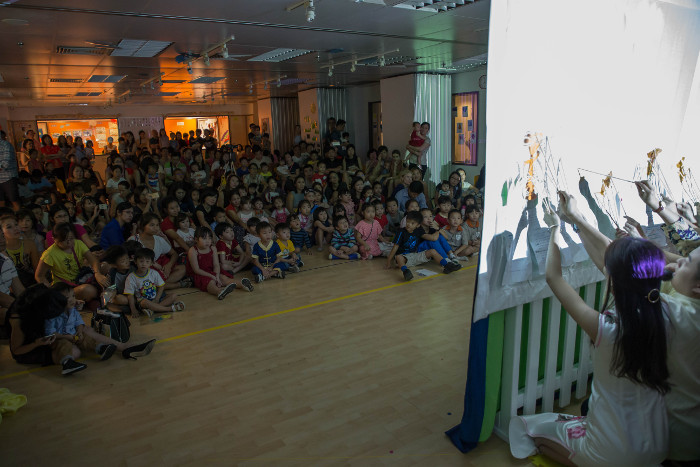 Mother Elesse Law, whose daughter was performing at the Cultural Night, claims how the program has helped to pique her daughter's interest and made her motivated to learn the language.
"My girl came home to me one day and handed me Chinese books to read to her. Even though she did not understand some of the words in the books, that fact that she shows interest to learn Mandarin at home on her own was very encouraging."
So what made her daughter so eager to learn?
"The teachers are 100% committed, always cheerful, warm and encouraging," adds Pauline. This sentiment was echoed by Elesse and many other parents.
As I was speaking to the two mothers, I came to realise the winning formula. What made Chengzhu students really love Chinese, was each teacher's dedication and desire to help children not only learn Mandarin, but to love learning Chinese.
When Elesse signed her second child up with Chengzhu, she had higher expectations for him to master the language. However, her son's teacher reminded her that it takes time for language to emerge and develop. Also, every child develops at a different pace.
Elesse admits,"When I felt my son wasn't improving fast enough, his teacher reminded me to have patience. She kept assuring me that over time, the results will show. True enough, after a year, he was able to string Mandarin sentences on his own."
Children at a young age can appreciate language and culture. All it takes is an immersive environment with dedicated teachers.
Time for me to pick up that Chinese storybook I chucked aside years ago.
Chengzhu Mandarin Centre is located at Rochester Mall and offers Kindergarten and enrichment programmes. Visit www.chengzhu.edu.sg or call 6737 5348 for a personalised tour.
By Michelle Ang
Like what you see here? Get parenting tips and stories straight to your inbox! Join our mailing list here.
Want to be heard and seen by over 100,000 parents in Singapore? We can help! Leave your contact here and we'll be in touch.