By age 5, studies have shown that there are no significant impacts on attachment, emotional or social development based on how a child sleeps. There are many factors beyond sleep that determines a child's attachment and development. More importantly, parents should look at the quality of sleep. Poor quality sleep has been linked to postnatal depression in women and disruptive behaviour in children, resulting in reduced academic performance.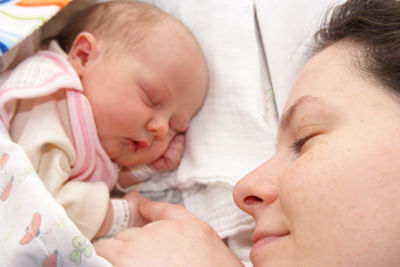 Co-Sleeping
Pros
Co-sleeping with a newborn baby or young child may be easier because they wake frequently and it makes night feedings easier. Co-sleeping with baby also means you don't have to give up a room for the child to sleep in.
Cons
It is a 5-year commitment. Transitioning your child out of your bed before this age can be very difficult and many parents get "stuck" with their child in their bed. A parent's privacy, intimacy and sleep will be compromised with a child in the bed. Co-sleeping does not guarantee a good sleeper and research shows co-sleepers wake up more often than cot sleepers.
Cot Sleeping
Pros
Parents will get more privacy and time for intimacy with a child out of their room
Cons
In the short-term, for the first 6 to 9 months parents will need to get up to feed their child. However, children no longer need to feed from 9 months of age onward. Waking to feed after 9 months is a sign of a sleep problem. Cot-sleeping doesn't guarantee quality sleep for your child.
Notes on Both Approaches
Children need to learn how to fall asleep independently for optimal sleep regardless of where they sleep. Night feeding or waking up after 9 months of age is a sleep problem regardless of where the child sleeps. It also impacts the child's immune system, temperament and ability to learn.
Making sense of "research"
Whatever you decide, make sure that you make an informed decision based on evidence, and not based on cultural beliefs and pop-psychology. Make sure to check the source and understand how clinical research data may be translated by the author who is often not clinically trained. Research does not look at individual one-off cases. When in doubt, do not hesitate to ask your doctor or mental health professional.
Historical and Cultural Roots of Co-Sleeping vs. Crib Sleeping
Historically, co-sleeping started out as a practical solution to a space problem. Even today, poverty or high costs of living force parents to keep their children in their rooms due to space constraints. Often practical solutions evolve into customs within families or cultures not because they are necessarily better but because everyone else did it before me.
Facts about Sleeping
Regardless of where you decide to have your child sleep, here are some important facts about sleep you should take into account before making your decision.
The ability to learn how to fall asleep independently is a learned behaviour regardless of where your child sleeps.
Co-sleep can be a safe choice, but parents must take note of these safety steps:
– Never sleep with your child if you are under the influence of drugs or alcohol
– Ensure your child will not be pinned or have his or her faced blocked
– Take extra precautions if your child is premature and if you are a smoker as these 2 factors increase the risk of sudden infant death syndrome (SIDS).
 Neither cot nor crib sleeping guarantees a good sleeper. What matters is that the child is able to fall asleep 100% on his or her own.
Regardless of where your child sleeps, if your child is still waking up at night at 9 months old, this is a sleep problem.
Night waking isn't something you can "love away" or something your child will outgrow. The night waking only goes away when parents properly change their behaviour to teach the child how to fall asleep when the child FIRST goes to bed at night.
By Tammy M. Fontana from All in the Counselling.
Tammy Fontana, MS, NCC CTRT Sex Therapist (USA) is the founder and mental health therapist for both All in the Family Counselling and Babysleepfairy.com. She has been providing professional counselling and sleep services in Singapore for over 8 years. She has her Master's Degree in Mental Health Counselling (USA) and is a USA National Counsellor Counsellor (NCC) and Certified Choice Therapy Reality Therapist (CTRT). She is also a US trained certified Sex Therapist. She provides evidenced and practised based solutions to parents, individuals and couples.
* * * * *
Like what you see here? Get parenting tips and stories straight to your inbox! Join our mailing list here.
Want to be heard 👂 and seen 👀 by over 100,000 parents in Singapore? We can help! Leave your contact here and we'll be in touch.