Water is a great tool to improve physical, mental health and brain development. If you're unsure of handling your baby in the pool, take a dip with the swimming experts at Little Splashes Swim School.
---
Little Splashes Infant and Toddler Swim Programme is specially catered for infants six months to three years old, every child must be accompanied by a parent or guardian.
Grab that toy: As part of the warm-up activity, parents wade in the pool with their babies to collect the floating toys and coloured balls.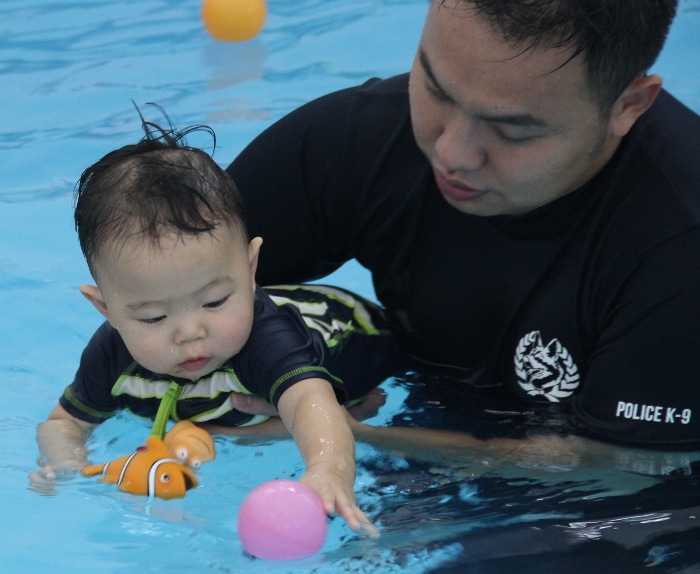 The doors on the bus goes open and shut: Familiar nursery rhymes are sung in the class. Parents sing along and mimic the actions of the songs.
Humpty Dumpty sat on the wall: In this segment, infants are propped on a large rectangle float. With the teacher's guidance and at the count of three, parents hold on yo their babies and in one smooth movement, they carry them down from the float and scoop them underwater for a submersion. This is to build their water confidence and condition them to be underwater.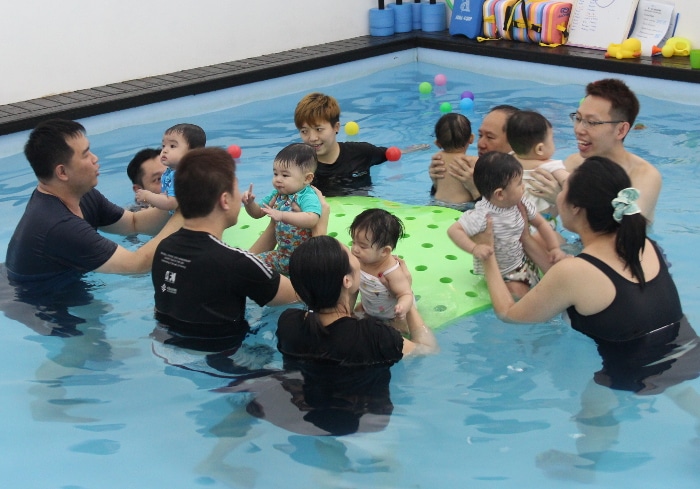 Twinkle Twinkle Little Star: In this segment, parents rest their infants on their shoulders, with their heads facing up. As parents sing the song, they walk backwards with a toy in their hand, or open and close their hands to resemble that of a 'star'.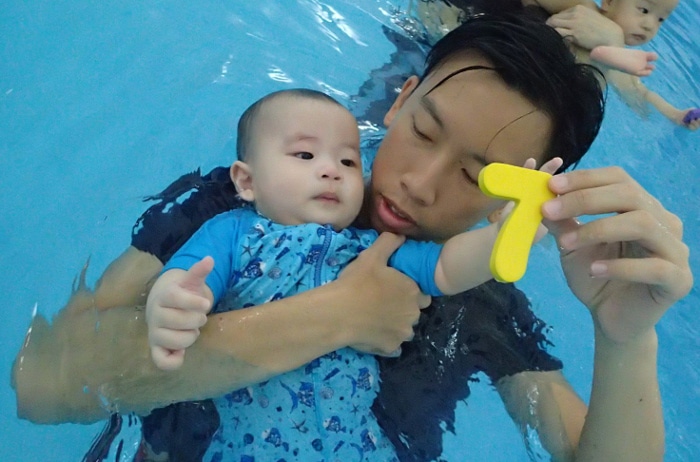 Personal touch: When a new baby joins the class, Little Splashes swim coach will test the child's reaction to water and gauge how comfortable they are before proceeding to the next level. During each activity, coaches observe how parents interact with their child and provide immediate feedback on their techniques. Here, Coach Coco guides a mother on the various types of holds for babies in the water.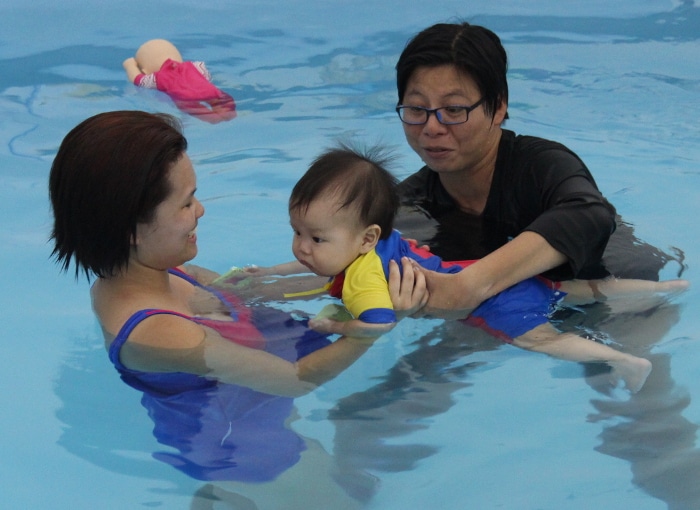 Babies can swim too: "Conditioning babies allow us to 'warn' them as they submerge. From the conditioning, babies will know when to hold their breath," says Elena Lim, Director of Little Splashes. A maximum of 12 submersions is capped for each child per sessions.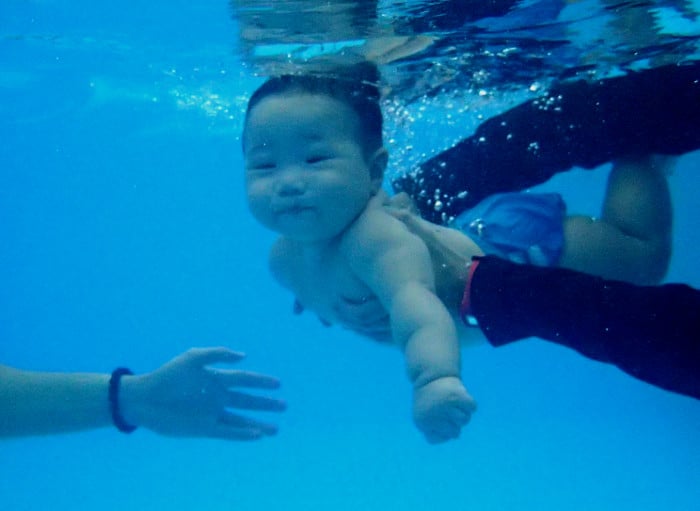 Fill them with encouragement and praise: After each underwater submersion, parents are reminded to hug their children close to their chest and praise them. This is to calm them down and to build their confidence of being underwater, says Coach Coco.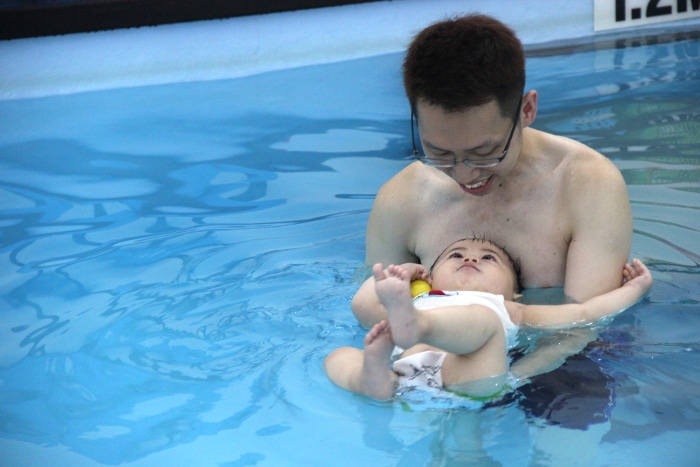 Small ratio
Classes are conducted in a small ratio (1:5). This allows better supervision and interaction among their peers. If there are more than five infants in the class, there will be two teachers in the pool.
"Our experience with Coach Coco was great. Her instructions were clear and she was very encouraging throughout the lesson. When she was interacting with my baby boy, she was very gentle and calm," shares Charlene Go, on her first experience with Little Splashes.
"I was amazed that he did not even fuss or cry even though it was his first lesson with a new company and in a new environment. I also liked that nursery rhymes and toys were incorporated," says the mother of three, who attended the Infant and Toddlers Swimming programme with her 10-month old son, Reyes.
Lin Kejin, mother of 3-year-old Thaddeus adds, "The coaches are very patient and I felt the lessons are very well thought out; where each child's swimming proficiency is carefully considered. There is less distraction compared to other pools and it is weatherproof!"
Double protection
For hygiene purposes, children below the age of three are required to wear two layers of diapers – a disposable waterproof diaper, and a reusable diaper on the outer layer.
Class time
To cater to the attention span and stamina of children, all programs are kept at 30 minutes per session.
The pool
The only one of its kind, the swim school uses a non-chlorine purification method to give ultra-clean and bacteria-free mineral water. This prevents any associated allergies to chlorine water that is present in most swimming pools. The water in the 1.2 meters deep pool is kept an ideal temperature of 30 to 32 degree Celsius. It was because of this that Mother Samantha Noh chose Little Splashes. "The mineral water is very good for eczema skin and the heated pool makes it comfortable for the babies," said Samantha.
Charlene adds, "The indoor heated swimming pool also provided great convenience as I will not worry about the rain or strong sun and my boy catching a cold. There were changing tables available for babies and even the shower rooms for adults have heated water!"
Little Splashes aims to introduce water safety, water confidence and water familiarization to infants and toddlers from six months to three years old. They also offer swimming lessons for older kids and adults. Book a class with them today!
Little Splashes Swim School
300 Bedok South Avenue 3
Siglap Community Centre #01-07
Singapore 469299
Contact: 6636 0016
Email: info@littlesplashes.com.sg
Website: www.littlesplashes.com.sg
Read our Enrichment and Preschool Guide to learn about other enrichment programmes for your toddler or preschooler.
If you find this article useful, do click Like and Share at the bottom of the post, thank you.
Want to be heard and seen by over 100,000 parents in Singapore? We can help! Leave your contact here and we'll be in touch.