Creativity can be two-fold – free form and around a theme. Depending on your learning objectives, parents can engage your children differently.
While some children are naturally more expressive and can express themselves well through various art forms, for others, a bit of parental involvement may be needed to spark that interest. Ms. Pooja, Chief Curriculum Officer at Nurture Education Group shares with us six tips to get you and your kids started.
1. Set Up An Art Corner
When creating art, one myth is that you can only do it with a very large area. Art takes place anywhere; a small corner/area works just fine. All you have to do is to set it up as a cozy area where it invites the child to create.
Provide an assortment of materials and if possible, make them easily accessible – crayons, coloring pencils, paper, scissors and even home materials such as cotton wool, beans (for older children to prevent choking hazards), aluminium foil, glue, etc.
2. "Mum, I'm bored!"
When your child tells you that he/she is bored, it is the perfect time to let your child create. Depending on age and readiness, you may or may not need to be seated with him/her. Guide him/her to the art corner (as shared above) and introduce the materials to your child. Art need not be hard or picture perfect, use any materials that are easily found at home for e.g. Stamping / Printing.
Cut fruits / potato / celery stamping
Some fruits like starfruits, apples, etc. are great for stamping. Celery makes a rose print when you cut and stamp them breath wise.
If you do online shopping and receive parcels, chances are, you will find bubble wrapping in the box. Keep those and make prints with the kiddo as an improvised 'pointillism' inspired artwork!
If heading out to nature is your thing, pick up leaves of different shapes and sizes and bring them home with you. Use them to make beautiful colored prints and if you print them on a large paper, you can even use it as a wrapper!
Another fun way to encourage creativity is to recycle items to create toys / games for your child. E.g. using cardboard box to create vehicles or a tent or even a pirate ship!
Leave open ended materials around your Art corner and instill creative play activities that engage and encourage your child to represent the material in many ways. E.g. Scarves can be used in many ways – a cloth to wipe the table, use it as a cape or a parachute, etc. You will be amazed at how children view things differently from us.
3. Story Based Projects
We love Eric Carle. And children love his stories. Besides telling great timeless stories, Eric Carle is a master of collage and tissue printing. Explore using Art tissue with your child. Read one of his books, point out the illustrations to your child and try creating your own artwork. Use rollers and add on different colors. Then print on the Art tissue, tear and create your own scenes and animals.
4. Be Spontaneous!
Is it raining outside? Art is great as an indoor activity! Inspire your child to think in a new and unconventional way by bringing them into different emotions and interesting situations. Gather some chalk and just create doodles outside your apartment or under the void deck. Chalk comes in many different colors and is easily erasable. Want to add some 'edge' to it? Try Crayola™ 3D chalk art where with special 3D glasses, some bits of your doodles will pop right off the floor!
5. Food Craft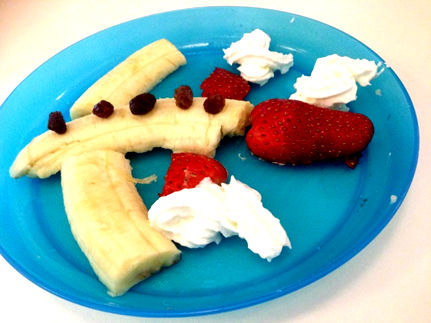 Art need not be limited to just paints and crayons. Use bread as your canvas and paint with chocolate or strawberry sauce! Cut out strips of seaweed and use cream cheese to make faces on pancakes. For older kids, you can even engage them through bento sets too! The idea is to have fun creating and encourage your child to express with different mediums and colours where we celebrate their unique creations.
6. Don't Just Problem Solve, Process Solve Too!
Encourage children to problem solve will help them to generate thought processes, innovate problem solving and navigate through new and unfamiliar situations. Demonstrate how you might go about solving the problem and praise them for their effort rather than for arriving at a correct answer. The point of creativity is the joy of the process rather than then product of discovery.
By Ms. Pooja, Chief Curriculum Officer at Nurture Education Group.
This article was first published in The New Age Parents e-magazine.
* * * * *
Like what you see here? Get parenting tips and stories straight to your inbox! Join our mailing list here.
Want to be heard 👂 and seen 👀 by over 100,000 parents in Singapore? We can help! Leave your contact here and we'll be in touch.