It's 8am and my kids, Jonas 5, and Josephine 7, had no qualms getting up so early on a school holiday. That's probably because my husband and I have promised to bring them to Sentosa today and they have been talking about this trip for the past three days.
At the ticketing counter in Vivocity, the staff shared with us about Sentosa PLAY Pass. She shared how it was really a good value for money, especially because we could visit 16 attractions with just one pass! My husband and I did the Math and figured we could save more than 60% with the Day PLAY Pass! Plus it was a fuss free way for us to spend the day. We got a pass each and hopped on to the Sentosa Express. The kids could not wait to get started!
We made our first stop at the Imbiah station, where we headed to the Images of Singapore Forecourt for Story Telling Comes Alive! My kids attended this last year and loved the characters and stories. They were pretty excited when they heard it was back this June, and with different stories this time! We caught the first story of the day, Goldilocks and The Three Bears at 11.30am. Featuring beloved and well-known fable characters – Pinocchio, Little Red Riding Hood and Goldilocks and The Three Bears, the stories are told in an interactive manner with a special local twist. Halfway through the story, Josephine volunteered to play 'mama bear' and had the chance to go on stage to read few lines. There is also a Q and A section after each story where prizes were given out.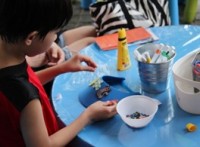 After the story telling, we went to redeem a free activity at Little Hands and Minds (open daily from 11am – 7pm) with our PLAY Pass. Jonas created his own summer visor using pieces of felt, fabric and alphabets, while Josephine decorated a wooden treasure box with sequins, fabric and glitter. We also managed to catch NLB Talks and Crafts on how we can cultivate and foster the love of reading in a child. It was quite an eye opener for me and I think it would be good for parents to attend and pick up some tips along the way. It was unfortunate that we did not get to meet Captain Gravity though. Found out that he only makes an appearance every Friday! Jonas was so disappointed!
Our next stop was MegaZip, which also at the Imbiah Lookout. Jonas, the more daring of the two, wanted to try this for the longest time. I took the ride with my girl while the boys went together. It was a little scary at first but once we saw the breath-taking canopy view as we whizzed across above the sea, our fears slowly slipped away.
After MegaZip, we went to fill our tummies and made a pit stop at the Underwater World. Our timing was great as we made it in time for the StoryTelling session at 3pm. I found it very educational and meaningful for the kids, as they learned more about marine animals and conversation. There was also a follow up craft session where the kids made jellyfish paper plates and shark clothespins. We thought we would went to say 'hi' to the fishes (as Jonas would say) and toured round Underwater World for a while since we were already in the premises.
Feeling hot from all the heat, we headed to Palawan Beach for a dip to cool down. While the kids were splashing around at the children's pool area, Captain Palawan made an appearance! The kids all flocked to him and had a boogie session with him. I quickly whipped out my camera and snapped some photos of my two little ones dancing merrily with Captain Palawan. On our way back, we were lucky enough to bump into Baby Bear and Goldilocks! Josephine dashed towards Goldilocks while Jonas said 'Hi' to Baby Bear.
You might get a chance to Meet and Greet your favourite fable characters if you are there too. They will be roaming around various places in Sentosa every Tuesday to Friday from 11am – 7pm.
Though we managed to cover most of the activities in one day, we decided to come back again to check out the rest of the activities. There is Flow Camp happening on the 18, 19, 21 and 22 June organized by Wave House Sentosa and the kids seemed quite interested in that.
We will also be back here on 23 June, for the Red & Yellow Day Beach Carnival. I was told there will be free games, popcorn and candyfloss at the event. They will also be attempting to set a record in the Singapore Book of Records at 3pm! That's pretty exciting. Buddy Cool and his crew will also be around to share water safety tips with the kids.
Not forgetting that there will also be music, magic and craft workshops at Senotosa's latest attraction, Port of Lost Wonder!
We also found out that Sentosa's celebrating her 40th birthday this year and there were lots of exciting goodies and activities lined up till September! We were lucky to have spotted the lucky draw boxes at the ticketing counter on the way to the carpark. So we dropped our lunch receipts and a form to hopefully win some prizes in the monthly lucky draw! They are also welcoming their 150 millionth guest this June so maybe we will be lucky the next time we come back for the June activities! Fingers crossed!
With a camera full of photos, hand-made art and crafts, and some merchandise in hand, the kids were a little tired but happy. We got back on the Sentosa Express and made our way back to Vivocity. What a day!
For more information the above activities, log on to www.sentosa.com
By Michelle Ang