YouTube is the television of this generation, and most kids are well versed in searching for their favourite channels and shows by the time they hit primary school.
But when it comes to us parents, we normally don't have the time or inclination to surf through the millions of videos online. Here are educational YouTube channels worth checking out to get inspired to do something with your kids!
---
For crafts with the kids
Bookmark: Box Yourself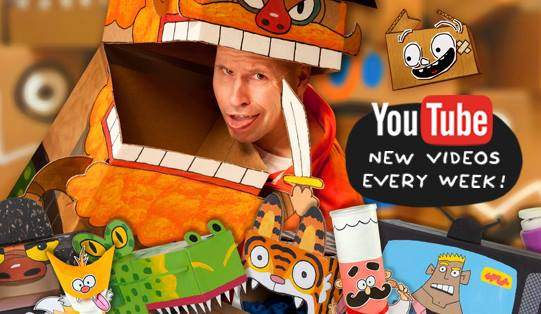 Find your inner artist and upcycle materials around your house into imaginative works of art! Surprise your kids (and yourself!) with your DIY projects, and inspire them to join you in these creative sessions. From cardboard doll houses to hamster mazes, there's something for everyone to enjoy.
---
Bookmark: Mister Maker
If you're stumped for simple art activities to do with the kids, you'll find lots of fun and exciting craft ideas on the Mister Maker channel! Unlike Box Yourself, these projects are generally smaller scale and simpler in nature, so they're easier to take on – especially if art isn't your specialty.




---
For fun family activities
Bookmark: Owls Well Vlogs
Owls Well is the story of two owls (sisters Debs and Becky), their adventures at home and around the world, and their different perspectives on the same subjects. Debs is a mother of three, and chronicles all sorts of fun shenanigans that she gets up to with her adorable brood!
Bookmark: Family Fun Pack
With a motto like "fun with the family, every day" and a family of six kids all born within 39 months of each other, you can expect this to be an entertaining channel of family-friendly videos, which include challenges, parks, epic road trips, vlogs, toys, games, food, clothes and lots of other fun things! They are also the originators of the "costume runway" series on YouTube.
---
For fun and creative recipes for the family
Bookmark: Popsugar Food

From sweet treats like the Cadbury Oreo Crème Egg to savoury delights like Ramen Burgers, POPSUGAR Food shares all manner of delicious recipes, tutorials, cooking tips and tricks – and everything else you need to get started in the kitchen! Check out their program Eat the Trend, which recreates the latest food crazes and invents new ones.
Bookmark: Food Network
Their daily recipes give you lots of ideas to choose from for your family's regular meals, plus check out their fun and wacky ideas for making food that's fun, like rainbow pasta and pretzel pot-pie.
---
For fun learning
Bookmark: Crash Course and Crash Course Kids

If you've always wanted to learn something new, check out the wide range of free courses available on Crash Course. Sociology, computer science, film history, mythology, physics, economics, astronomy, anatomy & physiology, world history, biology, literature, ecology, chemistry, psychology, and U.S. history – these are just some of the topics covered by their range of experts.
Crash Course Kids is a bi-weekly show for children that covers grade school science topics (equivalent to our upper primary to lower secondary level) about Earth, Habitats, Space, Astronomy, Biology, Geography, Chemical Reactions, Engineering, and more.
Bookmark: Sci Show and Sci Show Kids
SciShow delves into unwrapping the wonders of the world through science, and explores all those questions that you may always been wondering about. SciShow Kids brings science in fresh ways to young and curious minds (although they have great content that even adults can appreciate), making complex science concepts simple and relevant for all to enjoy.
---
Just for parents
Bookmark: PBS Parents
This is a treasure trove for many parents who are looking for ways and strategies to parent "better". You'll find tips on how to manage parenting stressors, strategies to improve your children's emotional and social skills, and instructional videos for craft projects, family activities, and even how to throw a themed birthday party!
Bookmark: TED

Gain precious perspective from real people with real experiences through TED Talks, the best ideas and insights gleaned from icons and trusted public figures from around the world. Watch them give the talk of their lives on a selected topic in 18 minutes, and you just might pick up a valuable insight for how you parent and manage your life.
Here are our top picks for TED talks on education.
By Dorothea Chow.
What other YouTube Channel did we miss? Share them with us in the comment section below.
Like what you see here? Get parenting tips and stories straight to your inbox! Join our mailing list here.