Do you know that there is a serious food waste issue in Singapore?
According to a household waste study by the National Environment Agency (NEA), food waste accounts for half of the total waste disposed of by households, as we throw out daily leftovers from eating and cooking.
In 2017, food waste hit a high of 809,800 tonnes, and only 16% of it was recycled!
The good news is that we can do our part at home. It starts by being more mindful of our consumption habits, as well as instilling sustainable practices in our children from a young age. A combined effort can win this battle against food waste.
⇒ Related Read: How You Can Help To Reduce Food Waste
Here are five simple tips to get you started today.
1. Shop Smart
The weekly grocery shop for the family can be make or break time. It's important that you arm up with a list beforehand to prioritise only items you need.
Stacking up on perishables is a bad idea as it can lead to more uncooked ingredients and food waste, but planning a menu that uses up the leftover items is a must.
Taking your kids shopping with you also gives them the opportunity to see and learn about a wider variety of foods than simply what comes home with you.
2. Deal with Leftovers Effectively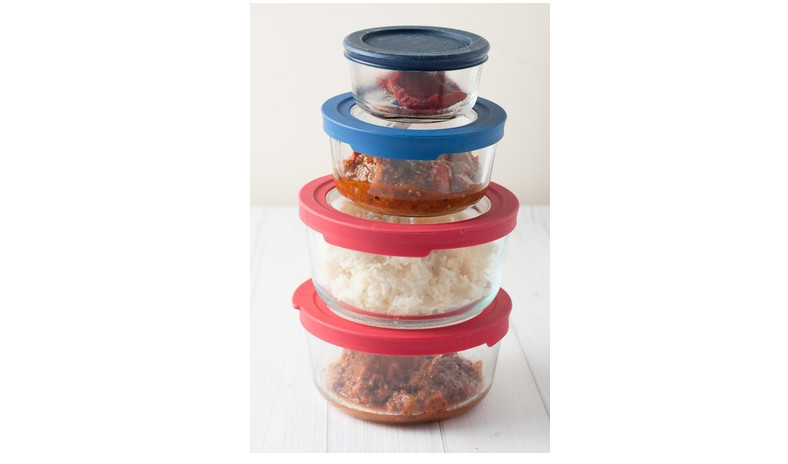 Storing leftovers can be a chore, but not as tricky as trying to consume all the items before they go bad. Use these simple and effective steps to make sure your leftovers don't get left behind.
Use transparent containers for your leftovers. This will help you easily take stock of all leftovers at home.
Plan your meals for the week ahead. Look at what you have at home and develop your menu to incorporate some of the leftovers.
Keep the oldest items in the front of the cabinet or refrigerator shelves. Otherwise, they tend to get pushed to the back where they are forgotten and eventually spoil.
3. Re-purpose Your Food Items
Every ingredient in your pantry can be utilised as a part of a dish.
For instance, vegetables such as onions, carrots, potatoes and tomatoes, along with chicken and pork bones can be used to make a nutritious broth. The pork and chicken that you used to make Chinese soups can also be shredded for fried noodles and rice.
Encourage your kids to join in the cooking so that they cultivate an appreciation for ingredients and broaden their palate.
4. Practice Good Kitchen Hygiene
Good kitchen hygiene can go a long way in keeping ingredients fresher for longer. Cooldown newly cooked food (within four hours) in shallow containers or in an ice bath.
Once they're cold, cover, write the date and refrigerate quickly. If you don't manage to consume within a few days, you could freeze it for a later time, or donating to family or friends.
Extra tip: Filling up your fridge with piles of ingredients will reduce air circulation, resulting in the refrigerator temperature not maintaining consistent safe temperatures. It's also never too early to teach kids how to handle food safely and hygienically.
5. Swap it Instead of Wasting it
You are at your wit's end – you have a bunch of leftover ingredients that are close to the expiry date, and you have no idea how to use them. Throwing them away and buying more will only lead to food being wasted. What can you do? Swap it!
Consider organising a simple Social Food Swap among friends and family by rallying everyone to bring their leftover ingredients that have been left ignored in their kitchens.
The next step is easy – simply swap it! Not only will you end up with food that you will eat instead of throwing away, but it's also the perfect opportunity for everyone to catch up while getting behind a worthwhile cause.
A fun activity for all the family, you can also encourage your children to join in by swapping with their playmates!
Social Food Swap is part of HappyPlateSG, a community program by Electrolux to reduce food waste in Singapore. Started in 2015, HappyPlateSG focuses on educating the public and encouraging small and tangible actions that add up to a big difference in reducing food waste.
The article was contributed by Chef Eric Low, Electrolux's Chef Ambassador for community initiatives. With more than 25 years of delivering culinary experience and expertise, Chef Low is passionate about combatting food waste in Singapore and believes good judgement and simple knowledge on food can go a long way.
* * * * *
Enjoyed reading this or learned something new? Click the Like and Share button below!
Want to be heard and seen by over 100,000 parents in Singapore? We can help! Leave your contact here and we'll be in touch.