Every product that we buy has an impact on our environment. Green products are not only super safe for your baby, it's also a great way for your whole family to be environmentally responsible. It's never too late, so why not check out these items just for you and your baby. We don't have to be a tree hugger to be green.
Organic Bodysuit/playsuit, S$39.90
From myecobabe, www.myecobabe.com
I've never known the existence of organic rompers until a friend introduced them to me when I was searching desperately for one for my sensitive skin baby. Get one of these cute pretty rompers to dress your babies up on days you would like their skin to rest a little from the polluted environment. Such organic rompers are a good-to-have for babies with sensitive skin.
A printed version of the classic Kimono Bodysuit, featuring short sleeves and kimono front for easy dressing, with exclusive prints. Or put your baby into a pretty dotty organic cotton playsuit after a day out to rest his or her sensitive skin and to sleep well in it. Made with 100% organic cotton.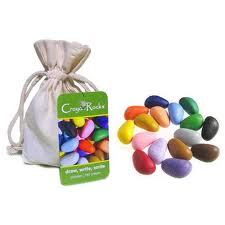 Crayon Rocks, S$11.90
From 2 Little Sprouts, www.2littlesprouts.com
Allow your child's imagination and creativity to come alive while developing their motor skills to prepare their fingers and hands for handwriting. These awesome crayon rocks allow small fingers to colour in wide stroke however they grip them and allows them to create pictures rich in colours! Best of all, they are 100% non-toxic! They are also used by occupational therapists to develop fine motor skills. Get one of them to bring them along wherever u go so that your little one can colour on the go and be meaningfully occupied!
Made in USA and coloured with mineral pigments. Available in 16 Vibrant Colours
Owl Teether, S$29.90
From myecobabe, www.myecobabe.com
Looking for a special gift for your beloved newborn or friend but got tired of the Sophie the Giraffe? These beautifully handmade owl teethers are finished to perfection with large eyeholes, making it easy for your little one to feel and grip the owl. It is perfect for imaginary play and this shaped toy has different edges for baby to explore and bite into! Your kid will be the coolest kid with this awesome owl! Best of all, they come in other animals like T-rex and Dove, oh and guitar too!
Handmade in the USA and are finished only with certified organic flax seed oil. Each toy comes with a full set of care instructions. Measures about 4 x 3 inches.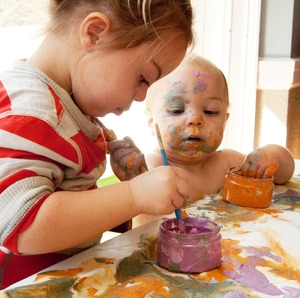 Eco Kids Eco Fingerpaint, S$39.00
From Love For Earth, www.loveforearth.com
Intrigue the senses of your child by introducing safe colour paints that they can play with their fingers on the glass doors of your home or a piece of drawing paper! A rainbow, crazy bug, or a self-portrait, eco-paint™ encourages the creative process. All natural ingredients mean peace of mind. With this, you'll never have to worry about your kid licking up the paint by accident and they can have safe fun too!
Natural Concentrated Baby Laundry Detergent, S$24.70
From Nothing But Green, www.nothingbutgreen.sg
Looking for a suitable organic baby detergent for your sensitive skin baby but not sure which to get? I've been personally using this baby laundry detergent to help my child tame his skin during his eczema flaring days and it's been helpful. Effectively remove those stubborn stains with our hypoallergenic, fear-no-carrot stain formula. Carefully formulated with plant-derived cleaning agents and free of fragrances, dyes, and optical brighteners.
Designed for standard and HE machines
Non-irritating to skin
Enzymes lift stubborn baby stains
Free of optical brighteners
Free of dyes & synthetic fragrances
Biodegradable formula
Supports sustainable palm oil
Teething Blings®, S$31.90
From JAM 'n Muffin, www.jamandmuffin.com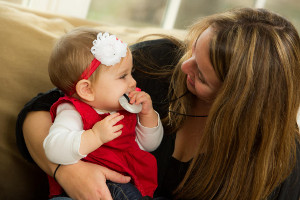 Love accessories but worry that your baby may grab and chew? These Teething Bling® was inspired by babies who like to tug on our jewellery! Wear them with style and allow your baby to play and interact with their senses on the go!
The original patent-pending teething jewellery, these blings are made from the same material as many teething toys, Teething Bling® looks great on Moms, Grandmas, Aunts and Caregivers but is safe for curious babies to handle and chew.
Teething Bling® products are non-toxic, phthalate, BPA, PVC and lead-free and all pendants come with a breakaway clasp. Made from the same FDA-approved material as most teething toys, their pendants and bangles look great on the adult wearer but are safe for curious babies to handle and chew.
This article was first published in The New Age Parents e-magazine
If you find this article useful, do click Like and Share at the bottom of the post, thank you.
Like what you see here? Get parenting tips and stories straight to your inbox! Join our mailing list here
Want to be heard and seen by over 100,000 parents in Singapore? We can help! Leave your contact here and we'll be in touch.