"The Magic Porridge Pot" is a delightful story that both children and adults alike can enjoy. It tells of how a kind-hearted girl, upon making a casual wish to be of help to her fellow poor and hungry villagers, was presented with a magic porridge pot by an old woman. However, she and her absent-minded mother must beware of the village thief – a cheeky yet likeable character, who by the end of the show, turns over a new leaf.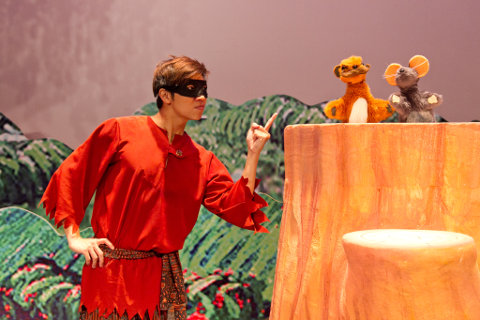 Through the thief's story and his conversion, the audience is led to think about making mistakes, second chances, and how the truly valuable things in life are that which cannot be stolen. The themes of creative thinking are also brought across through the catchy rhyming song that encourages us to think in "spirals and twirls, ringlets and curls, … backwards and forwards", for then we'll find "pearls" (of wisdom)! Indeed, in today's context, being able to think out of the box is an asset that should be nurtured from young.
The cast of 3 was impressive in their respective roles. They were adorable and hilarious as the whimsical magical creatures in colourful costumes who chattered away in unintelligible sounds at the beginning of the show, a prelude that introduced the magic pot. Their comical actions had the audience constantly in laughter, although some children might have been a little scared of the face masks they wore.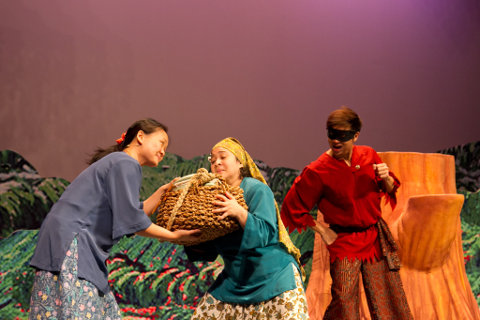 With respect to their specific characters, Elizabeth Loh was believable as the helpful and kind girl, Jonathan Lum convincingly portrayed a sneaky thief, but perhaps it was Alecia Kim Chua's dual roles as the magical old woman and the girl's forgetful mother that was most memorable. The occasional appearances of animal puppets also served to enhance the performance, drawing laughter from the audience with their antics.
Throughout the show, audience participation opportunities were seamlessly weaved in as the various characters sought the audience's opinions at different junctures. The children were more than happy to respond to the questions directed at them. The cast also engaged the audience by inviting everyone to join in with singing the magical rhyme that would make the porridge pot cook and stop.
This interactive performance promises to captivate throughout its entire duration, with its pleasant melodies, appropriate sound and light effects, singing and dancing, the amusing dialogue, and the unfolding of the plot.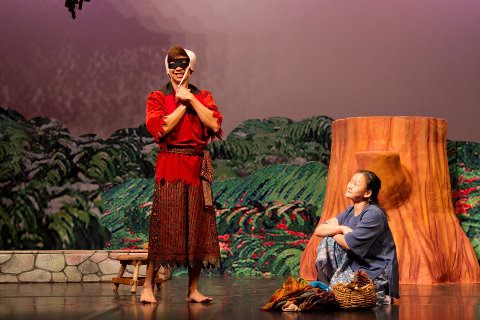 Grab your tickets now for a time of light-hearted yet meaning-laden entertainment!
ACE FESTIVAL LITE! 2013 – THE MAGIC PORRIDGE POT
Event dates:
20 May – 7 Jun 2013
Mon – Fri, 9.30am, 11.30am & 2.30pm
Sat, 10.30am, 2pm & 4pm
Venue:
Alliance Francaise Theatre
1 Sarkies Road Singapore 258130
Approximately 55 mins including meet and greet (There is no interval for this show)
Written by Wah Chia Ling