For one-night only, STAR ISLAND presents Singapore's largest drone show performance with 500 drones completely synchronised with spectacular fireworks, light displays and exciting show elements.
Get ready to unleash your imagination and be whisked away to a one-of-a-kind space adventure as we count down to a New Year with STAR ISLAND – a multi-sensory fireworks musical show that interfuses larger-than-life pyrotechnics and dazzling lights, 3D surround sound and world class performance acts into a single, seamless performance.
Featuring Singapore's largest synchronised drone show performance to accompany the other dynamic show elements of STAR ISLAND, STAR ISLAND SINGAPORE COUNTDOWN EDITION 2019-2020, in conjunction with Marina Bay Singapore Countdown 2020, is set to transform The Float @ Marina Bay on 31 December into a whole new imaginary universe. Centred around a new story, 2019: A SPACE ODYSSEY, visitors of STAR ISLAND will get to enter the gateway into this mysterious parallel galaxy and experience the magic of an action-packed and immersive futuristic hanabi¹ entertainment show.
Said Kenji Kohashi, Creative Director of STAR ISLAND: "We are determined to create the best countdown show for Singaporeans to usher in the New Year show, and have been planning how to choreograph 500 drones into a spectacular storyline that will be in symphony with the fireworks, 3D surround sound, laser show and stage performances – painting the skies with the Marina Bay as the backdrop. It will be a daunting task but a sight to behold as technology and artistry converge to transport everyone into a brand new and exciting experience."
What ticket holders can expect at this unique destination with non-stop entertainment
The sophomore edition of STAR ISLAND SINGAPORE COUNTDOWN EDITION is set to be even grander this year. From 5pm, entrants into the one-of-a-kind destination will be entertained as they stepped into a variety of activities specially curated for everyone in the family. Revel to live DJ performances, explore the family-friendly entertainment zone, interact and pose for pictures with roving art performances, or munch on the varied mouth-watering delights at the food village.
Come nightfall, expect to be wowed when the Japanese hanabi artisans present this year's thoughtfully-conceptualised fireworks musical extravaganza – action-packed with the latest Japanese-designed fireworks, cutting-edge technologies and new experiential show elements.
Ticket holders will get to travel through space and navigate STAR ISLAND across six chapters – Ceremony, Another Earth, Galaxy Party, Gravity, Microcosmos, and the Grand Finale. Each chapter is also choreographed to a unique soundtrack that is turned up a notch by 3D surround sound technology produced by special speakers – wrapping and immersing the audiences with the ultimate audio-sensory experience.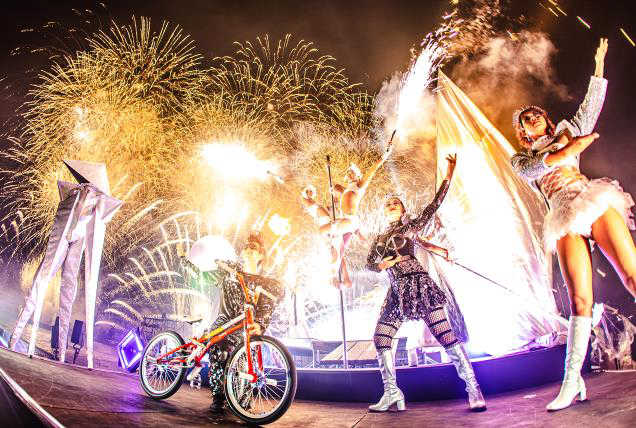 Set against the unique Marina Bay city skyline, breathtaking made-in-Japan fireworks will illuminate the sky into a kaleidoscope of colours. Each burst of colourful fireworks are specially designed by skilled Japanese fireworks artisans using traditional techniques rooted in over 160 years of history. Melding with laser projections and pyrotechnics, the display becomes a dynamic visual canvas in symphony to the theatrical world-class acts performed by Olympians and ex-members from famous circus troupes, renowned ballerinas, contemporary dancers, and fire twirlers. The audience will also find themselves further immersed with individual LED wristbands that respond to the show, adding their own light to the celebrations.
Kenji added, "With new technology injected into the upcoming show, it is a unique contemporary hanabi experience where visitors will feel like they are entering an out-of-this-world imaginary galaxy through a thrilling space adventure. We hope the show will inspire them to dream and hope for the future as the nation opens a new chapter into 2020."
Produced by Japan's top entertainment group Avex, STAR ISLAND is an original concept that elevates traditional Japanese Hanabi² to unprecedented levels, combining it with cutting-edge technologies such as 3D sound, light displays, and experiential show elements. Prior to coming to Singapore, STAR ISLAND has presented three sold-out shows in Japan, as well as debuting for the first time in the Middle East, in celebration of Saudi Arabia's National Day.
Tickets on sale from 7 November 2019 onwards
STAR ISLAND SINGAPORE COUNTDOWN EDITION takes place on 31 December 2019 at The Float @ Marina Bay, as part of the Marina Bay Singapore Countdown, along with other activities and programmes happening around the bay.




Tickets go on sale on 7 November, ranging from S$88 to S$468 (VIP experience). Each ticket gives exclusive entry to a whole new imaginary universe which includes entrance to the seating gallery at The Float @ Marina Bay and the bustling marketplace.
New this year, a party of six to ten countdown revellers may also indulge in a luxurious experience in the comfort of their own multi-sensory suite, complete with the ultimate view, comfy cushioned seats, an exclusive lounge access and F&B all night long. Limited multi-sensory Star Suites go at S$6,888 and S$8,888 respectively.
To buy your tickets or for more information, visit here.
¹ Hanabi – the Japanese word for fireworks – is a long-standing summer tradition all across Japan, where people gather to eat, drink and watch firework displays in the cooler summer nights. STAR ISLAND takes this tradition into the future by elevating the experience with the use of cutting-edge technology and experiential show elements.
² Hanabi – the Japanese word for fireworks – is a long-standing summer tradition all across Japan, where people gather to eat, drink and watch firework displays in the cooler summer nights.
---
Are you ready to welcome the New Year? Here are some New Year's Eve 2020 Countdown Parties in Singapore.
Want to be heard and seen by over 100,000 parents in Singapore? We can help! Leave your contact here and we'll be in touch.
Stay in touch! Subscribe to our Telegram here for our latest updates.