3 Highs, 5 Lows and 70% Satiety – Easy-to-remember, principles for a heart-healthy diet!
To reinforce heart-healthy eating habits and help Singaporeans better remember the food groups that should be consumed in the recommended portions by the Health Promotion Board Singapore, the Singapore Heart Foundation introduced the Heart Smart Eating Plate at the inaugural Fitness and Nutrition Seminar 2016. Alongside the launch of the dining plate is the brand new heart-friendly recipe book titled 'Cook Right, Eat Right', published in collaboration with the AllSpice Culinary Institute.
Guest-of-Honour Ms Low Yen Ling, Parliamentary Secretary, Ministry of Education & Ministry of Trade and Industry, Mayor of the South West District, was at the seminar to launch the Heart Smart Eating Plate and the recipe book.
In Singapore, heart disease and stroke combined accounted for 29.9% of all deaths in 2014. To put the statistic in perspective, 1 out of 3 deaths in Singapore is due to heart diseases and stroke. Despite common knowledge that exercise coupled with a balanced diet is key to controlling risk factors such as high blood pressure, cholesterol and obesity, a heart-healthy diet is often easier said than adopted.
"At least 80% of deaths from heart diseases and stroke can be prevented with conscious efforts to reduce risk factors such as smoking, unhealthy diet and physical inactivity. Do you know that for every 5 kg of weight you lose, you can potentially reduce your systolic blood pressure by 5 mmHg? Through continued education over platforms such as the Fitness and Nutrition seminar, we hope to encourage more Singaporeans to take small, steady steps to change their lifestyle and lead a better quality life," said Professor Terrance Chua, Chairman of the Singapore Heart Foundation.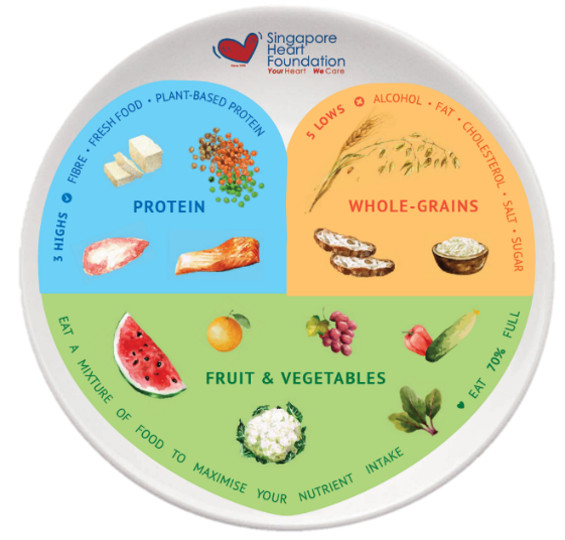 Credit: Singapore Heart Foundation
Heart Smart Eating Plate
The Heart Smart Eating Plate was conceptualised based on the Health Promotion Board's (HPB) My Healthy Plate visual tool, SHF's 3-5-7 Healthy Heart Diet Principles and the American Heart Association's (AHA) recommendation of eating a mixture of food to maximise nutrient intake. With the easy-to-remember visual concept, adopt a heart-healthy lifestyle with the SHF's 3-5-7 way!
3 Highs (Fibre, Fresh food and Plant-protein)
For a diet high in fibre, freshness and plant-based protein, you should consume plenty of fruit, vegetables, soy products, beans and legumes. Soluble fibre especially helps to lower cholesterol and provides a wide range of vitamins, minerals and antioxidants.
5 Lows (Salt, Sugar, Cholesterol, Fat and Alcohol)
Reduce the fat and cholesterol in your diet by choosing lean meat and skinless poultry cooked via healthier methods (steam, poach, grill, stir fry, bake, boil, stew). Go easy on table salt, seasoning and pickles to keep your sodium intake low. If you have a sweet tooth, have your sugar sparingly. Wine may be beneficial for heart health, but only do so in moderation.
70% Full
How much you eat is equally important as what you eat. Do you burp out loud after a meal? Chances are that you may have overeaten. If you think your stomach is 70% full, it is probably just right. Have small frequent meals instead of three big meals.
For more information, please visit here.
* * * * *
Like what you see here? Get parenting tips and stories straight to your inbox! Join our mailing list here.
Want to be heard 👂 and seen 👀 by over 100,000 parents in Singapore? We can help! Leave your contact here and we'll be in touch.