Most pregnant mothers look towards to doing some form of low impact exercises to keep fit. Yoga has become more popular in recent years as a form of pre-natal exercise as the classes usually involve stretching, breathing techniques and an emphasis on mindfulness which help to calm the mind.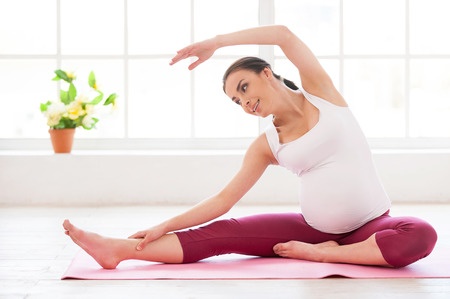 Points To Note Before Enrolling
Before embarking on a yoga class when pregnant, ideally, you should have practised yoga for a few months, or even more, so that you are familiar with the poses and are aware of how you can modify them to suit your growing belly.
If you are a beginner, make sure you attend a pre-natal class instead of a regular class and inform the teacher before class begins that you are a newbie. Try to get a mat at the front so that the teacher can pay a bit more attention to you.
What To Wear
Make sure you have loose and comfortable clothing. While many prefer to do yoga poses in fitting clothing so that their postures can be seen and corrected, comfort is key for to-be-mothers.
Don't worry about how you look in loose clothing, no one is going to judge you even if you turn up in your husband's oversized tee!
Know Your Limits
If you were a regular practitioner, you might have been able to do that headstand and forward fold with your forehead to knee easily in the past. However, know that this is a time of change for your body.
Understand and embrace the changes in your body and avoid poses involving twists of any sort. If you need to do any forward bends, make sure your legs are placed at least hip-width distance, or even wider apart to make space for baby.
When doing poses such as the triangle pose, place your feet wide apart to ensure a stable base so you are well-balanced. Avoid balancing poses like tree pose, or if you really want to try, make sure you are next to a wall. Don't be shy to bend your knees in poses such as a downward dog or forward fold to reduce the pressure on your lower back.
Here are some basic yoga poses to check out.
If you are not sure where to start your yoga sessions, we have sussed out a few studios for you!
1. Yoga Inc
An unpretentious studio with a super friendly vibe and a resident dog (Ah Bui) which you can catch if you're lucky, Yoga Inc has studios in five locations – Buona Vista, East Coast, Guillemard, Punggol and Tampines. Mummies-to-be can attend their regular classes as a number of their teachers are trained in prenatal yoga.
Classes to consider would be their Basics, Hatha and Yin classes. Teacher Joy is certified in prenatal yoga, while Ashley Ow and Christine are very friendly and helpful in providing modifications and using props for various poses.
Website: yogainc.sg
*******************************
2. Yoga +
With two locations in Arab Street and Chinatown, this studio is convenient for those working around the central business district area. You will feel any work woes fade away once greeted by their friendly teachers when you come for class and enter their beautiful studio.
With wood-panelled flooring and whitewashed window panes, the studios are small but cosy and intimate. Yoga + offers prenatal classes on Saturday afternoons. One of their founders, Dr Bianca is a medical doctor and I attended her Basics class when I was pregnant, but it's best to call and let them know that there will a mum-to-be in class. It's best that you have done Yoga before attending the Basics class as it can seem a little fast-paced for beginners.
Website: yogaplus.sg
*******************************
3. Art of Yoga
Spacious and homely, this studio is located at the second storey of a shophouse along Upper East Coast Road. Their resident prenatal expert, Natalie Lim, conducts prenatal classes on Thursday, Saturday and Sunday mornings.
While her classes usually revolve around the same poses beneficial to pregnant women, there is a good emphasis on poses creating space for the baby such as squats and kegel exercises which strengthen the pelvic floor muscles.
Natalie also teaches post-natal yoga which mothers can look at attending after giving birth. As the classes are small, it is also a good environment for students to connect with one another and share their mummyhood experiences.
Website: artofyoga.sg
*******************************
4. Hom Yoga
Hom Yoga boasts of spacious studios with contemporary décor. There are a good variety of classes and around four prenatal classes per week, Monday at noon, Thursday and weekend mornings.
I attended Marian's classes regularly even before I was pregnant and she has a very pleasant demeanour which always put me at ease. Her prenatal classes do make you break into a bit of a sweat, but you will always walk away calmer than before.
Founder of Hom Yoga, Malvina Kang, also teaches prenatal yoga though not on a regular basis. Her classes explore a good variety of poses and sometimes also incorporate an element of flow – something that regular practitioners would most certainly appreciate! Hom has also started a Mum and Bubs class which mothers can attend with their newborns to bond.
Website: homyoga.com
*******************************
5. Sweatbox Yoga
Sweatbox Yoga is a premium boutique yoga studio located in the lush greenery of Bukit Timah and City Centers of Orchard and Tras Street. We are one of the best yoga studios in Singapore, thanks to our state-of-the-art yoga equipment and facilities that will heighten your yoga experience. We also have a team of highly-skilled instructors to lead yoga classes. Here, students will learn to improve their physical, mental, and spiritual states and establish new friendships.
Sweatbox Yoga offers a wide range of yoga classes that are tailor-fit to students of all levels and physical conditions. We want to make yoga as inclusive as possible and to encourage everyone how health and wellness are always important. We have regular non-hot yoga classes, hot yoga classes, prenatal and postnatal yoga classes for pregnant women, yoga classes for kids, as well as a 200-hour teacher training program for aspiring yogis.
Website: sweatboxyoga.com.sg
Enjoy your prenatal yoga journey and don't forget to B.R.E.A.T.H.E!
By Geraldine Ang.
* * * * *
Have a yoga spot that you love? We'd love to hear your recommendations in our comments below!
Want to be heard 👂 and seen 👀 by over 100,000 parents in Singapore? We can help! Leave your contact here and we'll be in touch.