Learning Resources has came out with this Word Building Phonics Activity Set which lays the foundation for learning to read and teaches the alphabet (uppercase and lowercase letters, vowels, consonants and sounds). This is suitable for age 6 years and above.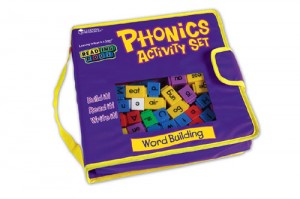 This activity set comes with:
96 colour-coded Reading rods that are interlocking and color-coded to help with letter sounds, spell words, and build sentences

18 double sided activity cards

to help with phonics skills
– 16 page booklet of activities and games for parents to play with your child

Dry-erase board, marker, and eraser

for children to write on
Activity tray to display the Rods and activity guide
All this are packed in a handy Velcro-fastened case which is convenient for bringing out.
What I like about?
Reading rods can only be linked from left to right which

reinforce the direction of reading and writing

Children learn best through

hands-on experience

and reading rods allows children to manipulate the printed rods to

recognize letters and their sounds, spell words and build sentences

The variety of colour-coded rods assists in recognising the function of letters or words and to differentiate between consonants, vowels and different parts of speech.
The activity cards provided introduce

phonics skills

for building words. Short instructional tasks are included for parents to assist your child appropriately.
The activity cards also comes in sequential order which parents can introduced the phonics skills in a progressive manner and cater to individual needs of your child.
After learning the phonics skills, parents can use the activity guide provided to

play games

with their child to

reinforce their learning

in a fun and enjoyable way.
The dry erase writing board is incorporated in the activity cards to integrate phonics skills for

reading and writing

.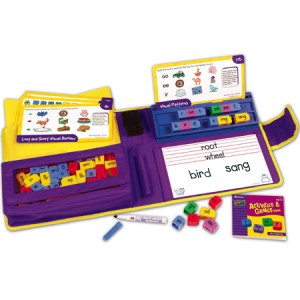 Some ways that you can play with the reading rods:
Name Game
The adult will guide the child to build his/her child name using Rods
Next build words using the letters in the name as beginning letters. For e.g. MARY (Map, Apple, Red, Yolk)
"Go get me"
The adult will ask the child to "Go get me…" a simple object that is in the room. But instead of saying the word, the adult can use the Rods to

form the word and sounds out the word

. Examples of the object might be, pen, bag, map, sock, hat, stick, brick, lid, cup, block, dish, lamp, drink, ring, mug or chip.
"What is it?"
The adult pick a Rod and then describes the object beginning with that sound. The child then have to guess the word. For example, if the sound is "f", the adult might say, "It swims in water, it has fins," (fish), "It's a number, it's how many fingers you've got," (five), "It's on the end of your leg," (foot). After guessing form the word with your child using the Rods.
This game also works for the ending sound in a word. For example, if the adult chooses the end sound "ch", the words might be "A place where you go to worship God," (church), "What you do to a ball, when someone throws it to you," (catch), "This gives you light when it's dark," (torch).
Word Building Phonics Activity Set is great for home or travel as it is conveniently packed and will provide hours of learning fun for children. Most importantly it helps to lay strong foundation for reading and writing which prepare your children for success in school. Children will also be able to build self esteem and encourage a life-long love for reading.
This Word Building Phonics Activity Set is available in Smart Alley.
Written by Yvonne Lee
Want to be heard and seen by over 100,000 parents in Singapore? We can help! Leave your contact here and we'll be in touch.