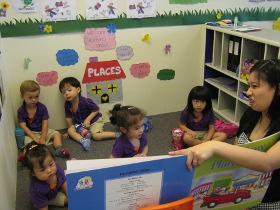 Picture this: A clean and organized classroom where children are immersed in an array of literacy experiences – listening attentively to the teacher during story-telling, singing enthusiastically during sing along sessions, children reading in the library corner, and lively on-going conversations between the teacher and her young learners.
This is a scene of what an exciting and inviting literate classroom and curriculum should sound or look like.
Classrooms make an enormous contribution to the child's interest and curiosity about learning to read. Children's works adorned on the classroom walls and shelves, labels in the classroom and books readily available for browsing – these are a few evidence of a classroom that is rich in print and literacy learning. The moment a child sets his foot into the classroom, he is already introduced to a literacy rich environment. A print-rich environment not only offers opportunities for children to make use of print and practice their literacy habits and skills, it emphasizes and reflects the importance of speaking, reading and writing in their learning.
At LEAP Schoolhouse, children are not only engaged through the provision of a stimulating and print-rich environment, they are also guided into basic literacy as the program is catered to developing a child's listening, speaking, reading and writing skills. Through role-playing, singing, story-telling and creative movement, young learners are actively engaged and participating in meaningful tasks.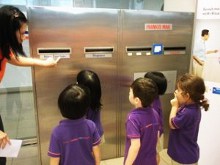 In addition, LEAP's integrated approach to learning allows children to be constantly challenged to ask questions and make inferences as they carry out language tasks in the classrooms. When young children are allowed to see their learning experiences as integrative and inter-woven with their surroundings, a new domain of understanding begins to emerge.
The LEAP Kids Program is eligible for 3 to 6 years old. Children in this programme will be attuned to the teaching of English and Chinese on an alternate day basis. Chinese lessons will also include teaching of 汉语拼音 (Han Yu Ping Ying). Besides Language and Literacy Programme, LEAP also offers an extended enrichment component.
Extended Enrichment Component:
Monday – Sports
Tuesday – Music
Wednesday – Speech & Drama (Chinese)
Thursday – Music
Friday – Movement and Dance
Parents who are only interested in the extended programs are welcomed as well. Your child does not have to be under the LEAP Kids Programme to join in the extended enrichment programmes. If you wish to find out more on both programmes, feel free to contact LEAP SchoolHouse at 634 0828 or email them at contact@leapschoolhouse.com.sg