Dorothy Heng maybe 62 this year, but that is not stopping her from being active. Married to Marine Consultant Heng Thye Hwee, 64, she has two children aged 31 and 24, and a 2 year old granddaughter. She used to work as an interior designer and stained glass designer, but has happily exchanged that role for something else – a house wife and part-time actress at Ageless Theatre. TNAP spoke to this spunky grandmother to find out more how she keeps herself active.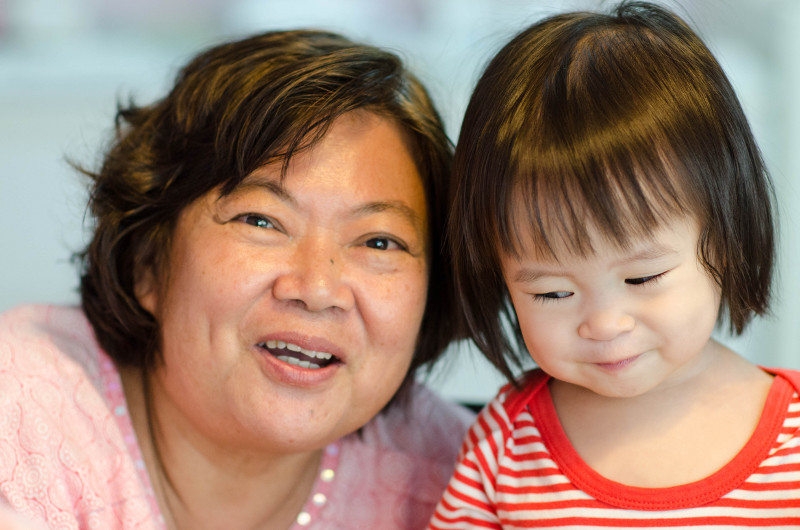 Hi Dorothy, How do you keep yourself active?
Ageless Theatre, a theatre group for keen artistes above the age of 55. I have a passion for acting, and am very thankful for such an avenue to pursue what I love doing the most. I am also involved in Popin, a collective group of artists who come together to do yearly community craft projects and exhibitions.
Apart from my acting and craft hobbies, I love to travel and am always looking for my next adventure. I've been to Spain, Portugal, Taiwan, and Bali over the last two years, and have Greece in mind for 2015. When I go for holidays, I opt out of tour groups, and instead choose to go off the beaten path such as staying at youth hostels. I love it there! There is always buzz, and being around youngsters make me feel so young.
How does a typical day look like for you?
Doing some household chores in the day, and spending time with my husband after. In fact, my husband was the one who patiently introduced Facebook to me, and I have never looked back since. Technology might frighten some older folks, but not me. Adopting a positive attitude in learning new things keeps my mind alert and helps me feel younger so I can better connect with my children.
My husband and I also enjoy each other's company when we exercise. We join his friends to cycle sometimes, and we manage pretty well on a tandem bicycle together! Exercising frequently improves my health and steers me away from feeling the aches and pains that can come with age.
How does a weekend look like for you?
Catch up with my friends from Popin over some coffee. When I was 57, I pursued a course in Fine Arts at Laselle and spent my weekends pondering on and practising painting ideas. Despite my peers being the same age as my daughter (close to forty years younger), I feel so much younger than I really am when I mix with the young. I know from the Inner Age Index that the majority of Singaporeans over the age of 50 feel five years younger than their actual age. For me, I'm 62 now, but I feel 35! Now that I have finished my course of study, I spend the bulk of time with my granddaughter, Stacey.
The Inner Age Index unveiled that 70% of Singaporeans over 50 have a younger inner age, feeling on average five years younger than their actual age. The Inner Age Index also revealed that most Singaporeans over 50 feel youthful and vibrant, believing that being over 50 allowed them to finally realise their passions.
Do you help to take care of your grandchildren?
I definitely help out whenever I can. I'm actually known as the 'hip and cool grandmother' to my friends. According to the Inner Age Index, Singaporeans over 50 feel good about their appearance and growing older – that's me for sure! I feel great about my appearance, almost always dressing in bright colours, and having my hair dyed in many colours before. Being proud to reveal my personality through my appearance helps Stacey understand that I can be more than her grandmother – I can be her pal too!
If yes, how do you bond with them and what do you normally do when they are under your care?
Instead of the usual 'Ah Gong' and 'Ah Ma', my husband and I intentionally have Stacey call us 'Pops' and 'Nan', because that makes us feel younger. Stacey and I get along really well because we both adore music and dance. My love for singing and dancing must have rubbed off her since she is a huge ABBA fan now. We also scribble, draw, and have fun with Play-doh together.
Did you know? In Singapore, 87% of grandparents believe that spending time with their grandchildren is the key to staying young.
What is your role as a grandparent? How do you define or interpret it?
Buddy, friend, teacher, playmate. Stacey has learnt to trust me over the years, and I can comfortably transition into her stand-in mummy when Mummy isn't around. Stacey brings me so much joy and laughter, which in my opinion, is the best anti-ageing medicine.
The way you teach or parent may differ from the way your children parent their kids. Were there times when your own parenting methods / values clashed with your child's parenting methods when it comes to raising your grandchildren?
Well, the role of a grandparent is not the same as a parent's. My children and I rarely have clashes because we are mostly easy-going and always practice mutual respect for each other.
How did you resolve those differences?
Putting myself in my children's shoes really help. I understand that it is more difficult to be a parent in this age compared to forty years ago – so I will offer my opinion, but always trust that my son makes good parenting decisions. That being said, since I feel young, I don't stick to old fashioned ideas and can offer opinions that work well in this age too!
Do you think parents have a harder time to bring up their children now as compared to your time when you were raising your children? Why?
As children are more exposed and easily influenced by peers and materialism, parents definitely have a tougher time now.
How have your priorities in life shifted now that you are in this 'golden' age?
Now that I am in a later stage in life, I am more relaxed and opt to take things easier. I always tell my friends to 'chillax', you don't need to feel so serious all the time.
Did you know? The fourth Sunday of November has been designated Grandparents' Day in Singapore.
What are the three most important things in your life right now?
Like many of the Inner Age Index respondents, staying healthy and active, pursuing my passions of acting and craft and travelling as far as my legs will take me – (I love exploring new holiday destinations and immersing myself in the local culture) are the three most important things in my life right now.
Care to share a piece of parenting advice to all the first time mums and dads out there?
Don't be overprotective. It is difficult sometimes, but let your child learn to pick herself up when she falls. Children imitate our actions and behaviors – that's why I try to instil a positive attitude in Stacey whenever she happens to fall. "Oopsie daisies, it's okay, let's keep walking!" works perfect for me.
Complete this sentence. The secret to remain healthy and young at heart is to…
Pursue your passions, mix with the youngsters, and laugh to your heart's content! Following this simple formula has allowed me to feel so much more fulfilled now than ever before and like many Singaporeans out there, I truly believe that the best days of my life are ahead of me.
Want to find out your inner age? Find out by taking an adapted consumer version of the Inner Age Index at actyourinnerage.com.sg
Photos courtesy of Dorothy Heng
If you find this article useful, do click Like and Share at the bottom of the post, thank you.
Like what you see here? Get parenting tips and stories straight to your inbox! Join our mailing list here