Hi Brad,
1. Would you like to start by telling us more about yourself and BabyU International Photo Studio (Baby U)?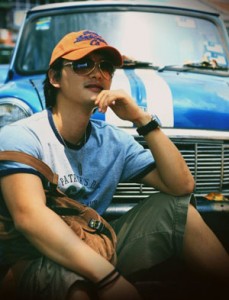 Hello, I am Brad, a Korean photographer who has been living in Singapore for the past 2 years. It's with great pleasure that I introduce myself to the readers of The New Age Parents online magazine. The motto of our studio is to welcome all customers as members of Baby U Family when they visit our studio.
2. How long have you been a photographer? What get you inspired in starting Baby U?
I've been a photographer since 1994, when I met my mentor and photography master, a famous photographer in Korea who had his own studio and was willing to teach and train me the art and skills of photography. I've been learning and taking photos from him since then. Though his recommendation, I came out and benefited by gaining the experience of managing photo studios. Although it's been around 15 years, I still love capturing beautiful moments that make time stand still and make my heart beat excitedly, leaving me in awe with each image taken.
Photography is not just my passion, but one of total satisfaction, joy and contentment of being able to give good and precious memories to people, especially parents. When I see the parents eyes light up and the heart warming love felt by parents who simply adore and appreciate the photos of their precious baby and children, it leaves me full of happiness and joy, so I find my work extremely meaningful.
3. What get you inspired in starting Baby U?
In Korea, it's our culture that Koreans must take photos for their babies when they turn 100 days old and 1 year old. That's why you will find many baby photo studios where strong competition means offering high quality service to distinguish the better studios who can command a higher premium price for their photo packages. In line with the quality service is the availability of a full range of photo frame designs, custom albums, and other photo related products that allow photo studios to bundle them as part of their packages.
That's why I choose to import Korean frames, custom albums and some photo related products like magnetic frames, mini acrylic mobile straps because of their quality and uniqueness which aren't found here. Most importantly, I'd like to introduce and create more awareness about the Korean style of taking baby photography into Singapore.
To reach out to more families in Singapore, we also chose to extend our photography services to specialize in kids, family and pregnant mum portrait photography.
4. What differentiates Baby U?
Knowledge and constant updates in the latest developments, technology, trend and styles of the photography industry in Korea. I also try to create new concepts and styles by innovating on the better ideas worldwide by constantly researching and studying what's in. Even before developing a simple concept, my baby U team members and I would study and take various test shots from the various angles to ensure perfection, the choice and colors of outfits, accessories and exact details of props. That's why we can take the most natural photos without mistakes.
5. How will you describe your style of photography?
I take photos from my heart. It's an instinct thing, which my Baby U team members are all trained and understand from the day they join Baby U. There isn't any 1 style as everyone sees an image differently. But most importantly is to capture the true essence and innocence of babies and children when they are at their most natural self, be it at play, in action, sleeping, eating or just thinking.
6. How do you get your clients to relax during the photo shoot?
As mentioned earlier, Baby U's motto is to treat all customers as family. I make sure all customers feel comfortable, a sense of being at home, as part of my family. So when they are able to relax, they will naturally enjoy the moment and have good memories of their visit in the studio.
7. Can you give us some tips to get our child prepared for a studio photography shoot?
Mothers would know best when their baby are awake and in best of mood. They should make appointments at the preferred time and bring along some of their baby's favorite toys and snacks. Same goes for children. Bring their favorite toys, winning trophies, even outfits like ballerina or taekwondo that they can treasure when they grow up.
Check out their website at www.babyu.com.sg!
Read also : Review of BabyU International Photo Studio
If you find this article useful, do click Like and Share at the bottom of the post, thank you.
Want to be heard and seen by over 100,000 parents in Singapore? We can help! Leave your contact here and we'll be in touch.