A group of K2 students are digging in the sandpit trying to form a lake during their outdoor play.
"No, let's form a sea instead!" a child suggests. A few K2s who were playing nearby join in.
While digging, the children talk about the sea they are creating and one child asks the group, "How does water get deeper in the sea?"
"How does the water go up?" another quiz.
The children then continue with their sand play.
Their class teacher observes their interactions and decides to extend the children's thinking through intentionally planned learning experiences.
Inquiry Time! Let's Learn More About Water Bodies
Every morning, the teacher has a morning meeting with her class. This is a time for the children and the teacher to reflect and share their thinking and observations from the previous day and deepen their collective thinking.
She brings up their questions at the sand pit and finds out that some children were particularly curious about the formation of lakes and rivers. Some were curious about the properties of water while others were keen to look at animals that live in them.
The Classroom Environment As A Third Teacher – What Does It Really Mean?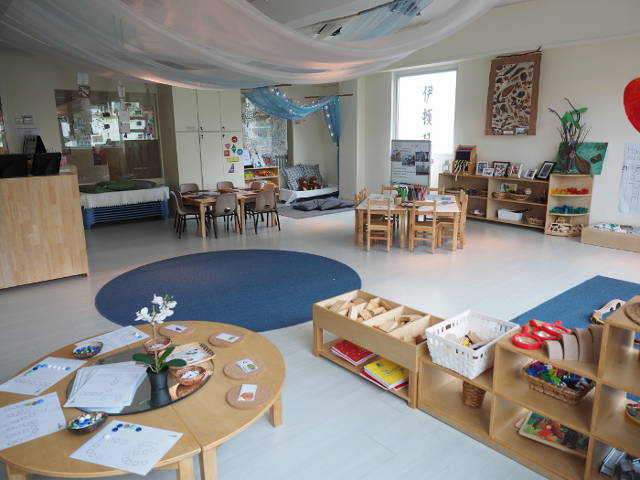 The teacher has carefully selected open-ended materials to stimulate and challenge their prior knowledge and learning – known as 'provocations'. Based on the children's interest and the learning objectives, different provocations are set up each week in the classroom. Children become incredibly engaged and motivated to learn on their own.
⇒ Related Read: How to Create Learning Spaces for Kids at Home
A Powerful Way To Learn – An Integrated Approach
Visual Arts – She placed paintings of the famous Dutch artist Vincent Van Gogh as a provocation. His painting 'Seaside', prompted many questions from the children which led to a visual arts project where they explored with various art mediums to recreate this masterpiece; yet at the same time, understanding more about Van Gogh's life, his motivation around the particular painting, his passion and his unique painting style.
Language – To hone their literacy skills and enhance their art experience, children pen their thoughts and feelings in their writing journals about recreating Van Gough's 'Seaside'. There are several opportunities during the day for children to articulate and document their thoughts. The teacher encourages them , to reflect and write their thoughts in their journals, both in English and Chinese.
Math – During the third week, she notices that the K2s were able to categorise water bodies according to its size (ocean was the biggest, a lake was the smallest). She challenges them to come up with other terms they can use to compare and weaves in an important math concept necessary for their Primary One Math education – the idea of 'more than' and 'less than' in addition to learning to measure and record mass.
Forging environmental and social responsibility – In the later stages of their inquiry into water, the K2s also came together to brainstorm ideas on how they can use water wisely. They created posters to spread messages to the pre-school community and took on the role of 'saving water ambassadors' for the younger ones.
Developing life skills – The K2's interest in Water then led them to write a book about sharks. Coming together as a group, they took turns to listen to each other's ideas and different perspectives, and negotiated on the kind of book they wanted to create as a class. Some also took on the 'leadership role' in the process.
How Does This Equip Your Child For Primary School And Beyond?
Our children's success and learning is not just defined by how many math sums they can solve in five minutes, or how many words they get right in their spelling list. Their understanding is not measured by ticking off milestones off a limited checklist.
Learning is not linear.
It is not confined within the walls of the classroom. It is not fixed in activity sheets or worksheets. It is not just about asking predetermined questions within a fixed curriculum.
It is the motivation to question, reflect and think critically and challenge and scaffold their thinking and learning in the process. Is this the right answer? How do I know that it is right? What can I do to get the result that I want?
Understanding how to learn, what to ask, knowing the skills to seek information and the ability to sieve through information in order to uncover something meaningful. These are intangible skills that are not immediate and not seen on paper but are vital to get your child through formal education and prepare them for the future.
Why. A child's favourite word. A word that opens doors to endless possibilities. A word that marks the start of a learning process. A word that needs to be asked over and over again.
Because asking the whys is their first step in acquiring the life skills needed in the 21st century.
Empower your child today. Let them take charge of their own learning.
With over 20 years of experience, EtonHouse has a highly successful bilingual and inquiry-based curriculum that inspires and motivates children to do the extraordinary. Meet EtonHouse curriculum specialists and have a tour of their beautiful campuses.
There are vacancies from 18 months – 6 years.
The above photos and documentation were taken from EtonHouse @ 215 Bukit Timah.
This post is brought to you by EtonHouse.
* * * * *
Like what you see here? Get parenting tips and stories straight to your inbox! Join our mailing list here.
Want to be heard 👂 and seen 👀 by over 100,000 parents in Singapore? We can help! Leave your contact here and we'll be in touch.