You promised your child a play date outdoors but the erratic weather simply disagrees with your plans. What next? Where can you bring your child? Located in the heart of Downtown East and AMK Hub, eXplorerkid is a multi-faceted tactile indoor playground in Singapore worth exploring. Here are nine reasons why.
#1 A Magical Ball Pit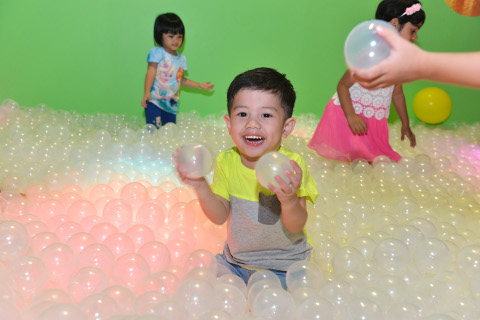 Suitable for children aged 3 and above
A hot favourite with the kids (and even the adults), this is unique ball pit is the one and only one in Singapore. At first glance, you might be wondering why the pit is filled with colourless translucent balls. Take a closer look and you'll know why. The base of the pit is installed with coloured lights that change intermittently. Watch in awe as the balls 'magically' change colours.
#2 Mega Play
Suitable for children aged 4 and above
Ready to sweat it out? This multi-level play structure puts your child's bursting energy to good use as they flex their muscles while navigating the Mega Play terrain. A fun and exciting test of children's motor and mentor skills; they have to overcome various physical obstacles before they can proceed to the next level. In the Mega Play section, children can have the freedom to move however they feel and want.
#3 Of Shapes and Sand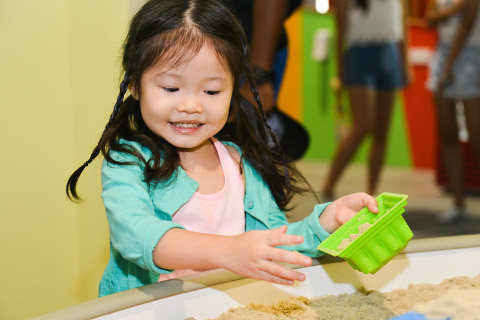 Suitable for children aged 3 and below
Your little ones also get to exercise their fine motor skills at the Sand play area. Kinetic sand provides a unique tactile and mess-free indoor experience for children to shape mouldable sand into simple designs. This three-dimensional back-to-basics building toy engages the senses and encourages the creativity and innovation of young ones.
#4 Climb on at The Cliff (only at Downtown East)
Suitable for children aged 5 and above
Climbing up sofas, beds and chairs at home may be frowned upon, but at eXplorerkid @ Downtown East, aspiring mountain climbers can climb as much as they desire. Demonstrating agility, balance and hand-eye coordination, watch your budding mountaineers flex their muscles as they scale the rock climbing walls at The Cliff.
#5 Get High at Adventure Highlands (only at Downtown East)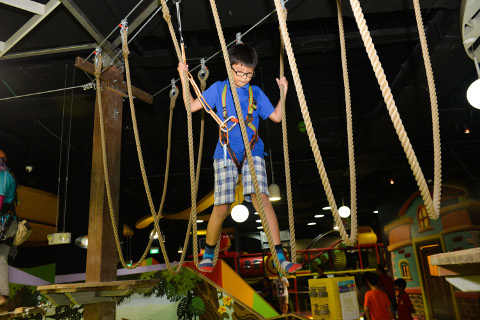 Minimum height of 110cm required for upper level
Grip tight and watch where you put your foot! With concentration, balance and courage, watch your little one grab, step and scale their way across the suspension bridge at Adventure Highland, an indoor rope obstacle course. The revamped course now has two levels. The lower level is for the younger ones, where parents can walk alongside them. The upper level has new elements catered to those who want a challenge! Children, teenagers and adults are welcome to test their courage on this course.
Price: $5.50 per circuit (on top of the entrance fee)
#6 Exclusive Discounts
Want more playtime for less and discounted rates for your child's birthday party? Be an eXplorerkid *member to enjoy these perks! More perks include a 50% discount on your child's Birthday Month and free play on your kid's birthday.
*The membership is valid until your child turns 12.
#7 Have An Exceptional Birthday Bash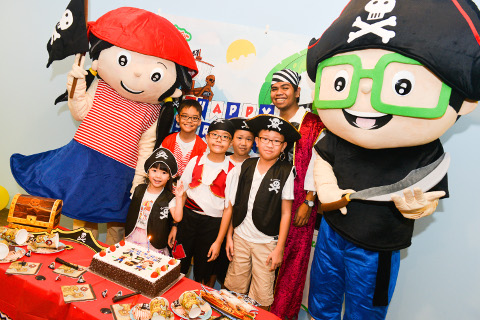 Planning a birthday party for your child? Let the experts help you. eXplorerkid's friendly staff takes care of everything, from planning the party, filling your guests' bellies with good food, to hosting and keeping your children engaged. You can have the luxury of taking a breather and catching up with your fellow daddy and mummy friends, free from any interruptions.
There are basic and different party packages to choose from.
#8 Fringe and holiday activities
To cater to the peak periods, eXplorerkid has an all-new F.U.N programme to offer a wide range of interactive workshops and learning journeys for children 5 – 12 years old.
Off-Peak Days: Monday to Friday, 12pm – 9pm
Peak Days: Saturday, Sunday, Public Holiday, Gazetted School Holidays, PSLE Marking Days, 10am – 10pm
#9 Clean and Safe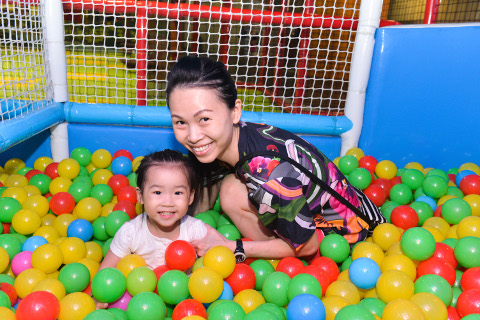 If you wonder why all the balls in the pit seem to always be in pristine condition, that is because the damaged and deflated balls are checked and replaced regularly by the staff. All the balls are thoroughly cleaned once a week to ensure a safe and hygienic experience for all. Socks must also be worn by all visitors in the indoor playground.
To ensure the safety of every child, Michael, the centre manager of eXplorerkid at AMK Hub tells us he and his team of youthful and friendly staff take the turn to monitor the play area. Extra pairs of eyes are also allocated during peak periods. He and his team even befriended some of his young customers, who are regular patrons of the indoor playground.
Get a dose of indoor fun and thrill at eXplorerkid today!
Note: Please note that eXplorerkid outlets have ceased operations from 1 July 2018.
This post is brought to you by eXplorerkid.
* * * * *
Like what you see here? Get parenting tips and stories straight to your inbox! Join our mailing list here.
Want to be heard 👂 and seen 👀 by over 100,000 parents in Singapore? We can help! Leave your contact here and we'll be in touch.