Play is a universal language that connects people of all ages. For most children, playing is their full-time job and playing is learning for life. But more than often, adults forget that they too, can and should play with their children! Here some tips on how parents can seek their inner child and be their child's playmate to add some fun to everyday life.
1. See things from a child's perspective
Growing up should be fun – make the move easy for kids by revamping the room from a child's perspective!
Create spaces that match kids' sizes, so they can enjoy being in it. Have kids-sized furniture placed in your toddler's room, in shapes, colours, materials and sizes designed especially for the little ones in mind. These furniture should also be lightweight and easy to carry, yet durable enough to handle the rough and tumble of everyday play too.
Look out for furnishing items that have safety and play built into its design, and consider how these things will be used from a child's perspective so that the room can be both a comfortable haven and the perfect playground.
2. The universal language of play is imagination
89% of parents agree that play is an essential and important part of the way a child develops. Take role play to whole new level when you and your little one dress up in an eagle or a robot costumes for your very own skit. Having items we use daily in child-size also helps encourage role-playing and develop their social skills.
TNAP pick: Give your aspiring actor or dancer a shot to stardom with the LATTJO robot costume (right, $43.60)
3. Bring out the (inner) child
According to the Play Report 2015 (commissioned by IKEA), world's largest research study on play conducted with almost 30,000 parents and children across 12 countries, parents acknowledge that play is important for themselves to seek their 'inner child', in order to be playmates with their children (53%). 60% of them also think that everyone should spend more time playing and less time working.
Time and pressure from work are the two main factors that parents cited as barriers that affect their enjoyment of play with their children. 73% of parents want to spend time with their kids. So make space – everywhere at home – for kids to be around you, so you can spend more time together.
4. Make space to move, rock, spin and run
Set up your own laser circuit between a couple of chairs or start a bowling match for the family. For the quieter nights, enjoy a game of chess or get the playgroup together to lay puzzles together. Doing a puzzle helps develop your child's logical thinking and fine motor skills while learning more about shapes and sizes.
TNAP pick: LATTJO numbered band (below, $7.90/10 pieces) and LATTJO ball ($7.90)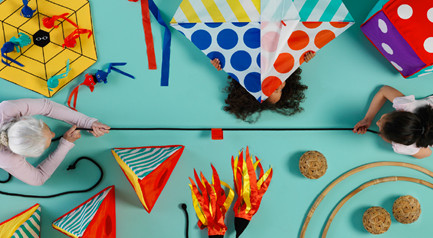 5. Safety comes first
Children don't think about safety when playing, so we do. Create a safe environment your child can explore and grow in by ensuring that that furniture and toys are made with zero tolerance on chemicals, and have rounded corners and no sharp edges.
TNAP pick: To prevent their little fingers from getting caught, go for PATRULL fingerguard for doors ($6.90/3 pieces)
Unravel the fun of IKEA's latest play collection, LATTJO, filled with a wide range of toys, games, puzzles and other play inspirations designed to bring endless fun for both the young, and the old.
This article was contributed by Esther Tan, Sales Leader (Children's IKEA), IKEA Singapore, Malaysia and Thailand.
If you find this article useful, do click Like and Share at the bottom of the post, thank you.
Want to be heard and seen by over 100,000 parents in Singapore? We can help! Leave your contact here and we'll be in touch.