Playeum, Singapore's first Children's Centre for Creativity, open its second hands-on exhibition for children on 16 April until 30 October 2016 at Gillman Barracks. Titled 'Hideaways – Creating With Nature', the exhibition and accompanying programmes are specifically designed for children ages one to 12.
Led by Creative Director Jeremy Chu, and conceived of by artists and other content creators, here are 'Hideaways – Creating with Nature' features installations which provide an interdisciplinary and engaging experience.
Here are 5 spaces and activities to explore when you are there.
Knock, Knock! Who lives there? By Isabelle Desjeux
On special surveillance screens, children can view insects and other creatures in their natural habitats and record what they see in a unique opportunity to get up close and personal with creepy crawlies in their natural environment.
Make-believe Hideaway – By Madhvi Subrahmanian
Informed by the artist's love of creating secret dens as a child, this installation invites children to experience playing with clay and building imaginary habitats inspired by nature, resulting in a collaborative installation.
Welcome to my World – By The People's Atelier (formerly known as ShadowGap Suite)
Children can imagine a world where they are as small as an insect in an immersive installation that presents the insect environment on a giant scale. Kids are encouraged to construct shelters, which will grow throughout the exhibition's duration, while exploring sights and sounds through the eyes and ears of insects.
Sounds of Earth – Nature's Ensemble – By Shogun Creatives
An interactive sound installation where children can create and build musical instruments with natural materials. These will be attached to a skeletal structure that will grow throughout the exhibition's duration, culminating in an immersive musical extravaganza.
Creature Cave – Cave structure by Bartholomew Ting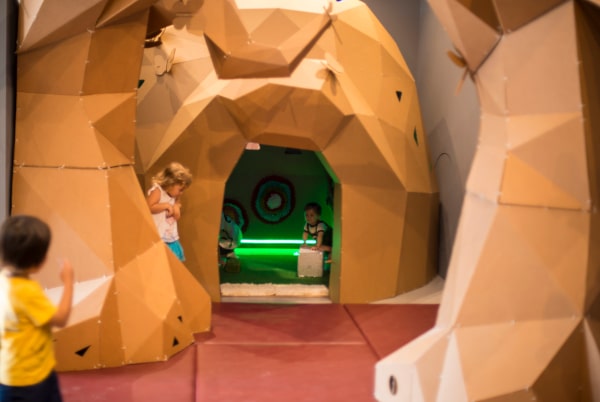 Featuring animal sound pads and a range of textures and lights, infants and toddlers will revel in exploring the multi-sensory cave, using their whole bodies, eyes and ears.
The Dark Space – Sound Web installation by Richard Kearns
Children can enjoy kinetic artwork and exciting hands-on activities in this changing space throughout the duration of the 'Hideaways' exhibition.
Throughout the exhibition, an impressive line-up of creative workshops, holiday camps, artist interventions and other activities will form the 'Hideaways' programme.
Tinkering Sundays: Taking place on the last Sunday of every month, we invite children and their parents to explore, experiment and invent.
Art Jams: Artists of all mediums will be at the centre on ad hoc Saturday mornings to have fun, play and invent alongside children and adults.
Artist-Led Workshops: This multi-disciplinary programme explores the nature and habitats in new and creative ways, and is run by our featured artists and other creators.
Holiday camps at the Children's Centre for Creativity provide the perfect opportunity for children to have unlimited access to all of the interactive spaces in the Centre.
For the full line-up of programmes, visit: www.playeum.com/#!programmes/ckx1
Location: Children's Centre for Creativity, Blk 47, Gillman Barracks, Singapore 109444
Admission prices: $20 per child/parent pair, additional adults $10
Opening Times: Tuesday – Sunday, 10am – 6pm
You can purchase your tickets at the Centre. Special rates and times are available for schools and groups. The Centre also hosts birthday parties.
GIVEAWAY ALERT! We are giving away tickets and an annual play pass. Find out more here: Hideaways – Creating With Nature Exhibition By Playeum Giveaway
More on Playeum and the Children's Centre for Creativity can be found at www.playeum.com
Top image and images featured in Knock, Knock! Who lives there?, Sounds of Earth, Creature Cave, The Dark Space are by Richard Kearns. The rest of the images are by TNAP.

If you find this article useful, do click Like and Share at the bottom of the post, thank you.
Want more comprehensive info? Check out our e-guides here.