Becoming a parent doesn't mean you need to say goodbye to spontaneity. We list 10 ways to stay child-like and enjoy life with your kids to the fullest.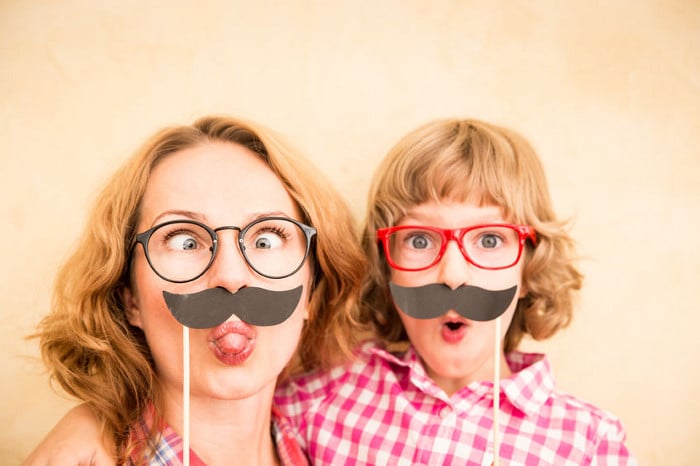 #1 Sing in the rain
Which child doesn't like stomping in puddles and catching rain on his tongue? Once in a while, ditch those brollies and have a splashin' good time with your kids in the downpour. Also, it makes for the perfect excuse to snag those awesome wellies you've been secretly eyeing…
#2 Play with water
There's nothing quite like some water play to make the most jaded and cynical of adults a little child again. And you don't necessarily have to go to a fancy water playground to make that happen – the best of water play can be got in the comfort of your own home! Think fingerpaint on bathroom walls, blowing soapy bubbles, or even taking some water guns down to the park. Just make sure you look before you shoot.
#3 Join in their games
Most children enjoy all sorts of pretend play, ranging from masak masak to role-playing at doctors or superheroes, or copying their favourite cartoon characters. Don't settle for only being a spectator. Leave your ego at the door and jump into the fray! Feel free to be part of other games like Hide-and-Seek, What's the time, Mister Wolf? or Tag. Your children will love the added thrill of looking for mummy or daddy, who would have found the best hiding spot!
#4 Make a little mess
Every home has house rules, to be sure, but a little mess can be fun for the whole family. Whether it is baking in the kitchen, chalk drawing along the common corridor, working with glitter art in the living room, or even making gooey slime on the dining table, the main thing is spending fun times together and leaving the clean up till later.
#5 Pillow fight
Let your bed be the pillow 'ring' and be prepared to fluff it out with your kids. Use small pillows, bolsters, cushions, and stuffed toys. Lay extra pillows, mattresses and mats on the floor around the bed, just in case someone takes a tumble.
#6 Follow their lead
Once in a while, let your kids make the call, and get ready for some exciting adventures! Parents can take this as an act of faith in their kids. Let them choose where to go one weekend, and let them decided how to get there and what to do there.
I know one mum who brought her son the bus stop, and asked him to pick a bus number. They boarded that bus, alighted wherever her son wanted to get off, and explored the area where they had alighted from. They ate whatever they saw that caught their eye, and stopped to admire bits of nature along the way. Nothing complicated, just a simple day out around Singapore, but such a great way to relearn and to enjoy the simplest of things again – like a child.
#7 Shout at the top of your lungs
Make a list of all the things you are mad or worried about and literally let it all out someplace safe. Possible venues can be a breakwater on the beach, but not on weekends unless you want everyone to stop and stare. You can also try them in your car, while driving along the expressway, with the windows down. And of course, avoid doing so at the peak hour.
#8 Make funny faces
Anytime, anywhere – funny faces are a quick fix to that cynical adult attitude, and lighten up the mood right away. Plus funny faces with your kids can make for some unforgettable moments when least expected.
#9 Plan a party together
Birthdays are a great time to celebrate, but you don't really need to wait a whole year just to have a party – almost any occasion can be an excuse really, like the start of the school holidays, Christmas, a long weekend or Children's Day.
As adults, we often have some preconceived notions of what a 'successful' party should look like, but our children may often have something completely different in mind. So begin on a blank slate and plan that party with your kids, and you might just be amazed at what it feels like to think from a child's perspective once more.
#10 Re-live your childhood
Introduce your children to the momentos and experiences of your own childhood. Bring in games you used to play as a kid and have fun together. Or pack the picnics your mother used to pack, visit places you used to go and share your childhood stories with your children.
By Dorothea Chow
This was first published in The New Age Parents e-magazine
If you find this article useful, do click Like and Share at the bottom of the post, thank you.
Like what you see here? Get parenting tips and stories straight to your inbox! Join our mailing list here