Chinese can be a tricky language and difficult to learn.
Besides the words or characters, which may seem like weird ancient symbols and pictures to some, every Chinese word is a unique symbol on its own. Unlike English, it is not phonetic, which means you can hardly guess how the word is pronounced.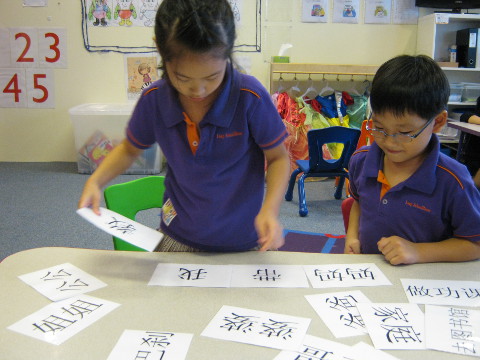 If that's not difficult enough, there are not only one, two or three, but four tones in the language. Reading a Chinese word in the wrong tone will give it a whole new meaning. For example, the word 'Ma' can mean 'wipe', 'scold', or refer to a 'horse' or 'mother'.
As a parent, you may be bombarded by all these concepts yourself. What more to a young child? As your little one grows up, these questions may be running through your mind: Where do you even begin to teach your child Chinese? Which concept of the language should you start first?
Read. Read. And Read.
It's not just asking your child to read books, but also reading to your child. According to research by the National Institute of Child Health and Human Development in America, reading is said to be the single most important skill necessary for a happy, productive and successful life. A child that is an excellent reader is also a confident child.
This is one of the reasons behind LEAP's new Chinese program 阅读坊 (The Reading Corner) – to cultivate the love and habit of reading in kids.
Making the literacy process fun and amusing, children will learn the fundamentals of Chinese, giving them a head start in learning the language. "When reading to your child, animate, sing, play with puppets! I believe the literacy process should be inductive and amusing." Esther, CEO and Director of LEAP SchoolHouse shares.
This explains why there is a wide variety of kinesthetic, auditory and visual activities in the 阅读坊program; from tongue twisters, poetry rhymes, role-playing games, storytelling, to dramatization, these are just some of the activities children will be exposed to.
According A Child's Development, Not Age
Designed for children aged 2.5 years and above, the 阅读坊class is divided into four developmentally sequential levels to cater to different needs of the children. There is no fixed age group for each class, as long as your child is 2.5 years and above.
For the early learners, there is 幼儿乐乐 (2.5 years and above). Besides encouraging the use of language for communication and expression, this class marries interest and communication through applied dramatic techniques.
For example, in a lesson where the expression 'happy' and 'sad' will be introduced, teachers will add in other elements to 'dramatize' the concept of these expressions. The classroom will be transformed into a garden, where the teacher is the gardener and the students are all the flowers and trees. In this manner, the teacher is 'applying' the lesson objectives into 'drama', exploring it and using techniques which are relevant to the lesson, which in this case, it will be ways to exaggerate expressions of 'happy' and 'sad'.
After getting the foundations and basics laid out, the next level is 阅读乐- Foundation Class (for 3 – 7 years old). Transiting from listening and speaking to recognition and early literacy skills, foundation is laid through focus on writing strokes and word sequencing. Here, pre-writing exercises to enforce, train good pencil grip and the correct stroke sequence will also be introduced.
To ensure each child gets the attention they need from trained teachers, the classes are kept small, from 3 to 8 children per class.
Still lost on how and where to start teaching your child Chinese? Why not cultivate the love of Chinese the LEAP way.
For further information on programme, registration or trial class, contact LEAP Schoolhouse Administration Office at 6634 0828, or log on to www.leapschoolhouse.com.sg
If you find this article useful, do click Like and Share at the bottom of the post, thank you.
Like what you see here? Get parenting tips and stories straight to your inbox! Join our mailing list here