Holidays – the time all children look forward to and love. A time where students can take a breather from school homework. For parents with preschool and nursery children, are you looking for a music, art, language or dance enrichment class during this time? Well, look no further! LEAP SchoolHouse combines all the above areas in their June 'Amusant in Learning' Holiday Programme.
The New Age Parents took a special sneak peak at some of the programmes offered.
Music Galore! (Magic Fiddler), Thursday, 1pm – 2pm
The music teacher from Magic Fiddler greets the children and sings a few songs with the kids, before moving on to the main lesson. She shows the kids her magic bag and asks them to guess what is inside. Many of the children throw their guesses but no one got it right. She drops them a hint, "It's round, hard and makes a noise when you hit it." "A Drum!" one of them answers excitedly. The teacher pulls out a drum from her bag and the kids explore concepts of tempo and rhythms to the beat of her drum. Each child has a turn at the drum and explores their own beats and tempo. Other instruments covered are, piano/keyboard, violin and guitar.
Chinese Speech and Drama (LEAP SchoolHouse), Monday, 2pm – 3pm
After music lesson, its time for Chinese Speech and Drama. Meng Lao Shi comes in and greets the kids with a wide smile and "Xia Wu Hao (Good Afternoon)!" After sharing a story about the seven heavenly sisters, she shares with them a new song to learn. With materials and props provided, Chinese Speech and Drama introduces Mandarin to children through a range of songs, rhymes, music, dance, stories and games. Your children may not be fluent in Mandarin, but they will pick up new Chinese words quickly through the catchy tunes of the Chinese songs.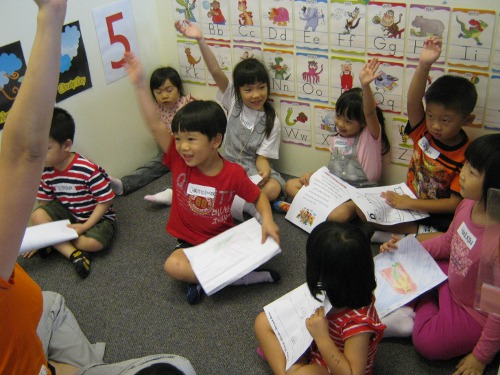 Story Moments (LEAP SchoolHouse) Monday to Friday, 3.30pm – 4.30pm
"Cows in the pasture, moo, moo, moo. Roosters in the barnyard, cock-a-doodle-doo. Hens in the henhouse, cluck, cluck, cluck…" All eyes are peeled to the storybook 'Barnyard Banter' as Teacher Jasmine reads to the class. During and after the story, she asks some questions to the class and gets them to talk about their own experiences with farm animals. She also points out the rhyming words in the book such as 'moo' and 'doo' and asks the children to listen carefully and spot the remaining rhyming words in the story.
Movement and Dance, Friday, 2pm – 3pm (Kinderdance)
Conducted by Kinderdance, the teacher begins her class begins with a Warming up Stretch Dance, to ensure all the muscles are warmed up and ready to go. She executes a few moves for the children to follow. Next, they move on to Body Isolation, focusing on moving specific parts of their bodies. Here, they practice on bending and straightening their knees, which will lead into mastering the bounce movement. With the teacher's instruction, they also perform a 'ferris wheel' by drawing big circles with their arms. For creative expression, children will take turns to personify into another animal or an object, using their bodies to move in the way they imagine it to be.
Each day of the week offers different programmes. The two programmes which will be offered daily are Storytelling and Music. For hygiene reasons, all kids are to bring their own socks or entry will be declined with regret. Socks are available at $2 a pair.
To find out more about the program, contact LEAP SchoolHouse at 6634 0828, or log on to LEAPSchoolHouse.com.sg for more details.