Light is an important factor that allows us to live our lives. Without light, we are not able to see, read, draw, and interact. Yet despite being a well-lit city that can be seen brightly by airplanes landing at Changi Airport, Singapore is often called the "Myopia Capital of the World".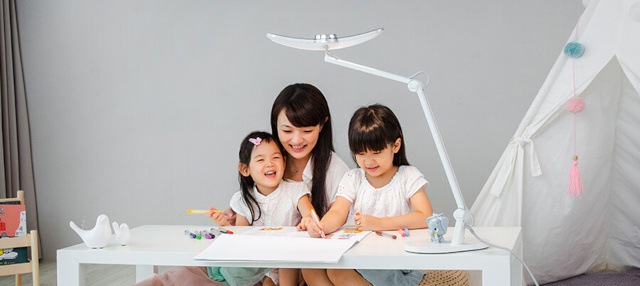 According to the Ministry of Health, a projected 80 to 90% of all Singaporean adults above 18 years old will be myopic by 2050, with 65% of our children already being myopic by Primary 6. CNA also reported how working from home resulted in more eyesight problems, where inadequate or overly bright overhead lighting were also cited as contributing factors.
Doctors recommend us to use adequate lighting when reading or writing to reduce eye strain, but how do we provide adequate lighting for our families all the time?
Perfect Lighting Anytime with BenQ MindDuo Eye-Care Table Lamp
Instead of second-guessing whether your lighting is just right (not too dim and not too bright), leave it to the experts at BenQ who have specially designed an intelligent and multi-functional lamp that does the work for you.
Check out these great reasons why we love the BenQ MindDuo Parent-Child Eye-Care Table Lamp, designed to fit any reading scenario anytime, anywhere.
1. Wide Illumination For Parent-Child Reading: 150% more than other lamps!
Bedtime stories are one of parents' favorite activities to bond with children. Whether your child is an infant, toddler, preschooler or Primary School, bedtime stories are a beautiful way to teach your child while giving them much-needed attention at the end of a busy day.
You will love the wider illumination that the BenQ MindDuo Parent-Child Eye-Care Table Lamp offers, which at at 95 cm wide, provides 150% more illumination than other lamps.
With this lamp, you can read to your child comfortably in bed without strained eyes. In addition to parent-child bonding, your child will be able to clearly see the pictures and words to learn in a more conducive lighting environment.
As your child progresses to kindergarten, regular tabletop time is recommended to allow your child to get used to sitting and doing work at a table or desk, build focus, fine motor skills, and prepare for longer periods of sitting in classrooms when he/she enters Primary School.
The BenQ MindDuo lamp is perfect for your regular tabletop time as it provides wide illumination at a luminance of 500 lux. This means that both you and your child can see everything at a glance while engaging in tabletop activities such as writing and drawing.
2. Perfect Lighting For Book or Screen Activities with Eye Care Technology
When your child enters Primary School onwards, home-based learning and digital leisure becomes a regular part of everyday life. Together with increased homework and near-work activities like reading, your child's eyes are at risk of developing vision problems such as myopia that could worsen as he/she progresses to Secondary School and tertiary education.
Hence, besides good eye-care habits, it is important to have suitable lighting for different activities to protect your child's eye health.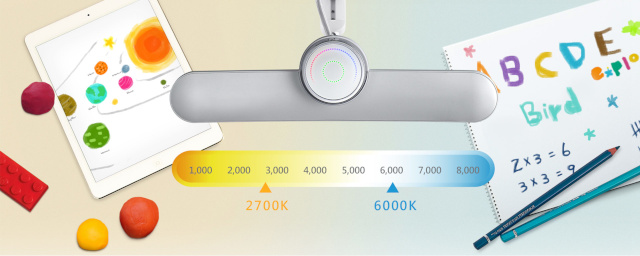 The BenQ MindDuo lamp offers a broad range of color temperatures from 2,700K to 6,000K to satisfy your illumination demands for different types of activities. If your child is doing some art-and-craft, a warmer tone would provide a relaxed glow to elicit more creativity. If he/she needs to focus on homework, simply flip to a cooler white light to help him concentrate.
For book-reading activities, BenQ MindDuo's Book Reading Mode provides a 5700K color temperature and high-brightness light that is most suitable for your child to concentrate on reading and studying.
For screen-related activities, good lighting balances the contrast glare from screens, requiring a lamp that can provide a medium color temperature. The BenQ MindDuo lamp offers a Screen Reading Mode for a mid-color temperature of 4000K and lower brightness to ensure your child's eyes get the perfect level of light to reduce eye fatigue.
Book Reading Mode
Screen Reading Mode
With Eye-Care Technology, this lamp also has no blue light and no flickering. As you and your child wind down for bedtime, choose a warm light temperature from BenQ MindDuo lamp for bedtime reading. Reducing blue light before bedtime will help stimulate Melatonin production and prepare both of you for good sleep and recovery.
3. Smart Dimming for Perfect Lighting in All Weathers and Timings
Instead of adjusting a combination of different lights in your room to achieve the perfect lighting, just leave it to the BenQ MindDuo lamp to automate the right lighting for you. This smart dimming feature is super useful especially when the weather changes or the sun sets, in dark or bright settings.
To provide adequate lighting at any time of the day, the BenQ MindDuo lamp has a built-in ambient light sensor which detects the ambient light in your surroundings. It displays the room brightness level through a three-color indicator to tell you if the room is "too bright", "just right" or "too dark". You can choose the most suitable light setting and the lamp will intelligently adjust its own lighting to supplement the brightness required for adequate lighting.
This feature comes in handy when you're not always around to monitor your child especially when he/she is in Primary or Secondary School. Whether you are busy with other tasks, or your child is having tuition or doing homework independently, the BenQ MindDuo lamp looks after the perfect lighting for your child, so you can focus on other matters.
4. A Built-in Timer Reminds Your Child To Rest
In today's hectic world, it is not uncommon for children to over-exert themselves when completing homework or forgetting to take regular breaks while using digital devices. The BenQ MindDuo lamp has a built-in timer where its indicator light will flash for 10 minutes every 30 minutes, reminding your child that it is time to take a break and rest his/her eyes.
5. Infrared Seat Sensor For Automatic Turning On-Off
Sometimes your child may forget to turn on or off the lights while distracted with activities. BenQ MindDuo's Infrared Seat Sensor will automatically turn on the light when your child is seated to ensure adequate lighting. The lamp will also turn off when he/she leaves, saving energy.
6. Eco-friendly, Grows With Your Child
We love how BenQ MindDuo has integrated multi-features for today's modern living. The lamp works as a charging hub with a USB port providing power supply to recharge your mobile devices. The eco-friendly LED light can also last at least 17 years (if used 8 hours every day).
With the lamp's built-in torque spring technology and patented ball joints, you can easily adjust the height and angle of the lamp as your child grows taller. This lamp is also compact and can easily adapt to different spaces for your needs, from the desk to bedside, leaving you space for your books, stationery, and other essential items.
BenQ MindDuo Eye-Care Table Lamp is a multi-functional intelligent lamp for your entire family's lifestyle. Get perfect lighting anytime with various color temperatures for different activities, and smart features to automate your lighting needs.
Read more about the BenQ MindDuo Eye-Care Table Lamp here.
Pre-order and early bird offers are SGD 339 with FREE shipping (valid until 18 September 2022, usual price SGD 379).
Order today at the following online stores: Shopee | Lazada
About BenQ
BenQ Corporation is a world-leading human technology and solutions provider which focuses on lifestyle, business, healthcare, and education with the hope of providing people with the means to live better, increase efficiency, feel healthier and enhance learning.
This post is brought to you by BenQ.
By Julia Chan.
* * * * *
Like what you see here? Get parenting tips and stories straight to your inbox! Join our mailing list here.
Want to be heard 👂 and seen 👀 by over 100,000 parents in Singapore? We can help! Leave your contact here and we'll be in touch.